One of my favorite summer dishes was always a good grilled corn on the cob. Something about how it got just the right amount of char on it and was hand-held really did it for me. Hey, what can I say. I'm a sucker for less dishes and burnt edges. I also always loved slapping extra seasonings on it that enhanced that grill-y smokiness. But now that we're avoiding corn I needed to adapt these attributes to something a little more paleo friendly. And thus, Cuban Grilled Zuchini was born!
My sister-in-law makes a dish that is very similar that inspired this dish and the secret is in the seasonings. I cannot tell you how much flavor this butter / ghee sauce lends to the grilled zucchinis. In fact, you can try this blend out on just about any grill-able veggie.  Asparagus, artichokes, pepper, you name it.
This recipe has always been a crowd pleaser at our BBQs, everyone's always asking what the marinade is.
Feel free to skip the queso fresco on top to keep it strictly paleo and I promise, it's really just as tasty. In fact, you can leave off the queso and make the spice blend with ghee and you have the perfect Whole30 compliant side dish for your BBQ.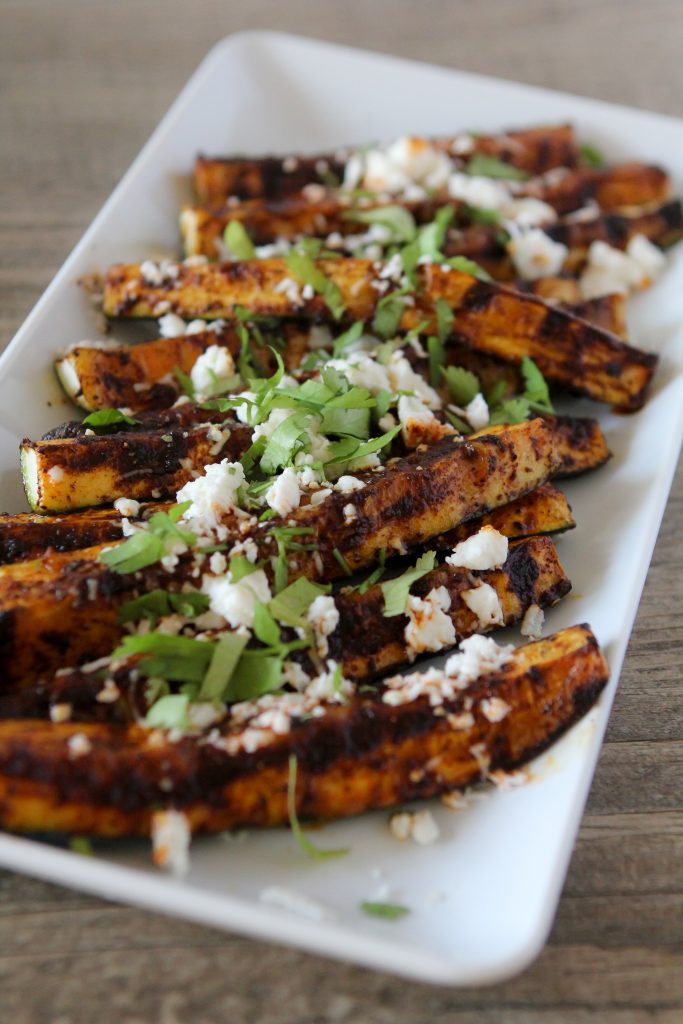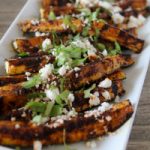 print recipe
cuban grilled zucchini
A great way to grill summer vegetables like squash and zucchinis.
Ingredients
5

zucchinis quartered vertically

1/4

C.

cilantro chopped

4

Tbsp.

butter / ghee / olive oil

1/2

Tbsp.

smoked paprika

1

Tbsp.

chili powder

1/4

tsp.

salt

1/4

tsp.

black pepper

1/4

C.

queso fresco crumbled or grated

optional
Instructions
In a small saucepan melt butter or ghee with paprika, chili powder, salt and pepper

If you're using olive oil just mix ingredients

Brush butter mixture over zucchini spears to coat and grill for about 5 to 10 minutes until tender

Once you've pulled the spears from the grill brush again with leftover sauce, top with (optional) queso fresco and cilantro