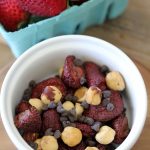 Print Recipe
Oven Dried Strawberries + Chocolate Hazelnut Trail Mix
This recipe uses fresh California strawberries and is not only delicious but easy to make. So easy that the kids can make this for you! Gluten-free & paleo!
Preheat the oven to 200* F and line a baking sheet with parchment paper.

Toss the coconut sugar with the strawberries in a large bowl until they are coated. Evenly space the strawberries onto the baking sheet and bake for 5-6 hours until the strawberries have slightly caramelized and are tender.

Let the strawberries cool and toss them with the hazelnuts and chocolate chips.