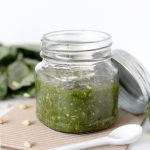 Print Recipe
paleo pesto
An easy dairy-free, Whole30 compliant pesto recipe made with fresh basil, pine nuts, extra-virgin olive oil and cashew nuts! No cheese needed! So simple and easy to make from scratch and so delish you'll want to put it on everything!

2

C.

basil

1/2

C.

olive oil

1/4

C.

salted cashews

1/4

C.

toasted pine nuts

2

cloves

of garlic

salt to taste
Choose high-quality extra-virgin olive oil - preferably one that you like the flavor of on its own.
Toasting the pine nuts before adding them to the blender will give an unreal depth of flavor to your homemade paleo pesto so don't skip this step. I recommend toasting them at lower heat in the oven as opposed to a pan as they burn super quickly. Preheat the oven to 325°.  Place pine nuts on a baking sheet in a single layer and toast for 7 minutes.  Stir and continue baking for 3 minutes or until lightly golden. Watch them carefully towards the end.
We love garlic! I know! Still, let's not go too crazy especially if your garlic is powerful. It can so easily overpower the rest of the sauce and that would be a shame. Start with a small amount of garlic, and add more if needed.
And now a secret tip from the Italian "nonna" we all wish we had: put some ice cubes in the food processor and pulse to chill your machine, before preparing your pesto. This simple step will help in keeping your pesto a bright appetizing green.
Loved the basic? Awesome! Now break the rules and replace part of the basil with arugula, cilantro or fresh parsley and add pumpkin seeds, macadamia nuts or sunflower seeds instead of pine nuts.