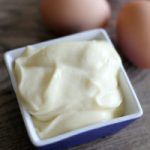 Print Recipe
Paleo Olive Oil Mayo
An easy paleo olive oil mayo recipe made using your immersion blender. Once you try this delicious homemade version, you'll never go back to store-bought! Plus, it's Whole30 Approved!

1

cup

extra light tasting olive oil or culinary algae oil

1

Tbsp

white wine or white balsamic vinegar

1

egg

1/2

Tbsp

mustard

pinch

of salt
In a large mason jar add olive oil

Add egg into oil

Add vinegar, mustard and salt to egg and oil

Let all ingredients settle to the bottom

Once settled, take immersion blender and place all the way down to the bottom of the jar, placing blade over egg yolk

On high, turn immersion blender on and slowly raise up and down throughout mixture until oil emulsifies, roughy 30 seconds
 I'd say 1 out of every 15 batches does not emulsify properly and remains loose. And I wish I could say why. There's a lot of internet folklore on why it doesn't. Some say all of the ingredients need to be room temperature. I've made it successfully so many times when none of my ingredients were room temp. If this does happen I can usually fix it by adding another egg. So if there are any scientists out there who can help myself and the rest of the internet understand exactly what's going on, comment below please!
Really make love to that mayo with your immersion blender. Play some Mavin Gaye while you're moving that stick slowly all around.
I've also successfully used lemon juice in place of vinegar when I've been out of vinegar.
If you are going to make a flavored mayo, make sure to make the mayonnaise base first THEN add the additional ingredients.
Make sure you use extra light tasting

olive oil, I find mine at Costco. If you use a full-bodied olive oil this isn't going to taste good and you are going to be cursing me for your crummy mayo. As far as oils, the only other ones I recommend using is avocado oil or Thrive Culinary Algae Oil. You can check out my

Grain-Free Zucchini Fries + Zesty Mayo Dip

for more info on algae oil.