I have to admit, I love me some mayo. Growing up, I was always the mayo one while my brother was the mustard one. While I do love me some mustard now (like a lot), I still love my mayo. But I don't like all of the crap that comes along with it when you buy it from the store. And I reeeally wonder how anyone finds it ok to slap the word "Real" onto any of it. *Ahem, Kraft* A quick look at the label and you can see why I have a problem with that.
One evening I while was pinning recipes on Pinterest, I came across a Pesto Chicken Sandwich that I couldn't stop thinking about. I'm like that with food. If I eat something great, I think about it for the next few weeks. I really do! (Like Humphry Slocombe's Special Breakfast ice cream. Or some random chicken dish we had at Rich Table 9 MONTHS ago! Or the burrata at A-16. See what I mean?) These are the thoughts that go through my head. Sigh.
But I digress… I needed to have this sandwich, so I set about figuring out how I could recreate this so that I could eat it. I decided I could make a Chicken Salad Pesto Wrap (soon to make a blog appearance) and cram in all the goodness I'd been craving.
My first step was to make some mayo that I could use in the chicken salad so I set about making it for the first time. I've made it many times since and have created a recipe that I love. And guess what? It's so easy! I really want to spread the good word about this deliciousness. And even beyond tha,t it gets the nerd in me all hot and bothered. I geek out every time I make this watching it form because it is THAT.COOL.
So a couple of tips. 1. I'd say 1 out of every 15 batches does not emulsify properly and remains loose. And I wish I could say why. There's a lot of internet folklore on why it doesn't. Some say all of the ingredients need to be room temperature. I've made it successfully so many times when none of my ingredients were room temp. If this does happen I can usually fix it by adding another egg. So if there are any scientists out there who can help myself and the rest of the internet understand exactly what's going on, comment below please! 2. Really make love to that mayo with your immersion blender. Play some Mavin Gaye in your hear while you're moving that stick slowly all around. 3. I've also successfully used lemon juice in place of vinegar when I've been out of vinegar. 4. If you are going to make a flavored mayo, make sure to make the mayonnaise base first THEN add the additional ingredients. 5. Make sure you use extra light tasting olive oil, I find mine at Costco. If you use a full bodied olive oil this isn't going to taste good and you are going to be cursing me for your crummy mayo. As far as oils, the only other ones I recommend using is avocado oil or Thrive Culinary Algae Oil. You can check out my Grain-Free Zucchini Fries + Zesty Mayo Dip for more info on algae oil.
Now once you've mastered this mayo you can use it as the base for so many other dips, sauces and dressings! Like Pesto Mayo, Awesome Sauce and Kalamata Olive Dip. Enjoy!
*UPDATE* And before you get started, let's talk a bit more about the hand blender technique you are going to perfect. Remember I said some batches don't come out? I do think Brad and I have cracked the case on how to get it to come out perfectly every time. Ok, I say WE but I really mean BRAD cracked the case. He showed me how he does it and it's come out every time perfectly for him and now me since I've adapted this "Brad technique" as I've dubbed it.
Begin by placing the blade of the immersion blender directly over the yolk to ensure the blades hit it. Start your immersion blender and LEAVE IT THERE for a bit as it starts to emulsify, don't move it up and down quite yet. After about 10 seconds very slowly raise the immersion blender up, slowwwwwer. And very slowly bring it back down. Do this a couple of more times and I assure you you'll have nice and thick mayo every time. And if you STILL don't add another egg to your egg soup and employ the exact same technique again. But do it even slower this time. Got it? Now go 'git 'em!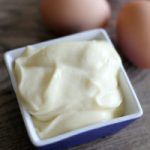 Print Recipe
Paleo Mayo
An easy olive oil mayonnaise recipe made using your immersion blender.
Ingredients
1

C.

extra light tasting olive oil or culinary algae oil

1

Tbsp.

white wine or white balsamic vinegar

1

egg

1/2

Tbsp.

mustard

pinch

of salt
Instructions
In a large mason jar add olive oil

Add egg into oil

Add vinegar, mustard and salt to egg and oil

Let all ingredients settle to the bottom

Once settled, take immersion blender and place all the way down to the bottom of the jar, placing blade over egg yolk

On high, turn immersion blender on and slowly raise up and down throughout mixture until oil emulsifies, roughy 30 seconds