These Pumpkin Pie Breakfast Egg Muffins from The Whole Smiths are the PERFECT way to wake up on a crispy fall morning. They're paleo, gluten-free and just all around good for you. Make a batch ahead of time to reheat for a quick breakfast-on-the-go.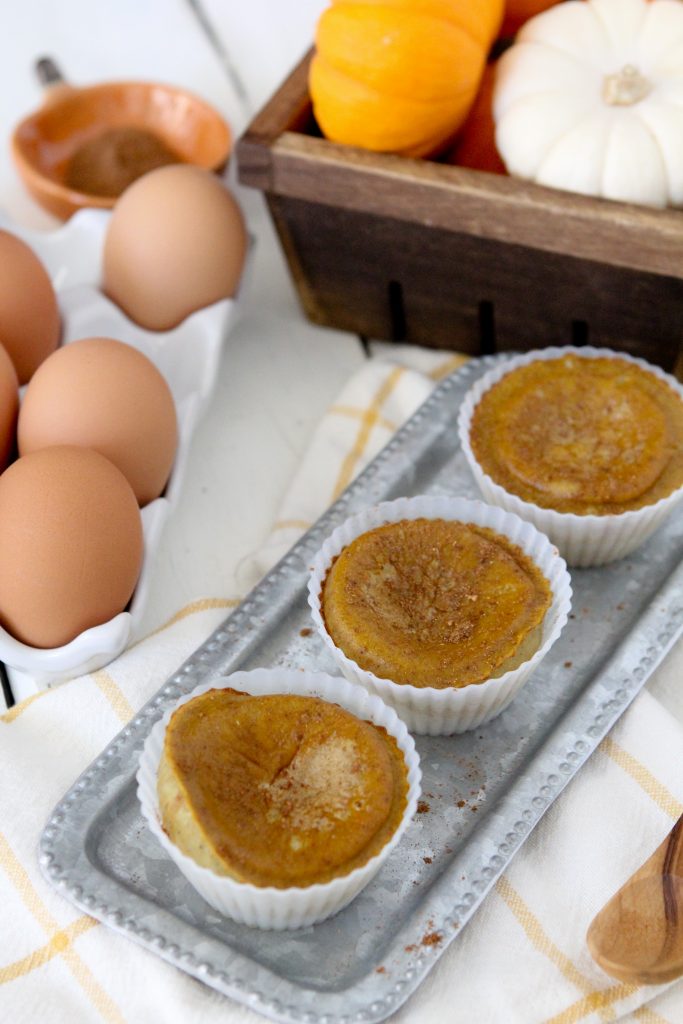 Pumpkin All Day.
Pumpkin.Pie. Need I say more? I should just be able to leave this post at that and call it a day. All of you pumpkin lovers out there would understand. But I would be doing you, and these bites, a disservice.
While pumpkin has always been popular this time of year, I think it's safe to say it's gone wild over the last 10 years. I call it the Starbucks effect. I think their pumpkin spice latte took pumpkin to the next level when everyone started going apeshit waiting for their beloved coffee to arrive in stores. With that said, if you want an even better pumpkin spice latter, check out my Paleo Pumpkin Spice Latte. It's a fraction of the sugar and some of you ave even said it tastes better than Starbucks.
But I digress.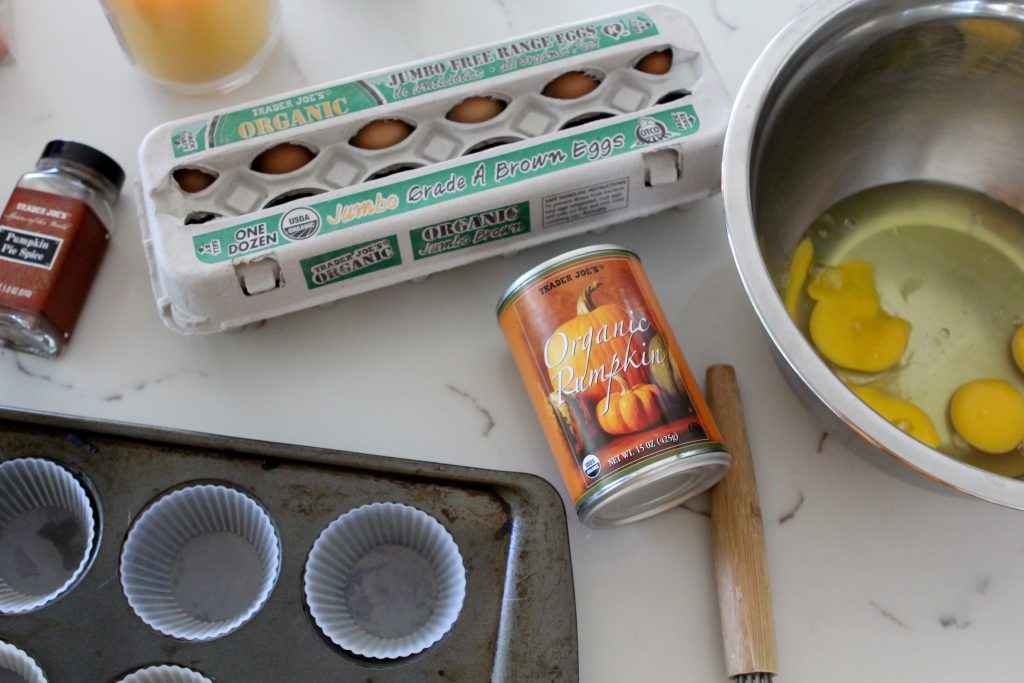 Pumpkin everything exists, I even have a pumpkin spice scented deodorant in my bathroom. But with every great boom comes a great bust. The naysayers, the dream squashers and the buzzkillers. The people who are now labeling everything pumpkin as "basic" and overkill. Well I am here to tell all of you pumpkin lovers to cover your ears. Live in your world of pumpkin spice cleansers, candles and lip balms. And egg muffins.
Banana Egg Muffin's Cousin.
If you haven't jumped on the Banana Egg Muffin train yet, who are you? No literally, WHO.ARE.YOU? Please tell me and I will send you a batch because they are amazing, life changing and a brand new way to enjoy your morning eggs when you are sick of eggs.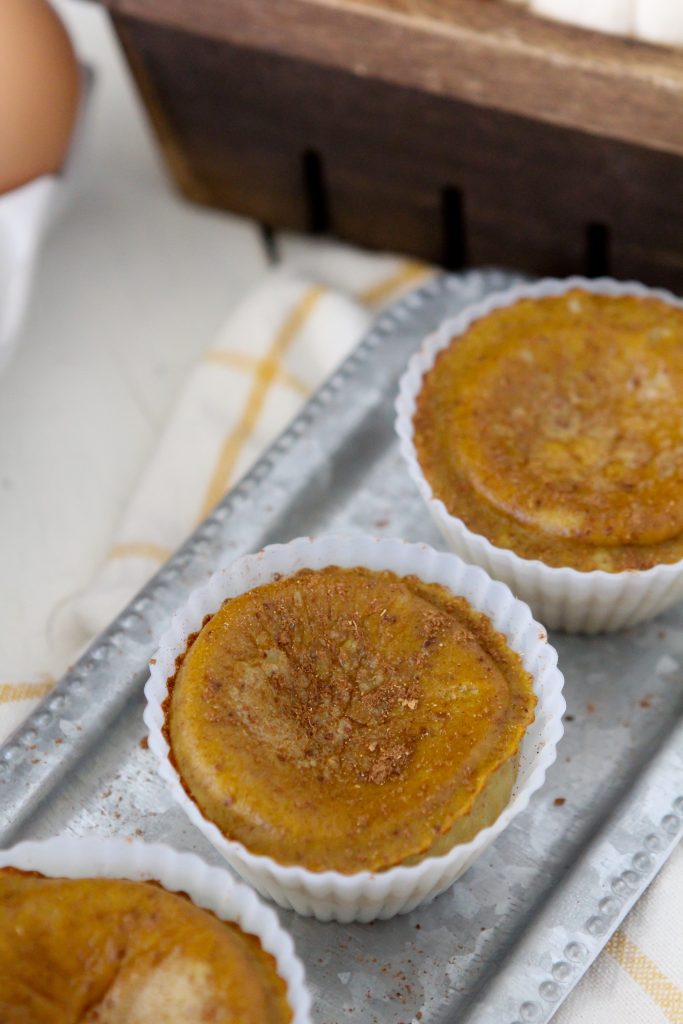 This recipe for Pumpkin Pie Breakfast Egg Muffins takes that recipe to the next level. Or the same level just different as they are both delicious. This version is banana free so all of you banana haters out there (they exist) can rejoice. Instead, I sweeten it with a bit of maple syrup. You can use honey if you choose but I love the warm coziness that maple brings, especially as a fall flavor.
You can choose to eat these warm or cold. Personally, I love them cold right out of the fridge. I know it sounds a bit strange but it somehow seems to make the flavors pop even more. So whether you choose to eat them straight out of the oven, reheated the next day in the microwave or right out of the fridge, you're in luck. They're delicious ALL of those ways.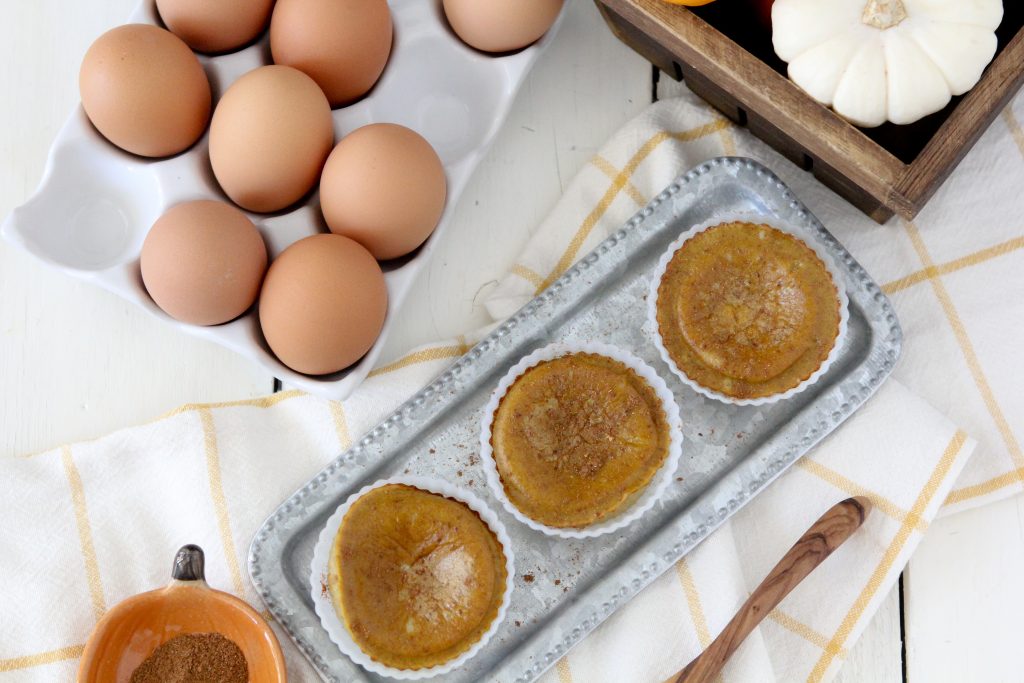 Non-Stick Magic.
Just as with traditional Banana Egg Muffins, or ANY sort of egg muffin for that matter, you want to ensure they don't stick to whatever you are cooking them in. I have a surefire way to make sure your Pumpkin Pie Breakfast Egg Muffins come out perfectly every time. If you choose not to listen to me, please don't complain that your egg muffins stuck to the pan.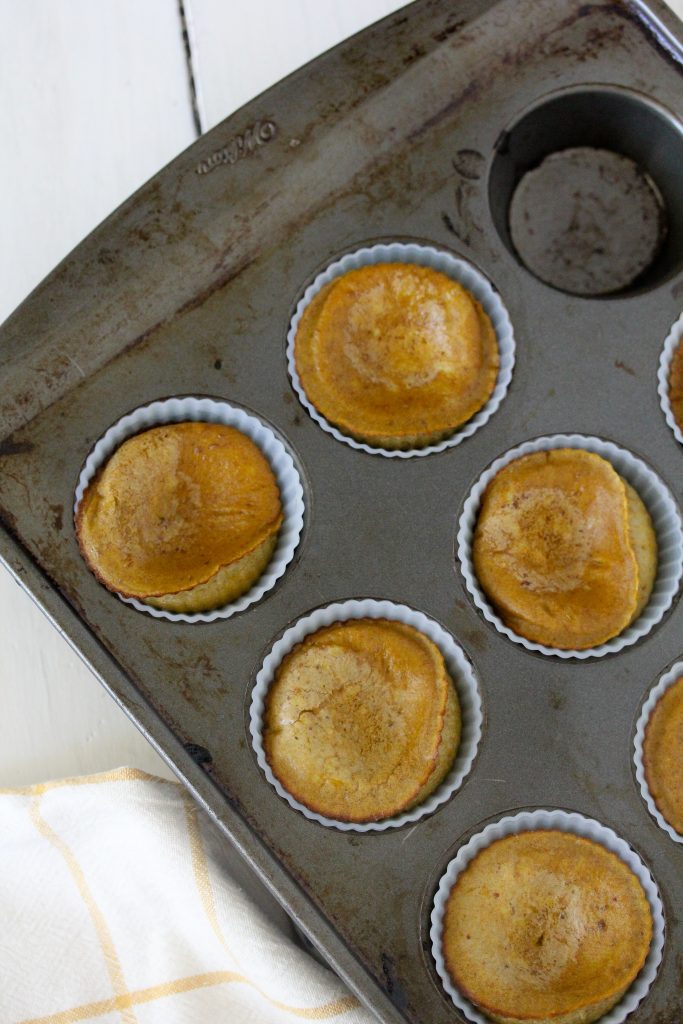 Here we go. First off, invest in some reusable silicon muffin liners. They're amazing whether you are using them for egg muffins or regular gluten-y muffins. One more time for everyone in the back, GET SOME OF THESE LINERS. They are amazing. You'll love them.
If you really don't want to use silicone liners, fine. Find a really good non-stick muffin pan instead. Whatever you do, do not use regular, 'ol paper liners. Your egg muffin will stick. I promise you that.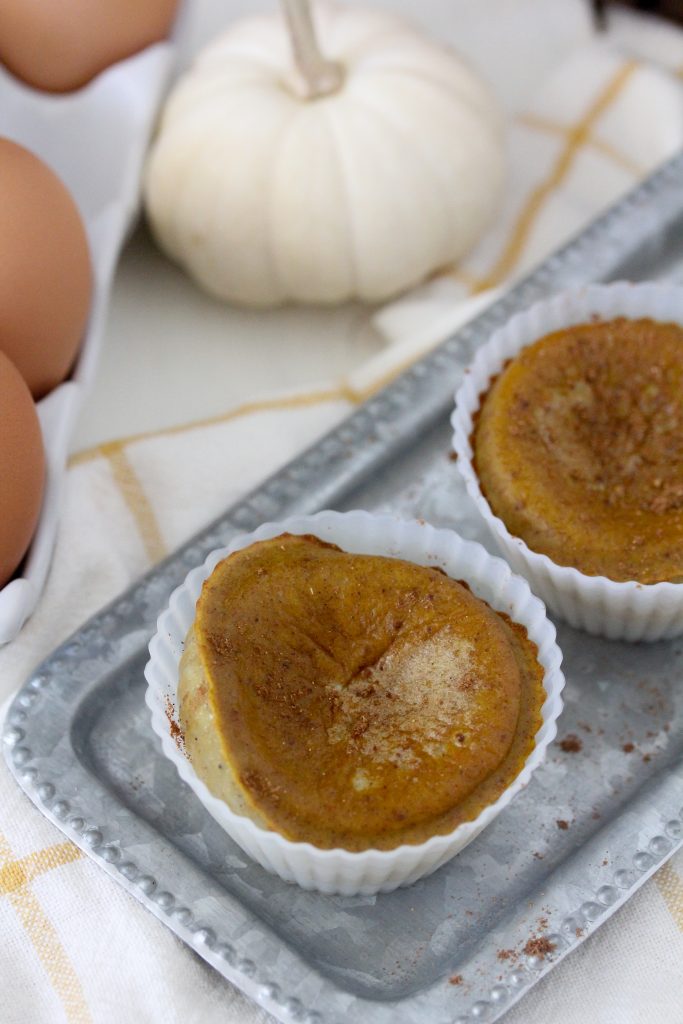 Once you have your silicone liners or non-stick pan out, you're going to want to grease them with a touch of oil. You can use a bit of coconut oil straight outta the jar but I love the coconut or avocado oil sprays from Chosen Foods. I use them all of the time. Any time I bake, to grease the grill, you name it. I love that brands have stepped up and are creating convenient products with quality ingredients. We've come a long way from our mom's Pam baby!
Nuts or no nuts.
To nut or not to nut, that is the question. And beyond that, what kind of nut? A pecan? A walnut? So many options. Whether you choose to add a sprinkling of nuts into each muffin is completely up to you. I don't think it makes or breaks the recipe. Personally, if I'm going the nut route I like a pecan as it's a softer nut but it's really up to you. Hard nut, soft nut, no nut. Your call.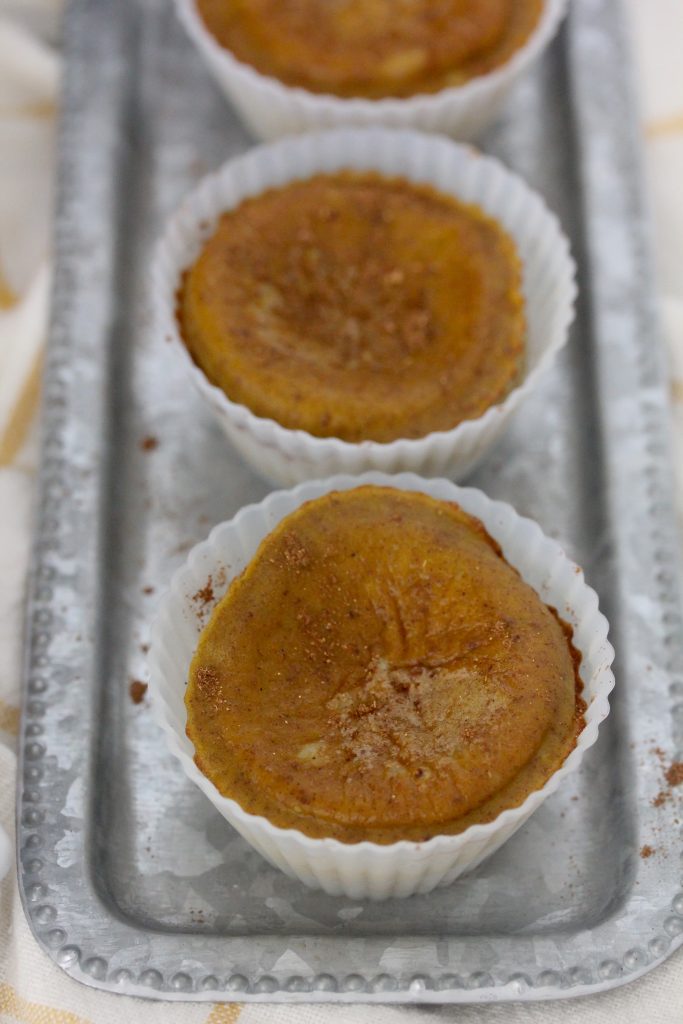 As far as other toppings, I'd say some mini chocolate chips would be divine in this recipe. I wouldn't add them every time but sometimes it's nice for a melty pop of sweetness.
If you made it through this nut segment with out cracking a smile, congrats. That means you don't have the mind of a 13 year old boy.
With that I think you have all of the Pumpkin Pie Breakfast Egg Muffin information you need to move forward with your fall.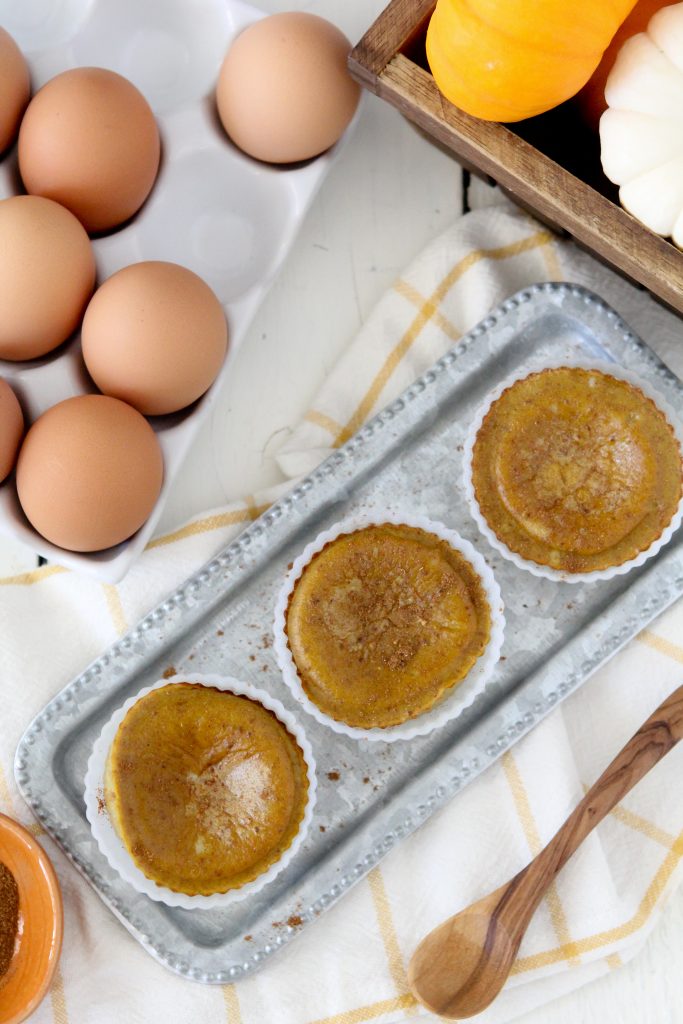 So tell me, what's your favorite pumpkin indulgence? Deodorant? Candle? THIS RECIPE?! If you're really jonesing for more pumpkin breakfast options, make sure to check out my Grain-Free Apple + Pumpkin Oatmeal Bake.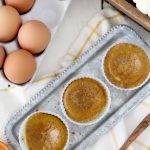 print recipe
Pumpkin Pie Breakfast Egg Muffins
Pumpkin Pie Breakfast Egg Bites from The Whole Smiths. Paleo, gluten-free and delicious! So easy to make.
Ingredients
7

eggs

beaten

1

cup

pumpkin puree

3

tablespoons

maple syrup

1

teaspoon

pumpkin pie spice

1/2

teaspoon

vanilla extract

1/4

teaspoon

baking powder

Small amount of oil to grease your pan or liners
Instructions
Preheat the oven to 375* F.

Add the beaten eggs, pumpkin puree, maple syrup, pumpkin pie spice, vanilla extract, and baking powder to a large bowl and combine well with a whisk.

Lightly grease your silicone muffin liners or non-stick muffin pan. Pour the egg and pumpkin mixture evenly amongst the muffins liners.

Bake the pumpkin egg muffins for 18 to 20 minutes until the muffins are cooked through and the tops are no longer runny.