Dairy-Free Pumpkin Pie Smoothie
This Dairy-Free Pumpkin Pie Smoothie from The Whole Smiths has all the tase of pumpkin pie minus the grains and sugar. Not to mention, it's perfect for easy breakfasts and it's kid-approved. It's the perfect way to get your vegetables in!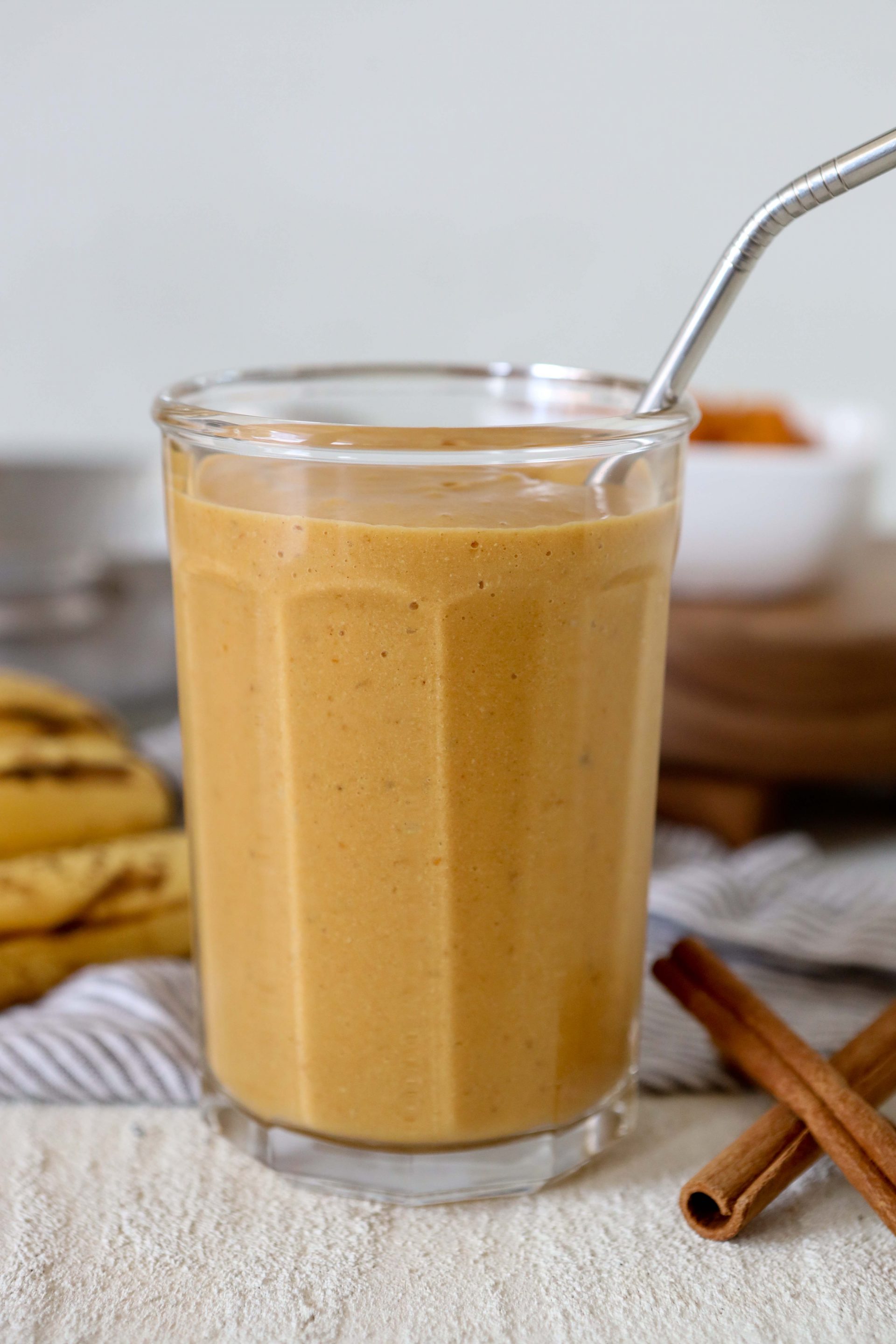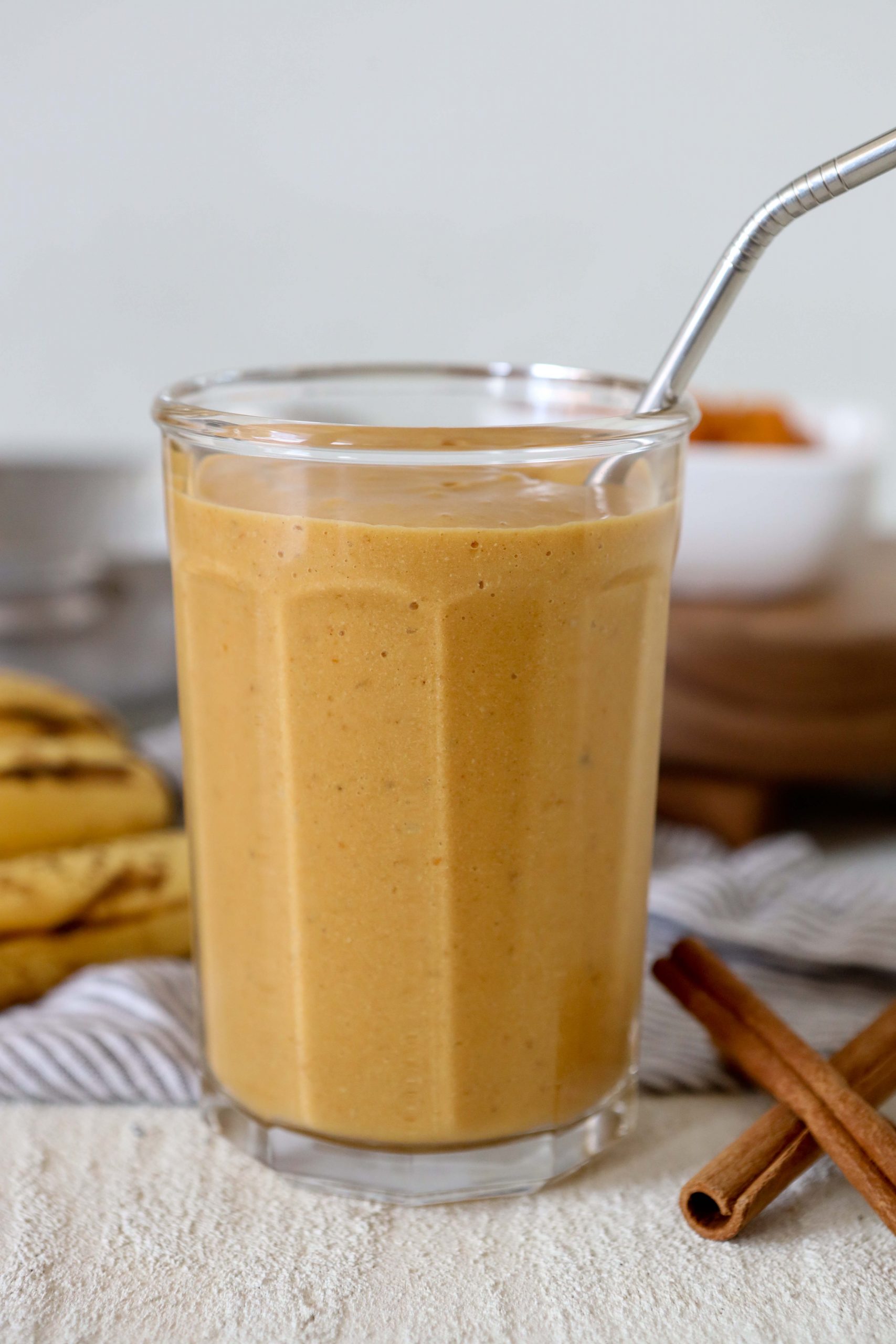 It's about that time of year when the flavors of fall start invading our kitchens. And "Fun-Sized" candy bars. Note to self, don't buy Halloween candy too early because it doesn't usually make it all the way to Halloween. Fall is by far my favorite time of the year. Everything from the way the sun shines to the best holidays of the year (Thanksgiving whaaaa…), to school starting back up and football. And I'm pretty sure when I lived in San Francisco I put up with the crummy weather ten and a half months of the year to enjoy the 6 perfect weeks of fall it gave me.
Pumpkin all year.
I'd be fooling myself if I said this is the first appearance anything pumpkin flavored has made at our house since last year. I've been making pumpkin pie smoothies for the last 12 months. I am huge proponent of year-around pumpkin and am that person who buys a pumpkin pie at Costco if they have it in March. Even though I can't eat one anymore (gluten), you should take advantage and grab one if you see it off-season.
At first I just threw some pumpkin in a blender with some other standard smoothie ingredients and called it a day. But when I think of "sweet" and "pumpkin", I think of pumpkin pie. I wanted my smoothie to takes like that. If I'm going to call something "Pumpkin Pie" I want it to taste a little more decadent and a little less on the healthy. While still remaining healthy of course. So I set out to create the best pumpkin pie smoothie I could. Even the bad batches along the way were still good. But then, I found my magical ingredient.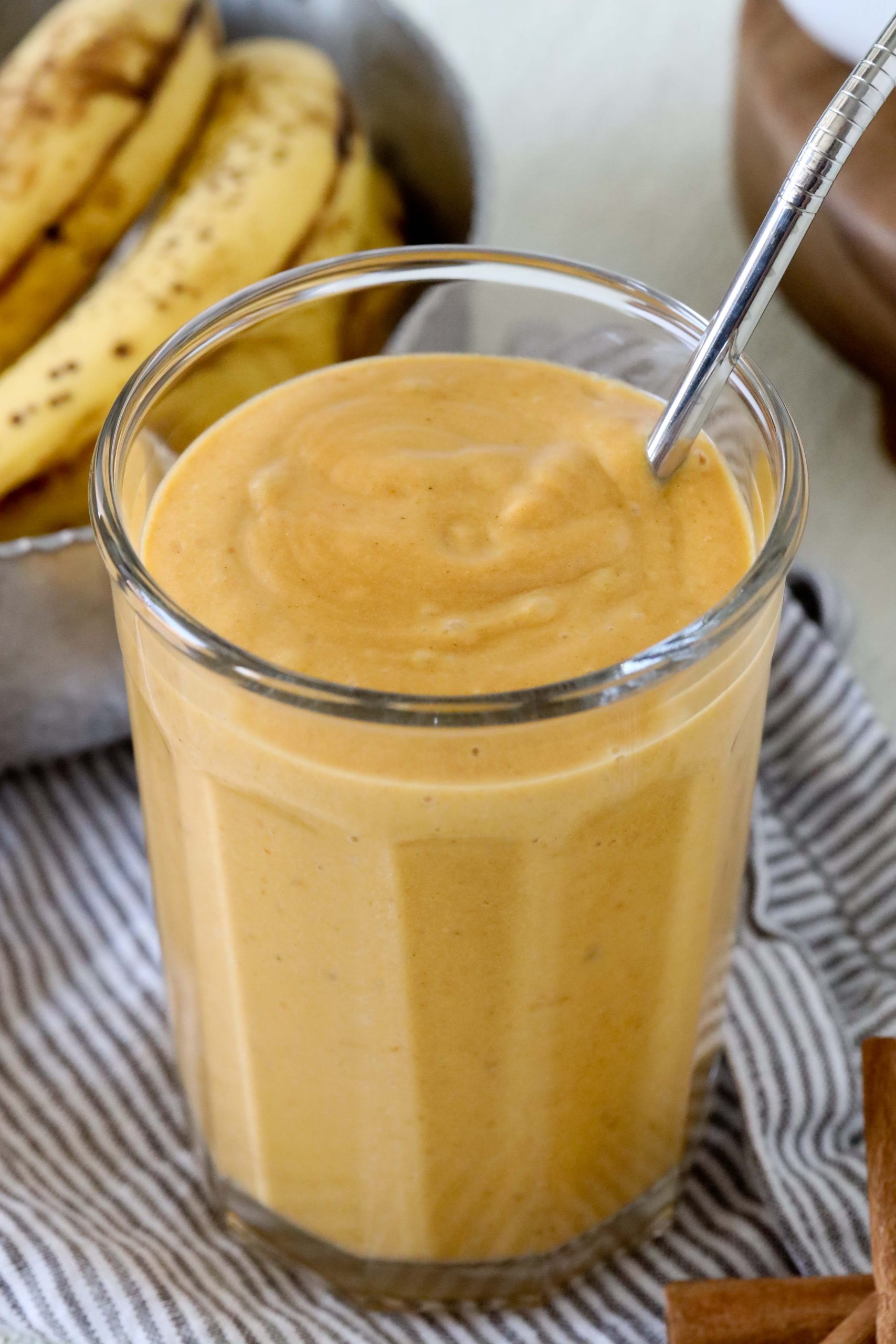 The secret Pumpkin Pie Smoothie ingredient.
Just a few weeks ago Trader Joe's started selling cashew butter. Prior than that, I didn't buy too much cashew butter because it was always a little more expensive than almond butter. What really, what was the difference? Therefore, I didn't experiment with it all too often. But thankfully, TJ's pulled it out and created a less expensive option that I could work with. It's a bit sweeter and creamier than almond butter and realized it just may the the magical ingredient I was looking for.
And I was right. The cashew butter gave it that creamy richness that I was lacking before. It also added that buttery, nutty, crusty flavor that I clearly was missing prior. It was just what I needed to pull together the frozen bananas and pumpkin. I'd had used almond butter in the past but I wasn't crazy about it. Almond butter always tastes kinda chalky to me and just didn't seem to be the answer.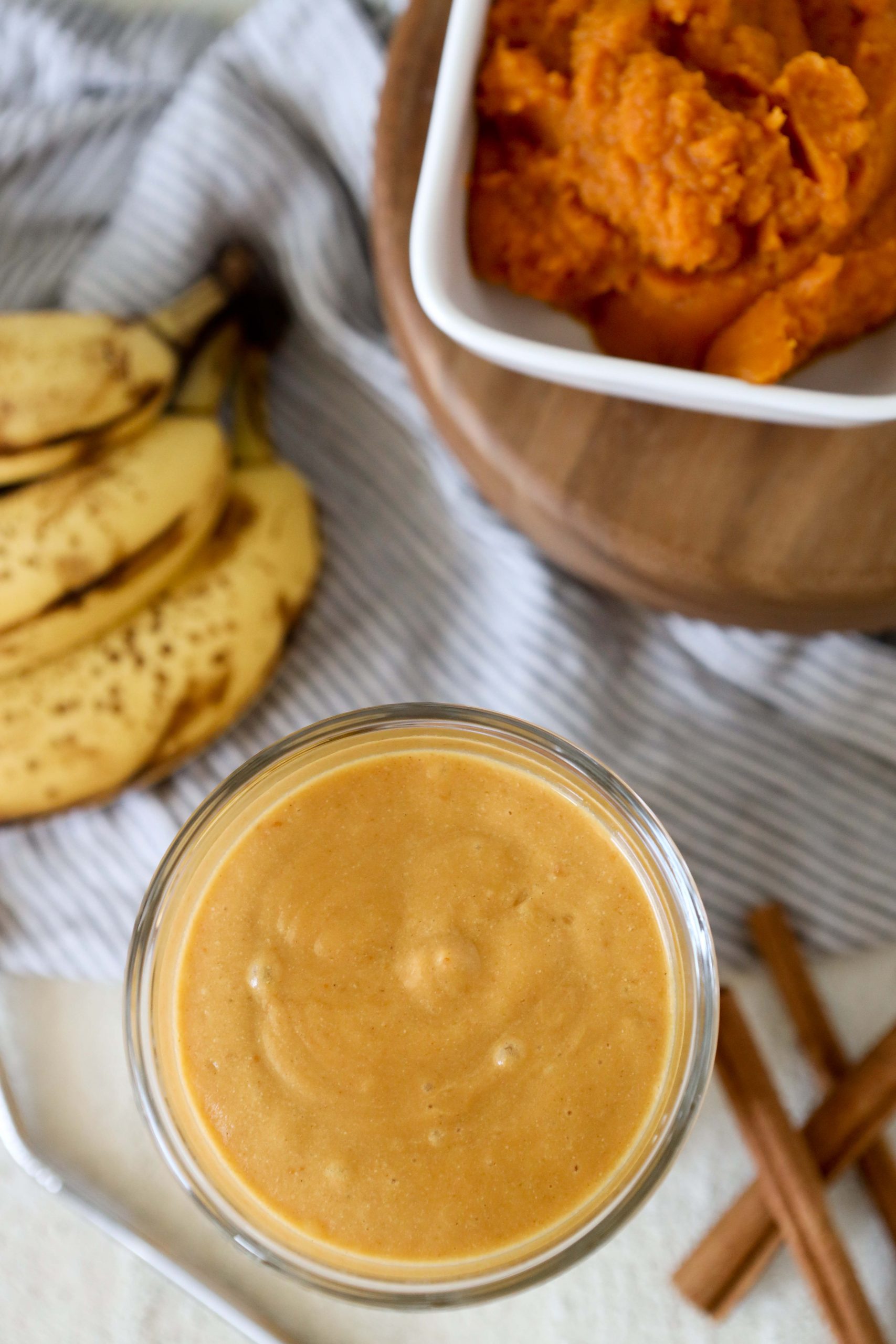 Kid-approved.
My kiddos quickly got into these smoothies. I mean, they simply devoured them. As a mom that has a hard time finding a way to get them to consume veggies at breakfast, it felt like a win. Not to mention, they're old enough now to make them themselves. I also add a scoop or two of collagen powder to add some extra nutrients and protein. If you have a child with a nut allergy feel free to use sunflower butter in place of the cashew butter and a coconut beverage in lieu of a nut-based milk. The flavors will vary a bit but it will still be tasty nonetheless.
If you're looking for some other tasty fall recipes make sure to check out my Dairy-Free Pumpkin Spice Latte (better than the one you're all familiar with), Vegan Pumpkin Curry or Pumpkin Pie Egg Muffins.
And with that, your fall is set.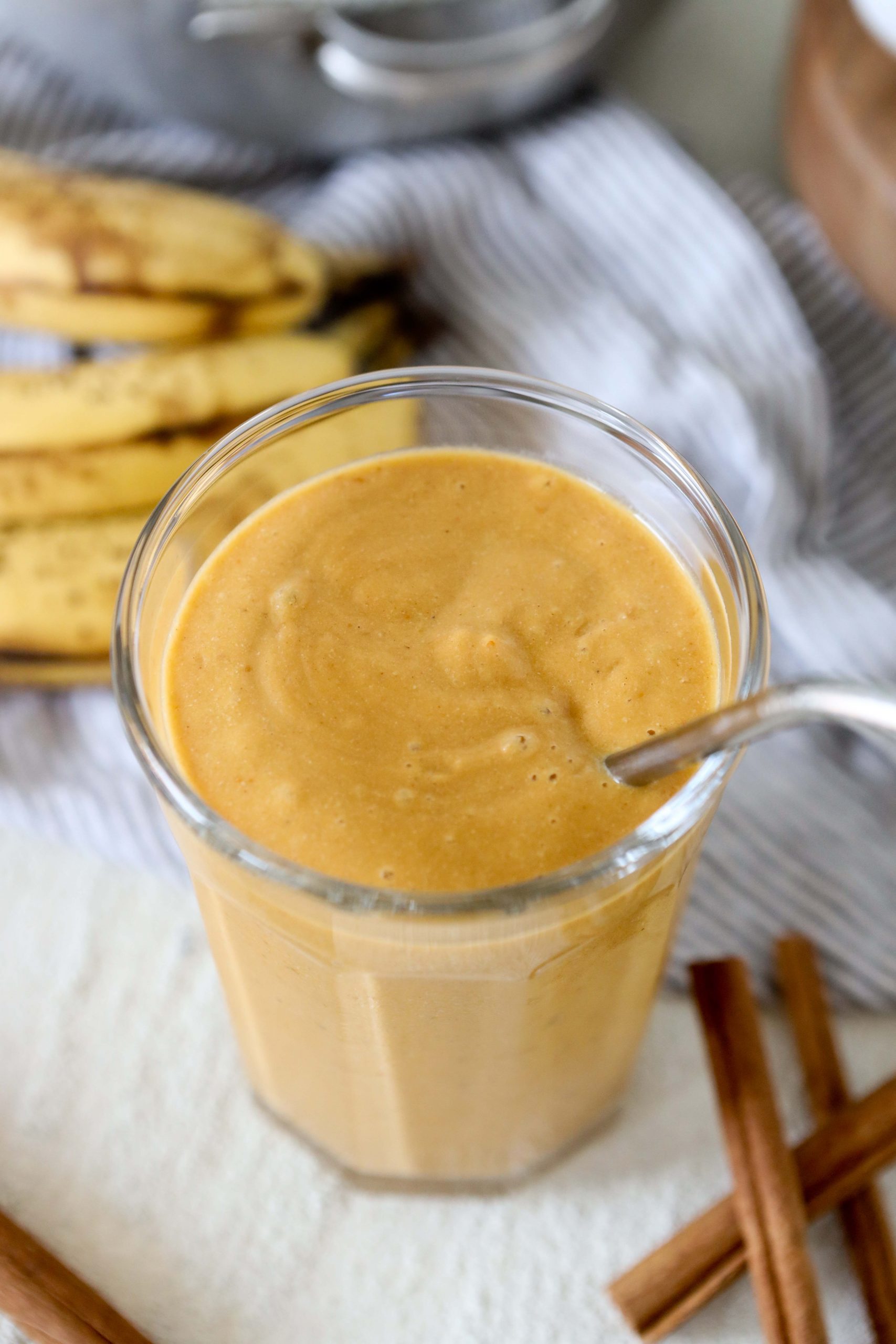 Tips:
Feel free to use sunflower butter in lieu of cashew butter and coconut milk beverage in order to make this recipe nut-free.
If you're in a pinch and your bananas aren't frozen, use your room temperature bananas and add 1/2 cup of ice to the smoothie.
Make these ahead of time and store the smoothie individually in these resealable plastic beverage jars from Ball. Pack the frozen smoothie for school lunches or a snack-on-the-go. It will begin to defrost after a couple of hours and be ready to eat when you need it.
Feel free to replace the nutmeg and cinnamon with 4 teaspoons of pumpkin pie spice if you have that on hand.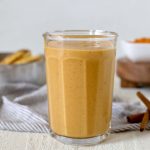 print recipe
Paleo Pumpkin Pie Smoothie
A dairy free, peanut free, gluten free pumpkin pie smoothie.
Ingredients
2

C.

almond milk

3/4

C.

canned pumpkin

1/4

cup

cashew butter

2

frozen bananas

1

tablespoon

maple syrup

2

teaspoons

nutmeg

2

teaspoons

cinnamon

2

teaspoons

vanilla extract or seeds from 1/2 of a vanilla pod
Instructions
Add all ingredients into your blender and blend until smooth.

That's IT! Freeze any extra in freezer-proof plastic beverage containers and defrost at another time.