Oh Pumpkin Spice Latte how you've shaped everyone's Fall in a post-Y2K world. According to the most recent Farmer's Almanac, fall now officially starts when Starbucks begins serving it's infamous PSL. Ok, so that's not true but people are waiting for that frothy little drink to get into their hands for months and it really does unofficially kick off fall.
And yes, that warm sip of fall in the mornings feels so good going down but let's break it down shall we people? I'm not sure when Starbucks went from hippie, Seattle-based coffee shop to a morning crack sugar bomb you can find on every corner but somewhere along the lines it happened. I kid you not, when I worked in San Francisco there were two Starbucks kiddie-corner from each other. AND a walk up a block away.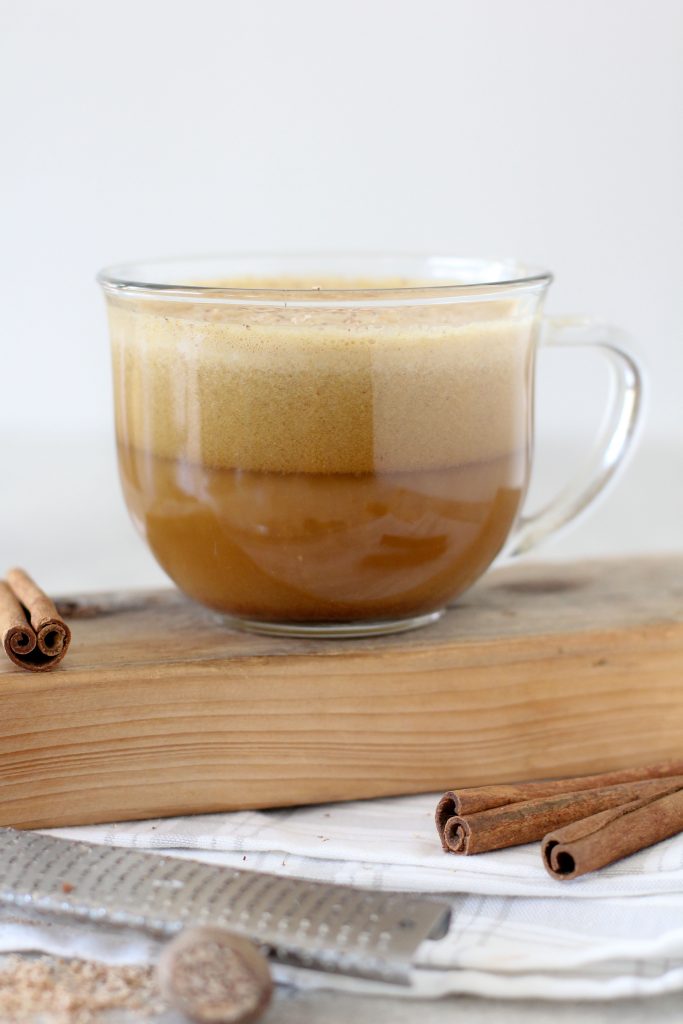 So let's talk about what goes into these PSL… mainly the sugar. In a 16-ounce grande Pumpkin Spice Latte with NO whipped cream there are 48 grams of sugar. And if you're feeling especially splurge-y and go for the venti, that's 62 grams of sugar! Can you believe it? That's more than one can of Coke that comes in at 39 grams. For crying out loud, a Pumpkin Spice DONUT from Krispy Kreme clocks in with less at 29 grams.
What are we doing here people? Honestly, how is starting our morning out with that much sugar a good idea in anyone's book? Something I've come to realize along the way in my food / clean eating journey is that you don't even NEED that much sugar to make something taste good. As proven with this Paleo Pumpkin Spice Latte.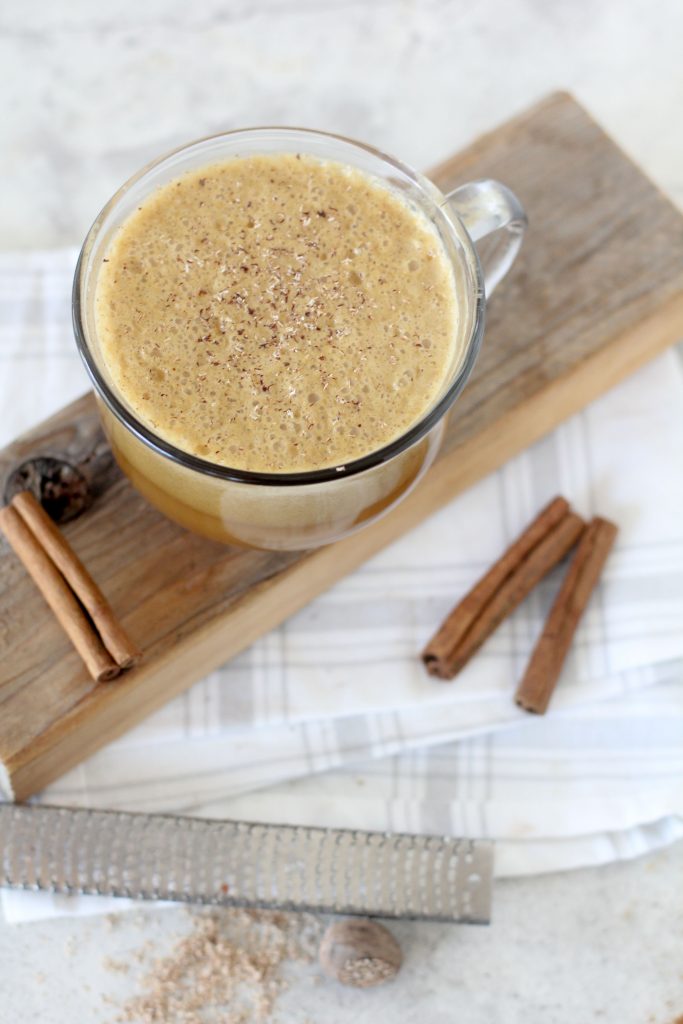 All I used to sweeten it up was two tablespoons of maple syrup. Each tablespoon has 14 grams of sugar. That's it! And since this recipe is 2 servings anyways, you're just getting that one tablespoon. And you know what? You are going to LOVE this recipe. In fact, you can make it for any of your non-paleo, clean eating friends and I bet they wouldn't even know.
As far as any other tips of tricks, there really are none. Other than I recommend using New Barn almond milk. The ingredients are as clean as they can get and the milk froths up just like any traditional dairy milk which you can see in the photos.
And because I know people will ask, no it is not Whole30 compliant because there is maple syrup in it as a sweetener. You can make it without and it will most definitely have a different flavor, so it's your call. But don't come telling me that it doesn't taste like a Pumpkin Spice Latte, lol.
But seriously guys, there is no need to be spending $4-5 on a cup of this at Starbucks that's going to make you feel like garbage when you're done. Make it at home! Make it with real food and you'll be much happier.
And if you have a hankering for some MORE clean, healthier pumpkin recipes of mine feel free to check out my Pumpkin Pie Bites and my Pumpkin + Apple Oatmeal Bake. OR my Pumpkin Pie Smoothie. You'll love all of those equally as much!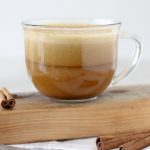 Print Recipe
Paleo Pumpkin Spice Latte
A fall favorite with a fraction of the sugar! This Pumpkin Spice Latte is dairy-free, paleo-friendly, vegan and amazing!
Ingredients
2

C.

hot coffee

1/2

C.

almond milk

3

Tbsp.

pumpkin puree

2

Tbsp.

maple syrup

1

Tbsp.

coconut oil

1

tsp.

pumpkin pie spice
Instructions
Add all ingredients to a blender and blend until frothy