There are some days where I feel my creative writing juices pumping through my veins. I think of funny, witty stuff in my head all day and I have no one around but a 2 and 4 year old to laugh at it all. Even the best of my jokes are met with a pause and a, "Oh, mommy, you're such a pia-toda!" A WHAT? I can't even… Clearly that must mean brilliant, hilarious mother in child speak.
But tonight is really not one of them. I feel should give these Banana Blondies the honor of a long introduction because they are quite delicious and it took me 3 batches to figure it out. But quite honestly, I don't waaaaaanna. At least not tonight. Tonight I want to sit here and watch me some Million Dollar Listing LA. It makes me realize that I missed my true calling of being a real estate agent in LA to the likes of Beyonce, Martha Stewart, Lisa Vanderpump and some wealthy-European-who-I-have-no-idea-what-he-does-for-a-living-and-looks-at-me-a-little-creepy-sometimes-but-it-doesn't-matter-because-his-checks-always-cash type of real estate agent. Truth.
Thankfully I'm almost as good at cooking as selling imaginary real estate.
Here's your blondies. And if you're looking for another delicious (and quick) gluten/grain-free dessert, may I suggest my No'tmeal Raisin Cookies? You won't be sorry!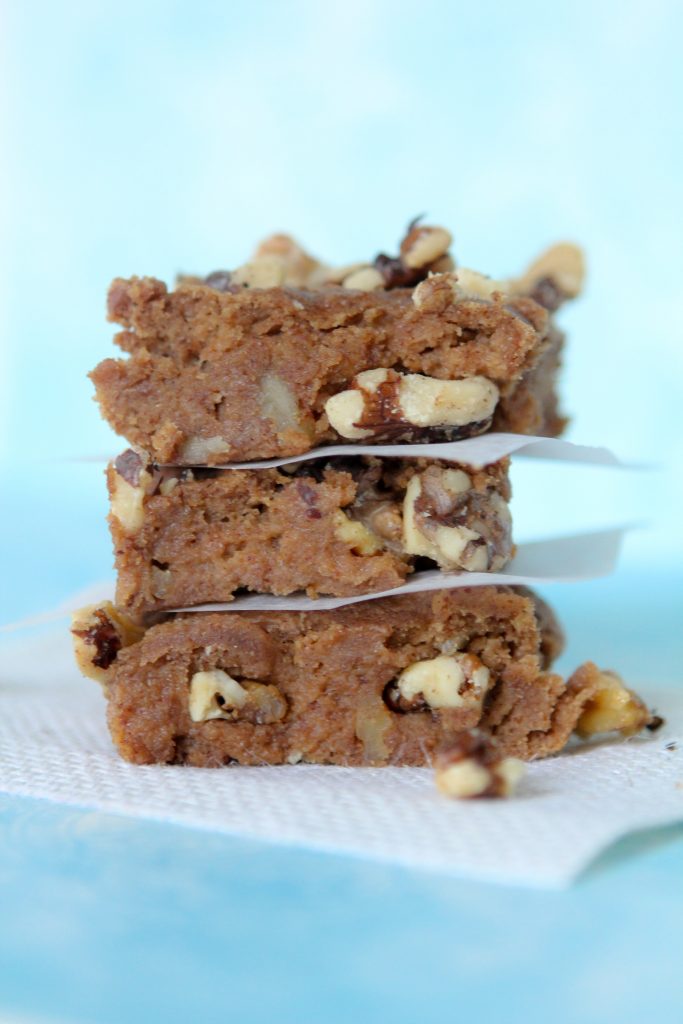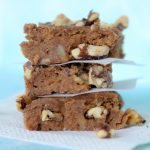 print recipe
Paleo Banana Blondies
A dairy free, grain free fudgey paleo blondie.
Ingredients
2

extra ripe bananas

1/2

C.

creamy almond butter well stirred

1/3

C.

maple syrup

1/3

C.

+ 1 Tbsp. coconut flour

I like Nutiva brand

1/2

tsp.

cinnamon

1/4

tsp

baking soda

1/2

tsp.

baking powder

pinch

of salt

1/3

C.

chopped walnuts
Instructions
Preheat oven to 350*

Grease an 8x8 baking dish with coconut oil or line with parchment paper

All all ingredients into a high powered blender (like a Blendtec!) and blend until smooth

Add walnuts and pulse to combine

Pour into pan and bake for 30 minutes