I don't know about you, but I am sick.of.kale. There, I said it. I know, blasphemy in the healthy foodie world, right? How about a show of hands for the rest of you who are as well. Yep, that's about what I expected. Keep those hands coming.
I am kale chipped and salad-ed out. I still put them it into smoothies in the morning because I know it's healthy for me and my Blendtec pulverizes it enough that I really don't even know I'm getting my kale in. But other than that? Uuuugh! I remember a few seasons ago when Top Chef had a kale challenge to create something else with kale other than a salad or chips. They needed to make something more innovative using it. I was stumped at to what I would have made. And now, through habit, I keep buying it at the store when I'm there. And it's always the last vegetable I use up in the fridge.
The other day I was looking through my San Francisco Chef's Table cookbook and saw a recipe for creamed kale. I knew I could TRY to paleo-fy it but I really wasn't sure what the results would be. The only thing that made sense to substitute with the cream was going to be coconut milk. Coconut milk and kale sounded like a hairy endeavor. I mean, how was I going to make kale interesting again by adding coconut to it? What kind of flavor combination was that going to be? Gross, by my calculations. But I was determined to give it a whirl. And guess what? I'm glad I gave it a try!
I made two batches of this deliciousness. One was traditional with good ol fashioned cream and the other used coconut milk. I wanted to be able to compare the two versions to see if I could get it close in flavor and consistency using the coconut milk. Like any good scientist, I needed my control group.
My results were surprising… I really couldn't tell a difference. Score! So if you are sick and tired of kale chips, salads and smoothies I'd definitely give this a go. I think it would be an awesome alternative at Thanksgiving as well.
Another thing I found that I really liked in this creamed kale was it's consistency compared to creamed spinach. While I still love it, creamed spinach tends to get a bit mushy. In contrast, the kale kept a bit more of it's "bite" and didn't just wilt away into a pile of mushiness.
I didn't try it this time around, but I'm also thinking some bits of bacon could take this bad boy to the next level. Because, really, is there anything it doesn't make better? I'm pretty sure it even makes my relationship better. If I make Brad mad one day, all I need to do is make him some bacon and all is good in the world again.
Ok, enough bacon talk. Here's the recipe, enjoy!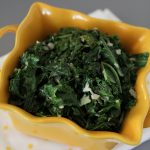 print recipe
Creamed Kale
Paleo creamed kale using that is dairy free and uses coconut milk.
Ingredients
1

Tbsp.

cooking oil / butter / ghee

4

C.

chopped kale de-stemmed

3

cloves

of garlic finely chopped

1

shallot finely chopped

1/2

C.

chicken broth

1/4

C.

coconut milk

1/2

tsp.

allspice
Instructions
Heat cooking oil / butter / ghee in dutch oven or large stock pot over medium heat.

Once metled, add garlic and shallot to pot.

Cook until tender, making sure not to burn!

Add chicken stock, raise heat to medium-high and let liquid reduce by half.

Once reduced, add allspice and coconut milk.

Add kale and stir to coat.

Continue to cook kale for another 10 to 15 minutes, stirring every few minutes.

Salt and pepper to taste.