This Whole30 Green Magic Sauce from the Whole Smiths is brought to you in collaboration with New Barn Organic Almond Milk. This paleo and Whole30 compliant sauce and dip is bursting with fresh and zesty flavors.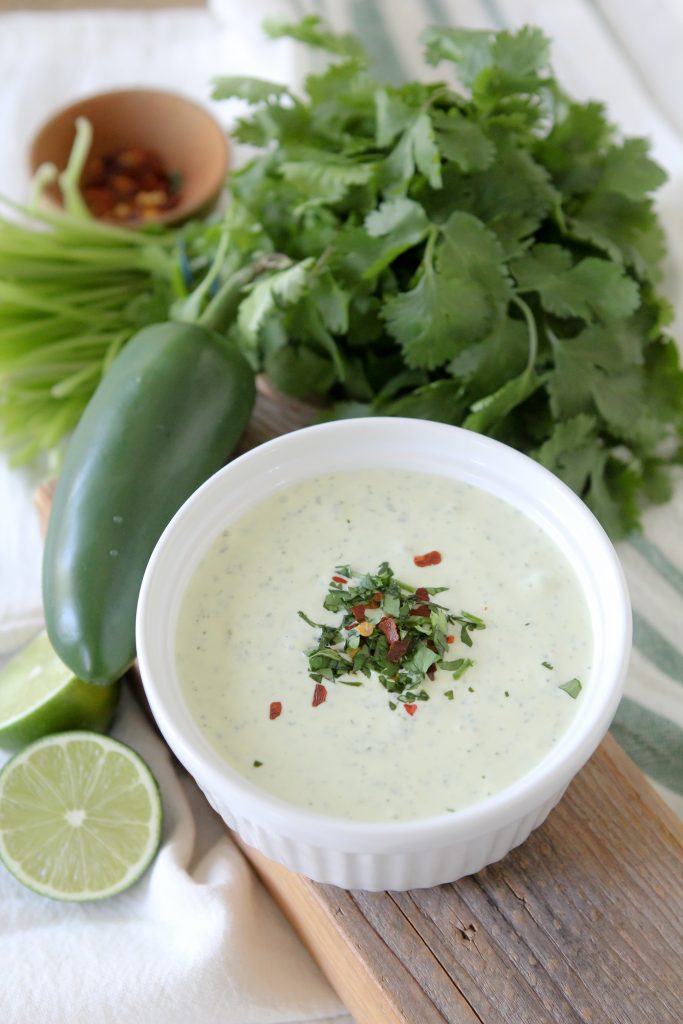 This Earth Day I wanted to bring you a GREEN recipe that you could put on everything. And I mean everything. From tacos to sweet potatoes to eggs, this green sauce is sure to bring loads of flavor to any dish of yours. From the fresh cilantro, spicy jalapeño and the zip of the lime, you'll be addicted in no time.
Metaphorically I thought creating a green sauce that could be drizzled overtop of just about everything would be symbolic of spreading the idea of "green" for Earth Day. How about that? Maybe it's a stretch but so be it.
What I do know is the New Barn Organic Almondmilk I use IS synonymous with Earth Day. Not only is their almond milk organic which means it's better for us and the bees, but their bottles are BPA free and recyclable. Or if you're my kids and your family ends up with enough bottles, you can use them as bowling pins for some family-fun hallway bowling. True story.
One of the reasons I love supporting New Barn Organic Almondmilk is because of their environmentally conscious efforts in creating and making their product. In fact, I've taken this quote from their website to share with you:
"With every product we make, our goal is the same: to create food that is real and good for your whole family. This means being transparent with our ingredients and sourcing decisions and truly valuing the people, animals, and environments involved in creating our products.
That's why we call it New Barn. It's our take on making food for today's busy families, with a deeper set of values and a commitment to where we started. Something we would be proud to serve in our own kitchen."
See what I mean? It's easy to support a company with that vision. Beyond New Barn's environmentally conscious attitude, their product tastes amazing. It tastes just like almond milk you'd make at home. But so much easier because they've done all the work for you.
When I said you could add this green magic sauce to anything, I wasn't kidding. This sauce is perfect on any savory dish. You could add it over top of my Paleo Chicken Enchiladas, salmon, or even my Carnitas Frittata, the choice is yours. In addition, you could thin it out with a tad bit more almond milk and turn it into a flavorful dressing.
I also suggest that you may it using my 30-Second Mayo as the base. Not only is it Whole30 compliant but it's so easy. In fact, it's actually fun to make. I use an immersion blender and let science to the rest. And yes, it really takes 30 seconds to make.
Whatever you decide to ass this Green Magic Sauce onto you are sure to love it!

Print Recipe
Whole30 Magic Green Sauce
This Whole30 Green Magic Sauce from the Whole Smiths is paleo and Whole30 compliant. It's bursting with fresh flavors and perfect on anything. Anything.
Ingredients
1

cup

mayonaise

1/4

cup

cilantro

1

tablespoon

roughly chopped jalapeño

3

cloves

garlic

minced

3

tablespoons

almond milk

lime juice from 1/2 lime

1/4

teaspoon

salt

1/4

teaspoon

red pepper flakes
Instructions
Add the cilantro, jalapeños, garlic, almond milk, lime juice, salt and red pepper flakes to the mayo and blend using an immersion blender. If you don't have an immersion blender add to a food processor or blender and pulse until smooth.