Here we are starting a new year on another Whole30. Every time that I do a Whole30 I tell myself it's the last time I'm going to do one. Probably because A. It kinda sucks (in a John Mellencamp hurts-so-good kinda way) and B. Because I think I am "cured" from ever letting my diet get poor and will forever, never-ever go back to eating sugar and overload on low quality dairy. Yyeahhh…
So here we are on another round of Whole30.
I've never been a black coffee girl, probably since I don't really "do" caffeine but I do like having a warm cup of something in the mornings. Usually it's my own Smith-Style Bulletproof Coffee concoction that you can find HERE but when I'm on a Whole30 the maple syrup is out. So I'm left with coffee and coconut oil which I'm not all that crazy for.
Enter clean / Whole30 compliant almond milk from the New Barn. In my book, it's a game changer. On all levels. Not only is it clean of all of the junky thickeners and additives that most other brands use, it simply tastes so much better. It tastes like, well, it tastes like almond milk. What almond milk is SUPPOSED to taste like. Make sure to use their UNSWEETENED version though as that is the version that is compliant. Yes, you can make your own almond milk but I make enough of my own stuff already and don't need to add more to that list.
And guess what? It gets frothy. That's right, froth people. Like a real latte. It actually gets nice and frothy. This is the point I'd add a "mic drop", but that's just way too 2015 for this girl. 😉
Feel free to add some cinnamon to this tasty treat too.
Enjoy and Happy New Year everyone!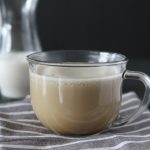 Print Recipe
whole30 latte
A dairy free latte
Ingredients
1

& 1/4 C. coffee

2

Tbsp.

coconut oil

1/2

cup

almond milk

preferably New Barn

1/2

tsp.

cinnamon

optional
Instructions
Add all ingredients to a tall measuring cup

Using an immersion / hand blender blend until frothy

Sit down, take a load off and relax