Chocolate Hazelnut Spread
5 years ago if you gave me a spoon and some Nutella I'd be as happy of a camper as they came. It always seemed to satisfy my late night sweet tooth. I didn't even need anything to put it on, just a spoon would suffice.
However as the years went on and I cleaned up my diet it wasn't quite the same deliciousness I had once remembered… it now tasted too sweet and well, processed. I've been wanting to create my own cleaned up hazelnut spread for awhile and when the opportunity to create a joint recipe with Blendtec came about, I knew just what I was going to make! The perfect chocolate hazelnut spread and some grain-free, paleo crepes.
Let me start by saying this is the quickest and easiest nut butter I've ever made. It literally takes one minute (if that) of blending in my Blendtec with my Twister Jar and you are set to go. That's literally it and it gives the best, creamiest texture ever. I kept the ingredients as simple and minimal as possible, which is a blessing and a curse because you can make it as often as you'd like.
I purchased my hazelnuts pre roasted from Trader Joe's, you can get a bag there for about $7 that will be good for about three batches… not that I shamefully know this for any reason. Ha. As for the chocolate chips I always use Enjoy Life as the ingredients are always clean and allegory-free. You can use any kind of chocolate that you'd like, feel free to get creative with it… just check this ingredients for funny business.
Now for all of the different things you can do with this deliciousness… besides eating it with a spoon of course.
The first and most obvious choice is crepes. Something about the richness of the chocolate and hazelnuts paired with the simple, delicate crepe makes my brain, heart and stomach go bananas. Which, coincidentally enough you can also add to this crepe or dip into your spread… ha, ha, aaaa. Errrr. Moving on.. You can find the perfect gain-free crepe recipe over on the Blendtec blog HERE. Head over to bookmark that and start planning for your perfect crepe.
From there you can add any sort of topping that you'd like to your crepe. My preference is some berries as the tartness of the is the perfect balance against the other flavors and textures.
Some other ideas include dipping your fruit into it (obviously), a filling for cakes, cupcakes etc, on some toast, or THIS boozy mocha ice cream float I put together with also fills my brain, heart and stomach with all the good vibes. I added my favorite New Barn almond milk ice cream, Coffee Almond Creme, to a glass, poured in a bit of Kaluha and topped with some of this chocolate hazelnut spread and crushed hazelnuts. It's truly what dreams are made of. My favorite part is that the chocolate hazelnut spread gets a bit harder as it gets cold so it becomes a bit chewy and adds some texture to the float.
With that I leave you with endless possibilities and may all of your chocolate hazelnut dreams come true.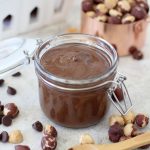 print recipe
Chocolate Hazelnut Spread
A dairy-dree, gluten-free chocolate hazelnut spread that is paleo friendly by the Whole Smiths.
Ingredients
1

C.

roasted hazelnuts

1

C.

chocolate chips

2

Tbsp.

extra light tasting olive oil

1/2

tsp.

vanilla extract

Pinch

of sea salt
Instructions
Add all of your ingredients to a high powered blender such as a Blendtec and blend until smooth