Grilled Fruit Kebab + Honey Mint Glaze
It's about that time of summer where the novelty of summer has started wearing off but I'm still not ready for it to end. I'm ready for the kids to go back to school and get back on a schedule but I'm not quite ready to give up the sun, pool and BBQs. You know what I mean?
But I find the last couple of weeks in August and first few in September seems to be the best of both worlds. It's still warm enough to enjoy the summer and grilling but the kids are back to school and I get back to my routine. So let's not pack up those BBQs quite yet because we still have some grilling left to do!
Like these amazing Grilled Fruit Kebabs + Honey Mint Glaze I partnered up with Whole Foods Market to bring you! As part of their Unique Summer Grilling Campaign I wanted to create something that was healthy, fun, easy and of course unique for you. I also thought a dessert would be appropriate for a summer grilling because nobody wants to be turning on an oven to bake something when it's toasty outside.
I also thought it would perfectly showcase the amazing fruit I always find at Whole Foods Market. Hands down they have the best fresh produce department of any grocery store in my mind. Truly, it is always the BEST. First off, I can find anything organic and everything is always just the perfect amount of "ripe". All of their fruit always looks so pretty, fresh and inviting. Always. Even ask Brad, I just wander around their produce department looking for new things to try and load up on the fresh fruit. There's also a huge variety that I can't find elsewhere, I even recently found a jackfruit there. So needless to say Summer + Grill + Fruit seemed like a perfect Unique Summer Grilling combo to me.
But I couldn't just throw some pineapple onto a skewer and call it a day, no way. I needed to take this up a notch and really bring out the flavors so I created a honey glaze using honey (duh) and some champagne vinegar to balance out the flavors and topped it with some fresh mint. All of those flavors combined with some char from the grill really did the trick. I also wanted to use fruits that don't always hit the grill like plums, pears and figs. I'm here to tell you they all grilled up perfectly… especially the figs. But I'm partial to figs so take that for what it's worth. Get creative and try additional fruits that I might not have listed here. Trust me, you ca go wrong with warm, sweet honey-ied fruit.
So tell me, what's your favorite unique food to grill? Sound off below and go hit up your local Whole Foods Market for some grilling goodies!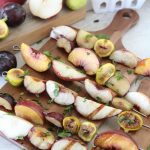 print recipe
Grilled Fruit Kebab + Honey Mint Glaze
A perfect summer dessert for the BBQ from the Whole Smiths. Paleo friendly!
Ingredients
1/4

C.

olive oil

1

Tbsp.

honey

1/2

tsp.

champagne vinegar

Mixed fruits such as plums

peaches, figs, nectarines, pears, pineapple cut into pieces

1/4

C.

chopped mint
Instructions
In a small bowl mix olive oil, honey an champagne vinegar

Whisk until combined

Skewer fruit onto kebabs

Brush honey glaze over fruit

Grill fruit for 6 minutes on each side until soft

Sprinkle with mint