Gluten-Free Butternut Squash Savory Bread Pudding – The Whole Smiths
This Gluten-Free Butternut Squash Savory Bread Pudding recipe from The Whole Smiths is sure to please everybody. Great for Thanksgiving!
We've been making a variation of this bread pudding for Thanksgiving ever since I started eating gluten-free. That, and since we started deep frying our turkey and realized that a delicious stuffing was missing from our diner table. With that said, this is a perfect recipe for those fellow gluten-free eaters AND those who deep fry their turkey and need a delicious alternative to traditional stuffing. I use Canyon Bakehouse Gluten-Free Brioche-Style Sweet Rolls to create this Gluten-Free Butternut Squash Savory Bread Pudding.
A Gluten-Free Recipe Delicious Enough for Everyone.
It can be tough being gluten-free during gatherings, especially at the holidays. But it doesn't have to be. First off, gluten-free products these days are far superior to that of just 5 to 10 years ago. There's no reason that someone who is gluten-free can't indulge just the same on our favorite holidays, including Thanksgiving.
In fact, so many Thanksgiving recipes are naturally gluten-free. Mashed potatoes, turkey, cranberry sauce etc. Even more are incredibly easy to make gluten-free by simply swapping out traditional wheat flour with gluten-free flour; things like gravy, sweet potosi casserole and any recipe that uses flour as a thickener.
And then there are the gluten-free recipes that are so delicious that no one even notices that they're gluten-free. They're just as tasty as their gluten-filled counterparts. Recipes like this Gluten-Free Butternut Squash Savory Bread Pudding. The secret to making it just as amazing as any traditional dish, is finding the right bread.
Finding the Right Gluten-Free Bread.
Listen, as someone who has been gluten-free for about 8 or 9 years now, I can safely say that not all gluten-free bread is created equally. Some (ok, most) are dry and crumbly if I'm being honest, not great. The secret to finding a great gluten-free bread, especially for this recipe, is finding a bread that has the right texture. That texture will be one that creates a texture that's chewy yet still retains the ability to crisp up on the outside.
I have consistently found that Canyon Bakehouse makes the best gluten-free breads around. I often can't even tell that they're gluten-free. Whether it's for san which bread os speciality rolls like these brioche-style sweet rolls that I used in the this Gluten-Free Butternut Squash Savory Bread Pudding recipe, they're consistently the winner.
You can use the store locator on their website to find your nearest retailer, or better yet, order their products straight from their website.
How to Make Gluten-Free Butternut Squash Savory Bread Pudding.
The truth of the matter is, this recipe couldn't be any easier to make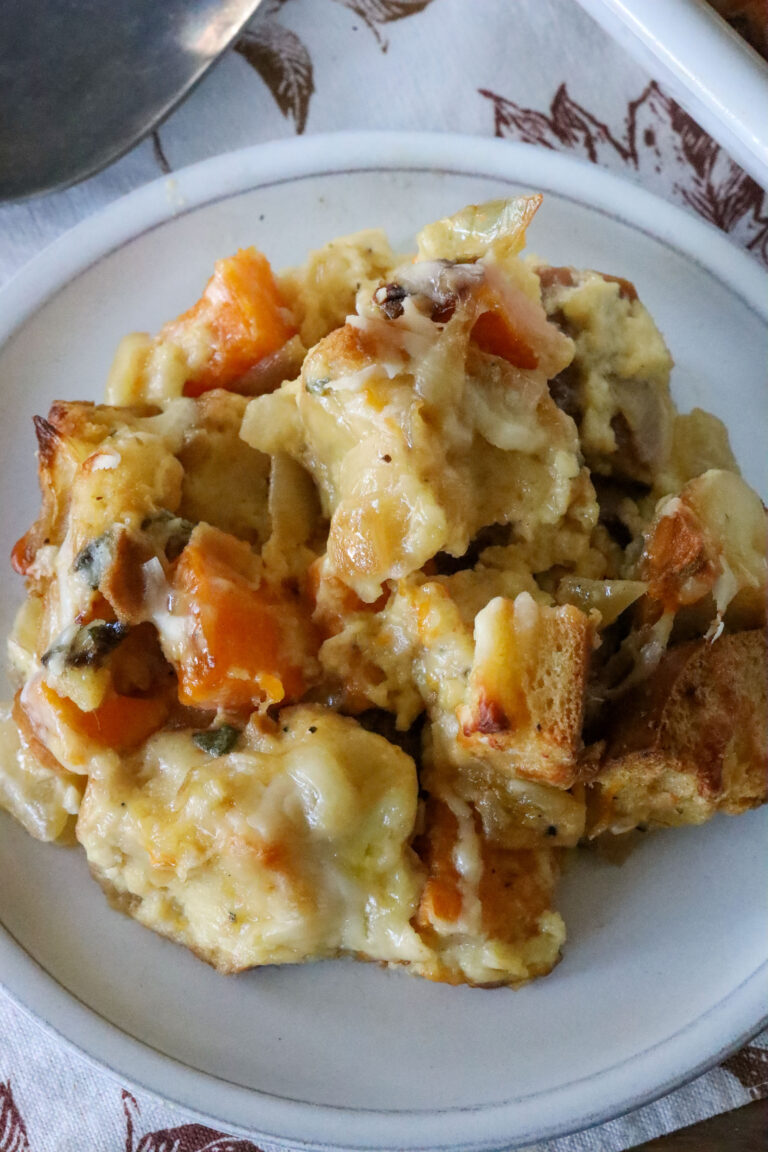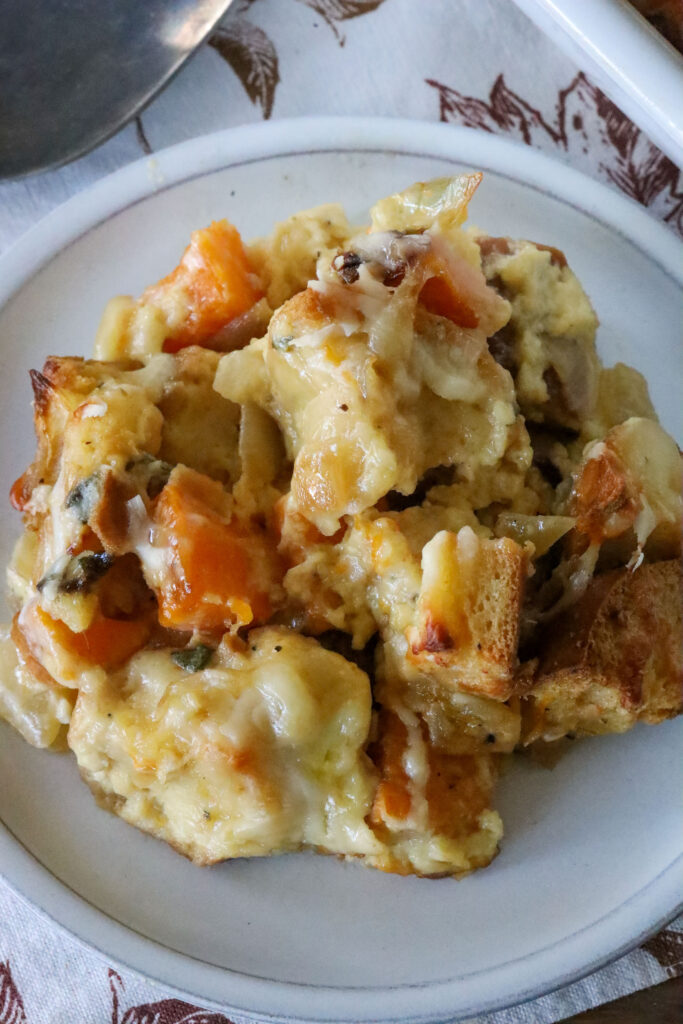 Tips, Tricks & Hacks.
You can use roasted sweet potatoes in lieu of butternut squash if you'd like.
Feel free to prepare parts of this recipe ahead of time to make for easy assembly the next day. I recommend roasting your butternut squash and sautéing your onions, pancetta, garlic the day before and storing it refrigerated in an airtight container.
An alternate serving suggestion for this recipe is to portion it into individual ramekins and serve each guest a ramekin. It's such a cute way to prepare it and feels extra special for your guests. You will want to reduce the cook time accordingly. Because I don't know what size ramekin you will use, I can't recommend a specific time to cook them. But I can say you will want to cook the bread pudding until it is bubbling and lightly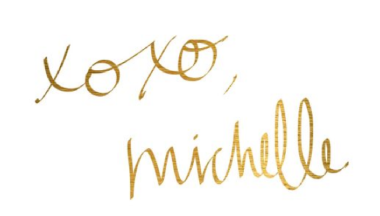 print recipe
Gluten-Free Butternut Squash Bread Pudding
Ingredients
6

cups

cubed and toasted gluten-free bread

preferably rolls like Canyon Bakehouse GF Brioche-Style Sweet Rolls

3

teaspoons

olive oil

6

cups

cubed butternut squash

about 2 pounds

3

teaspoons

salt

2

onions

diced

3

cloves

garlic

minced

1

tablespoon

finely chopped sage

¼

teaspoon

black pepper

4

ounces

diced pancetta

4

eggs

1 ½

cups

cream

1

cup

chicken stock

2

cups

grated gruyere
Instructions
Preheat the oven to 425* F.

Add the butternut squash, 2 teaspoons of olive oil, and 2 teaspoons of salt to a large bowl and toss to coast the butternut squash evenly. Spread butternut quash onto a roasting pan and roast for 20 to 25 minutes until the squash is soft and lightly browned.

Heat a frying pan over medium heat. Once the pan is hot, add remaining teaspoon of olive oil to the pan. Add the onions, pancetta and remaining teaspoon of salt to the pan and sauté for about 8 to 9 minutes until the onions are lightly browned and the pancetta is lightly crisped. Add the garlic, sage and black pepper and sauté for an additional minute. Remove the pan from the heat.

Add the eggs, cream and chicken stock to a large bowl and whisk the ingredient until they are full combined and uniform. Add one cup of the gruyere, onions and pancetta, butternut squash and toasted pieces of bread to the bowl. Fold the ingredients together until they are well combined.

Let the ingredients rest in the bowl for about 5 minutes so the bread can absorb some of the liquid. After 5 minutes, add the mixture to a 13x11-inch baking dish. Spread the ingredients out evenly. Sprinkle the remainder of the gruyere cheese over top.

Bake the dish for about 50 minutes until the bread pudding is bubbly and golden brown on top.