A cozy easy-to-make Whole30 compliant Roasted Tomato + Red Pepper Soup recipe from the Whole Smiths. Great as a side dish or topped with a fried egg or two.
At the end of every summer we have one final harvest of tomatoes that we pick from our garden before we take out the plants. It's always bittersweet. As someone who adores the fall, it's a sign of all of the cozy autumn things yet to come. But it's also a sign that the warm summer days spent at the pool or BBQing with friends are coming to an end. And my fresh, juicy, sweet tomatoes will be gone again until next year.
But that's ok. Because this amazing soup is killer and makes me just as excited. I also added a bit of New Barn Organic Unsweetened Almondmilk to make it a bit creamier and man, does it deliver. As you know, New Barn's Unsweetened variety is Whole30 approved and I always add a touch of it to the soups I make, especially veggie soups. Like my Loaded Broccoli + Chicken Soup, which is also Whole30 compliant for you. I also use it in my Whole30 Latte.
I just adore that New Barn's Unsweetened variety is Whole30 compliant. While we aren't always on a Whole30 (obviously) I'll never go back to using other almond milks that are loaded with junk. Why would I? There's no reason to. It's one of the things that I really want to drive home. Just because you are done on your Whole30, it doesn't mean you shouldn't still be incorporating Whole30 principles into your every day dietary choices. Using clean almond milk is something that has become fixed in our household. There ain't no going back.
Ok back to this amazing soup. First off, a bit of my history with tomatoes. I've spent most of my life not liking them. I always requested my burgers, sandwiches, salads, etc. sans tomatoes. I did however always enjoy salsa. It took me forever to realize the reason I didn't like tomatoes was A. the slimy seedy part and B. store bought tomatoes rarely had the flavor they should. Honestly, it was;t until after my kids were born that I started liking them. Don't get me wrong, I still don't like the flavorless, seedy ones that places like Subway or Chili's is serving up but home grown or Farmer's Market tomatoes have my heart. I love them.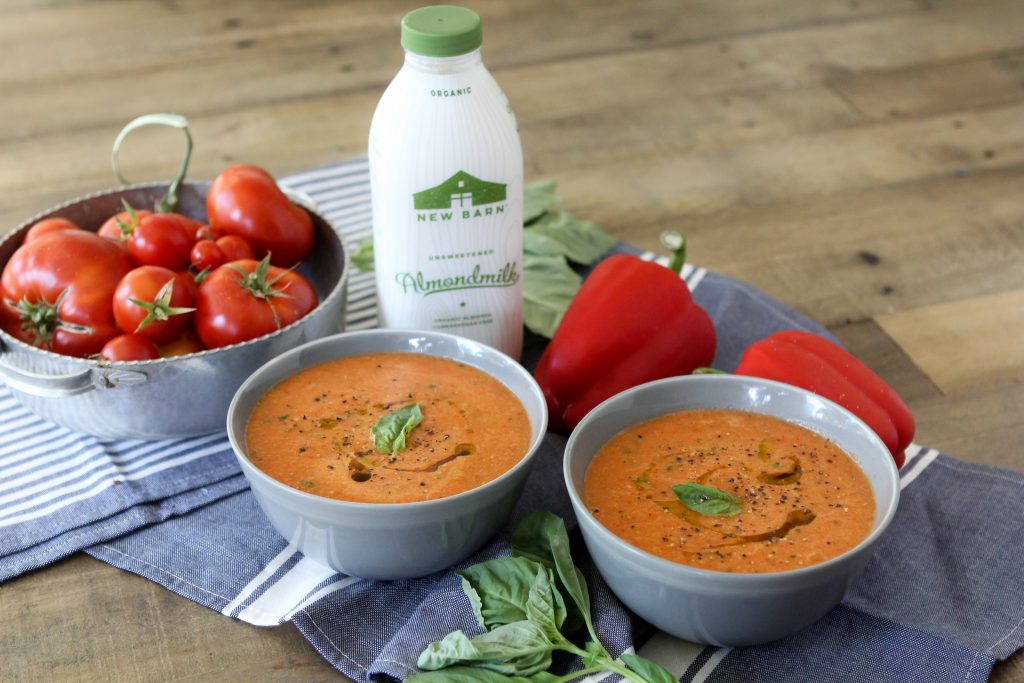 And this soup. But I've already said that a zillion times. Did I mention how easy it is? If I was a more patient mother, my 7 year old could whip this one up. No joke. I hope you enjoy this recipe as much as all of us do. And ext time you're at your local Whole Foods Market, grab some New Barn Organic Almondmilk, you won't regret it!

print recipe
Whole30 Roasted Tomato + Red Pepper Soup
A cozy easy-to-make Whole30 compliant Roasted Tomato + Red Pepper Soup recipe from the Whole Smiths. Great as a side dish or topped with a fried egg or two.
Ingredients
2

pounds

tomatoes

2

red peppers

deseeded and halved

1

onion

chopped into large pieces

6-7

cloves

garlic

2

tablespoons

olive oil

3

teaspoons

salt

4

cups

chicken stock

1/2

cup

New Barn Unsweetened Almondmilk

1/2

cup

basil

chopped

Black pepper
Instructions
Preheat the oven to 450* F. Line two baking sheets with parchment paper.

Add the tomatoes, peppers, onion garlic, olive oil and 2 teaspoons of the salt in a large bowl and toss to coat. Spread the vegetable mix evenly in one layer onto the baking sheets and roast for 30 - 35 minutes.

Add the roasted vegetables to a blender with the chicken broth and almond milk and blend. Add the basil and remainder of the salt to the soup and pulse several times to incorporate the basil. Add the soup to a stock pot over medium low heat and warm through.

Serve with a small drizzle of olive oil and black pepper to taste.