Baja Shrimp Taco + Chipotle Crema
I have to say, I'm really excited for this post! First, this is likely to be the last post I have using my current blog format. As we speak (write?) the Whole Smiths is undergoing a major overhaul. I'm working to bring you more functionality and a better design. You'll be able to see so much more when you visit my site and be able to find me recipes much easier. I cannot wait for you to see it! Word on the street (aka my web designer) says it should be ready to go by Thanksgiving, so fingers crossed. Second, hello… TACOS! Everyone loves tacos. Everyone. 
And the final reason I'm so excited for this post is that I feel this recipe really encompasses everything that the wWhole Smiths is all about. Clean, easy and delicious food that doesn't make you think "healthy" when you're eating it. It's adaptable for different food preferences and tastes without changing your entire meal to suit everyone. Husband wants a tortilla for his taco, great. Give him a tortilla. The kids just want it in a bowl? Give 'em a bowl. 
On to the recipe! Like I mentioned, there are some alternatives that you can use in this recipe. I personally choose to avoid all grains in my diet but I understand that not everyone follows that, so you have the option of using a (gluten free) organic corn tortilla or butter lettuce to wrap it.  You'll also find some options in the chipotle crema sauce. You can use either your own homemade mayo, that you can find HERE (trust me, it's sooooo easy and so good) or if you prefer, you can opt to use a paleo mayo such as Sir Kensington's. Just note, if you choose to use a store bought mayonnaise, you will probably want to thin out the crema sauce with a bit of coconut milk. The consistency should be thinner than a mayo but thicker than a dressing. And finally, I don't know about you, but I like spicy! I know my kids aren't crazy about it though, so I can't go all out with the heat. Depending on your level tolerance and the members in your family, feel free to add more chipotles to the mayo. Or add just one and scrape out all of the seeds for a more mild version. Personally I added one whole chipotle with the seeds and a second with out. 
If you're looking to make this Whole30 compliant, use a lettuce wrap and leave out the honey.
Enjoy!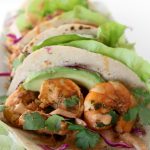 print recipe
Shrimp Baja Tacos
A paleo shrimp taco with spicy chipotle sauce
Ingredients
2

lbs.

shrimp

shelled and deveined

1/2

C.

+ 1/4 C. olive oil

2

Tbsp.

chopped cilantro

2

Tbsp.

finely chopped garlic

1

Tbsp.

+ 1 tsp honey

3

limes

1

tsp.

smoked paprika

1

tsp.

chili powder

1/4

tsp.

salt

1

tsp.

white balsamic vinegar or apple cider vinegar

2

C.

shredded napa cabbage

1/2

C.

paleo or homemade mayo

like Sir Kensignton's

1

or 2 canned chipotles in adobo sauce

1

avocado sliced

5

soft corn tortillas or butter lettuce to wrap tacos
Instructions
In a large Ziploc bag or airtight container add shrimp, 1/2 C. olive oil, chopped cilantro, chopped garlic, 1 Tbsp. of honey, juice of one lime, smoked paprika chili powder and a pinch of salt and marinade 1-3 hours

In a small bowl combine 1/4 C. olive oil, 1 tsp. of honey, white or apple cider vinegar, juice of one lime and salt mix until your vinaigrette is formed

Toss shredded cabbage with vinaigrette and set aside

Using an immersion blender combine mayo, chipotle(s) and juice of 1/2 of a lime and set aside

If needed, thin out crema sauce using coconut milk

Heat large skillet on medium high

Once pan is hot, add shrimp and cook for two minutes each side until cooked through

If using corn tortillas, warm in oven

Using your tortilla or lettuce, layer on cabbage slaw, shrimp

Top with chipotle crema, avocado slice and garnish with cilantro