Green Chile + Chipotle Mayo Burger
Growing up, I was always the "hot dog" kid. I never chose a burger over my beloved hot dog. In fact, I never chose burgers period because I wasn't much of a fan. Except for the occasional Big Mac that our parents would sometimes allow us, I don't remember ever even liking hamburgers. I was kind of a weirdo, huh? Please notice the past tense on that… WAS. WAS a weirdo. But not any more… I think.
Today, that anti-burger girl is long gone. I love me a good burger. However, I do like my burgers topped with lots of goodness. I probably still wouldn't be down for a patty with just some ketchup and mustard. I need sauces, toppings, lots of flavor and essentially a lot of goop on the whole thing.
When I was thinking about coming up with a great summer burger the other week, my husband looked at me like I was crazy when I told him all of the stuff that I wanted to add to it. I did edit out a couple of things like the poblano peppers but the rest stayed. I stuck to my guns that I knew this would be an incredible favor combination. And I'm happy to say, I was right. And I totally didn't gloat about it after. No. Not at all.
What I love so much about burgers is that they can suit so many tastes and they're great for when you have company over. Bun or team no bun, cheese or cheeseless, burgers are the ultimate food for a picky bunch because you can just opt in or out or whatever toppings are available. And this burger is no different.
I of course went the no bun route when I made these and opted for the roasted sweet potato discs instead. However, if you have company over that likes their buns hun, let there be buns. As well with the goat cheese. I've been finding myself to be tolerant of goat dairy these days (yay!) so I added some to mine. No cheese? No problem.
Now let's talk about spice. I love a good kick to my dishes but I'm always aware that not everyone does. As well, I have two little girls who aren't (yet) into spicy things so I did assemble the girls burger a little bit differently. I reserved a bit of plain mayo aside before I added the chipotle and left the chiles off. So pretty much I destroyed the title of this dish! lol But our kids eat what we eat with some modifications and that's that. And if you love spice like I do, feel free to add additional chipotles to your mayo or slop on some additional chiles.
For your mayo recipe you can check out my post HERE. It is so easy it will literally knock your socks off.
And as a final note, if you leave the goat cheese out all of the other ingredients are Whole30 compliant!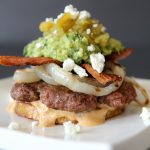 print recipe
green chile + chipotle mayo burger
Great burger for summer grilling. Loaded with flavor from bacon, chipotles, chiles and avocados.
Ingredients
Ingredients:
1-2

sweet potatoes sliced into 1/4 inch discs

1 large or 2 small

olive oil to drizzle

1

tsp.

smoked paprika

1.5

lb.

ground beef

4

slices

of bacon

1

sweet onion

1/2

c.

paleo mayonnaise

1

chipotle + 1 TBSP of chipotle sauce

2

avocados

1/4

C.

chopped cilantro

2

cloves

garlic minced

1

lime

1 4

oz

can of green chiles

2

oz

organic goat cheese

optional

salt & pepper to taste
Instructions
Preheat oven to 415*

In a large baking dish lay out sweet potato discs and drizzle with olive oil

Season sweet potatoes with salt, pepper and smoked paprika

Bake for 30 minutes, flipping after 15 minutes

Cook 4 slices of bacon until crispy and set aside

Meanwhile finely chop chipotle and combine with paleo mayo and a pinch of salt, refrigerate until you use it

Mash avocados and combine with cilantro, garlic, juice from one lime and a pinch of salt. Place in refrigerator

Slice onion into .5 inch discs, drizzle with olive oil and salt and pepper, place on a medium high grill and cook on each side 5-7 minutes until tender and has begun to caramelize

Form ground beef into patties approximately 1/4 inch thick, you should have approximately 6 patties

Over a medium high heat, grill each side for 3 minutes

To assemble burger layer sweet potato disc, chipotle mayo, beef patty, grilled onion, bacon, avocado, chiles and goat cheese

Top with additional sweet potato disc if desired and serve