Butternut Squash + Roasted Chicken Soup
This Butternut Squash + Roasted Chicken Soup from The Whole Smiths is an easy, delicious, healthy soup that's perfect for your winter weekdays. Family-friendly!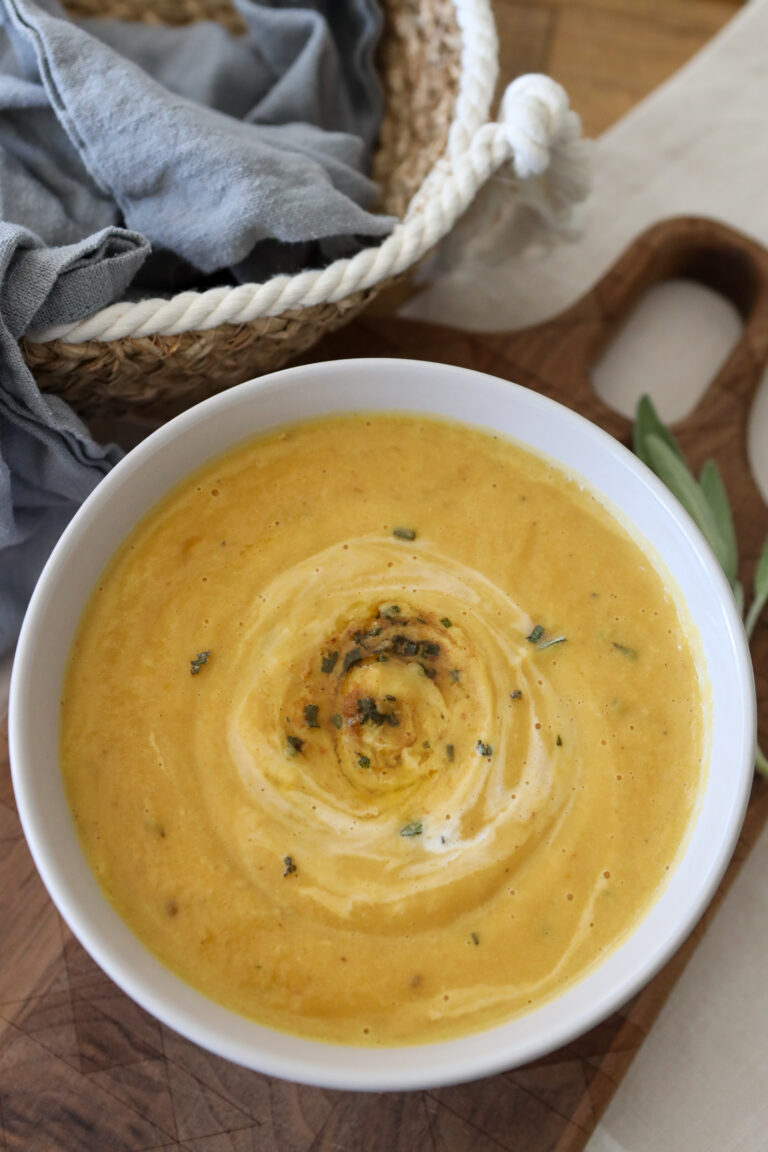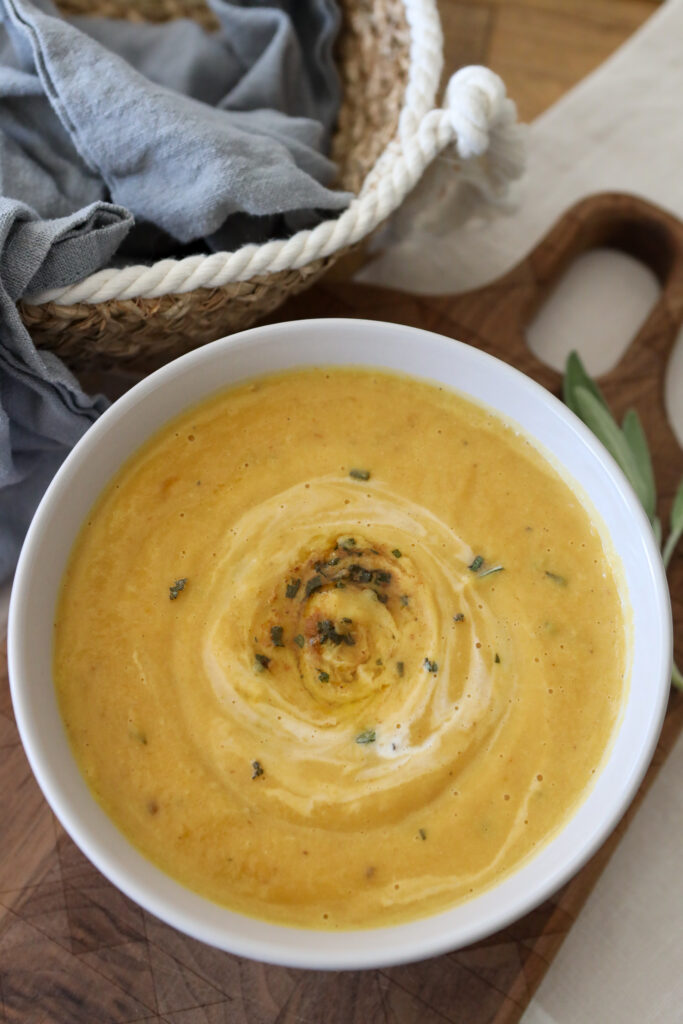 The BEST Way to Enjoy Butternut Squash.
I'll confess. I'm not a huge fan of butternut squash, it's not an ingredient I gravitate towards usually. However, I still buy it because I know it's good for me. What can I say, adulting is hard. Perhaps it's the texture, or maybe it's the fact that I feel I have to boost its natural flavor up so much. I'm not sure. I typically only cook it when it's mashed up with a bunch of other flavors ingredients like in my Butternut Squash Enchiladas. So when I say this soup is one of my all-time favorite soups EVER, you've gotta believe it's good.
This recipe is what I like to call a happy, lazy accident. I didn't have enough space in my oven to fit all of the roasting pans but really, more than that, I didn't want to do all of the dishes. It's my favorite soup of all time. It truly is one we have on regular rotation in our home as we enjoy it about 2 – 3 times per month in the colder months.
An Easy Way to Prepare Butternut Squash.
I typically buy a large batch of already peeled and cubed BNS from Costco or Trader Joe's and choke it down. (As a "healthy" cook, am I supposed to talk about any vegetable like this?) If you prefer to prepare your own butternut squash, take a peek at this tutorial showing you how to easily cut and peel it.
As far as soups go, it doesn't get much easier than this recipe. Some soups are complicated and have 30+ ingredients as wells a multitude of steps. Not this one. Especially if you purchase your BNS already peeled and cubed. It consists of some minor chopping of vegetables, roasting, pureeing, and a little stirring. That's it. Once you've prepared and cubed your butternut squash, it's time to roast it. Not only is roasting fantastic for bringing our flavor, it's easy.
From there, you'll transfer all of your roasted ingredients into a blender and blend until the squash is smooth. Pour the soup into your pot or dutch oven, add the remaining ingredients and bring it to a simmer. That's it!
Maximizing Flavor.
The magic of this recipe comes from the technique I used in roasting my butternut squash. For the record, I use the term, "technique" loosely because technique implies something fancy. This isn't fancy. Because I feel butternut squash needs a lot of flavor, I decided to roast the chicken directly over top of it to infuse the flavor of the chicken into the butternut squash. And really, like I said, I also thought it would save me an extra dish or two.
And boy, was that hypothesis right. Unbelievably so. The flavor that permeates this soup is out of this world. It ends up tasting like an absolute perfect, savory bite of fall. The kids even went back for seconds and trust me, they like BNS even less than I do. This recipe is crazy easy but tastes like you got it as a starter from a fancy restaurant.
Serving & Storing Your Butternut + Roasted Chicken Soup.
As far as serving your soup, there isn't much to it to be honest. I mean, you all know how to label up a bowl of soup. But if you'd like to get fancy with your presentation, feel free to swirl a little extra cream into the top and garnish with a small leaf of sage.
This recipe will yield a large batch for you. You're bound to have leftovers if you aren't feeding a large group. I designed it that way because leftovers are where it's at in terms of keeping meal prep to a minimum and maximizing healthy options at your disposal. In fact, I'd say it's even tastier left over as it give the flavors of the soup even more time to dance and develop. Luckily, it can be stored refrigerated for up to a week.
And yes, you can freeze it. While you can always freeze it in a zip-top bag, I think it's a mess and a pain to freeze soups like that. Instead, I love these 2-cup silicone freezer safe storage containers from Amazon. If makes freezing, portioning and reheating a breeze.
With that, you're all set to make and devour the best soup of your life.
SWAPS, TIPS, HACKS & MORE
If you'd like to make this even more decadent, you can cook a whole chicken over top. Your cooking time will be longer but you'll get even more of the delicious chicken "schmoobies" dripping down and flavoring the butternut squash. Cook the chicken util it has an internal temperature of 165* F, it will be about 1.5 to 2 hours, maybe longer depending on the size of the chicken.
Use a meat thermometer! Seriously. Cooking meat should be done by taking it's temperature, not by time. I can give you time estimates but all pieces of meat have some variation. Especially hone you're looking a larger cut or something like a whole chicken.
Let your meat rest. This is cooking 101. We should all know this by now. It let's the juices redistribute through the meat to create a juicy and tasty chicken.
The size of your baking dish doesn't really matter all that much, as long as the ingredients fit and aren't overflowing from the rims.
If you'd like to make this recipe Dairy-Free, simply swap the cream out for full-fat coconut milk.
If you want to pump the flavor even more, season your chicken with your favorite poultry seasoning instead of just salt and pepper. This is where your cooking chops are going to come in handy as you will have to adjust the salt depending on if your poultry seasoning has it included and what amount.
Thyme is just as delicious as sage in here if you have that on hand instead. About 4 thyme stems, stripped will work.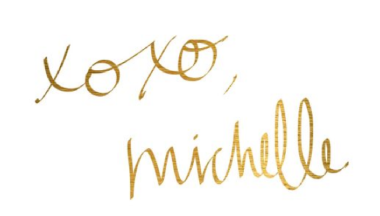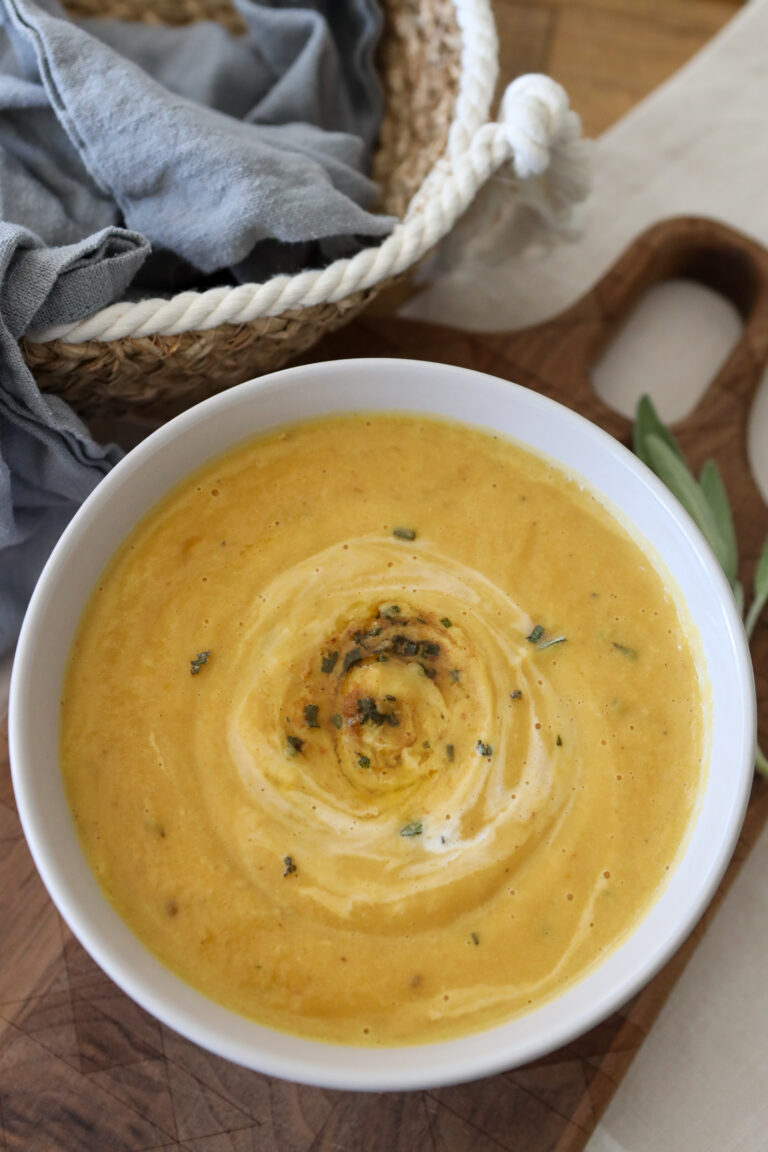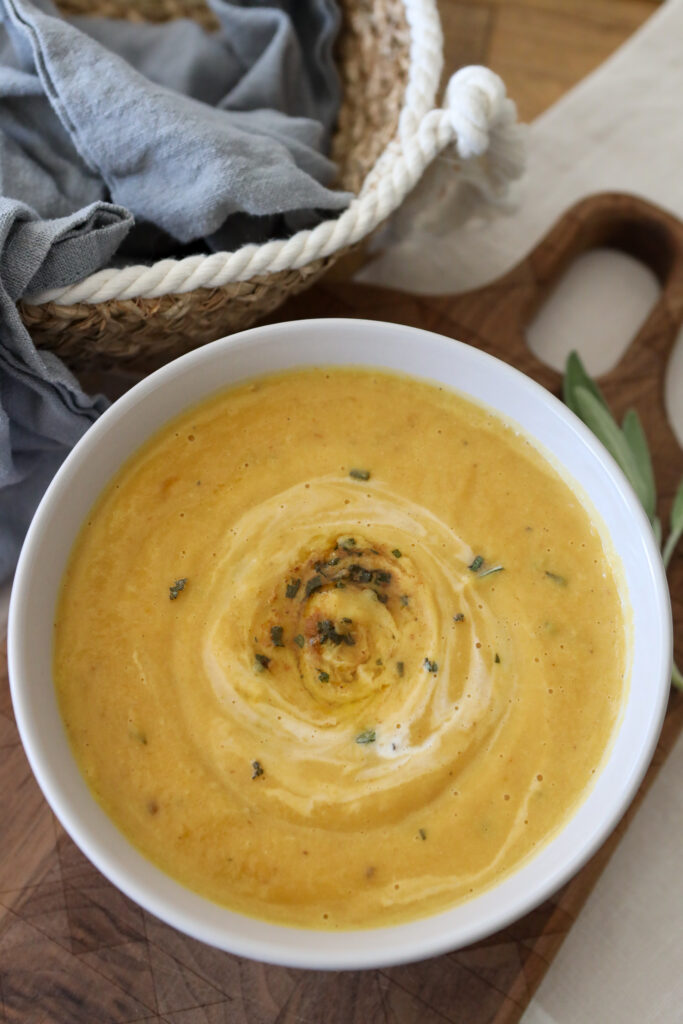 print recipe
Butternut Squash + Roasted Chicken Soup
This Butternut Squash + Roasted Chicken Soup from The Whole Smiths is an easy, delicious, healthy soup that's perfect for your winter weekdays. Family-friendly!
Ingredients
6

chicken thighs

(skin on or off is ok)

4

teaspoons

salt

1

teaspoon

black pepper

4

pounds

peeled & cubed butternut squash

1

onion

diced

3

cloves

garlic

peeled

1

tablespoon

extra virgin olive oil

64

ounces

chicken broth

3

tablespoons

butter

5

sage leaves

finely chopped

1

tablespoon

maple syrup

1/2

cup

cream or coconut milk

1/8

teaspoon

cayenne pepper
Instructions
Preheat oven to 400* F.

Season the chicken thighs with 2 teaspoons of salt and 1/2 teaspoon of black pepper. Set aside.

Add the butternut squash, onions, garlic, 1 tablespoon olive oil, 2 teaspoons of the salt and ½ teaspoon of the black pepper to a large bowl and stir to combine to coat the vegetables well.

Divide the butternut squash, onion, and garlic equally between two baking dishes and spread it into an even layer. (All of the squash will likely not fit into just one pan.

Place the chicken thighs directly on top of the butternut squash and place the dish in the oven. Roast the chicken until it has an internal temperature of 165* F, it will take roughly 30 - 40 minutes.

While the chicken is roasting, add the butter to a small sauce pan over medium-high heat. Cook the butter until it begins to bubble and turns a light brown color, about 3 to 4 minutes. Add the chopped sage. The sage will sizzle and cook. Continuously swirl the butter and sage for about a minute, careful not to burn the butter.

Remove the baking dish from the oven and place the chicken on a separate plate / surface and let it rest.

Add the butternut squash to a blender along with the chicken broth and blend on high. You may need to do this in batches. Pour the soup puree into a large pot or dutch oven and bring to a low simmer.

Stir in the brown butter and sage mixture, maple syrup, cream or coconut milk and cayenne.

Once the chicken has rested, chop the chicken into bite-sized pieces and add it to the soup.

Simmer the soup for an additional 5 minutes and salt and pepper to taste. I like an additional 1 to 2 teaspoons of salt but keep in mind I prefer saltier dishes, do with that what you will. Garnish with additional chopped sage if desired.