I'm on such a cauli rice kick these days. I love when I "discover" something that opens a whole bunch or new paleo doors for me. I feel like I've avoided making cauli rice for so long because it seemed like such a pain. But it's really not! The first time I started experimenting with it was when I made my Pineapple Fried Cauli Rice. I couldn't believe how easy it was, I knew my next experiment would have to be a paella.
I've been wanting to try a Spanish paella for awhile and I didn't want it to be some half-A paella. I really wanted to get it just right, the flavors, the textures everything! I wanted it to have the same authentic flavors of a traditional Spanish paella. Not some sloppy paleo version.
As far as the proteins to add in, you can switch it up a bit. Traditionally a paella has clams and mussels but because the East Coast has been having some crummy weather Whole Foods was out of fresh clams and mussels. And I have to admit, I was secretly relieved because I'm not a fan. But if you like them, by all means add them because a paella traditionally should have them.
One trick I used that I think really enhanced the flavor of this was using the same cast iron skillet to cook each protein individually. You'll see in the recipe, but essentially cook your chicken thighs, remove. In that same chicken goodness-y pan, you'll cook the chorizo, then remove. In the chorizo goodness cook the shrimp. You get the idea. It's awesome! And leave the shells on the shrimp, it add so much more flavor. In order to devein it, get your kitchen shears out and cut the shell where the vein is and clean. But leave the rest in tact. And when you salt and pepper them, really rub it into the shrimp, shell and all. Paellas all about flavor and I thought every step of the way on how to enhance it.
This really is such a special dish. Paellas always seem so celebratory to me, although I'm not sure why. My grandmother was from Spain, so it was something that my mom made occasionally and that I always loved and looked forward to. Or when it's ordered at a Spanish restaurant, it's ordered for the whole table, not just a single serving. With that being said, it seems in my mind to be the perfect dish to serve to guests or family. It does take a bit of time, with cooking each protein up separately, but trust me. it's worth it.
This dish is also easy to make Whole30 compliant. My only concern would be the chorizo. You can either make your own or closely check your ingredients. If you choose to make your own, don't worry about casing it, just add the ground chorizo. It's the flavors that you really want in there anyways, it doesn't really matter if it's a link or not.
The end result is a bomb paella. I had to kick my husband out of the kitchen because he kept eating it before I snapped my photo. Comment below if you have any questions!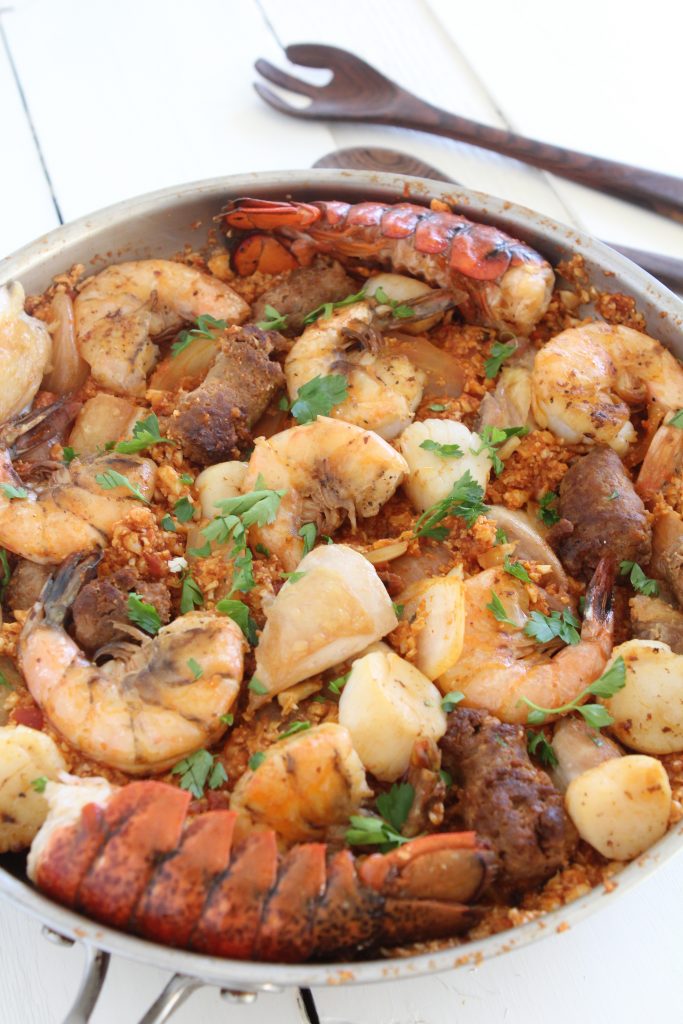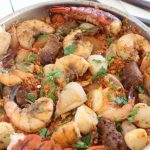 print recipe
cauli rice paella
A traditional Spanish paella made with cauli rice
Ingredients
1.5

heads of cauliflower

2

TBSP

ghee

3

chicken thighs deboned and cut into pieces

2

chorizo links cut into quarters

1

lb

shrimp deveined w shell on

3/4

lb

scallops

2

lobster tails

1/2

yellow onion quartered

3/4

C.

chicken broth

1

& 1/4 C crushed tomatoes

1

TBSP

smoked paprika

1

TBSP

chili powder

2

pines of saffron strands

1/4

C

chopped parsley

Salt and pepper
Instructions
In blender or food processor break down cauliflower and pulse until size of rice granules, set aside

In a large cast iron skillet heat 2 TBSP of ghee on medium high heat

Salt and pepper both sides of chicken things

Once ghee is hot place chicken thighs skin side down in pan, cook for 4 minutes each side and remove

Add chorizo pieces to pan and cook through, turning pieces to ensure even cooking

Once chorizo is cooked through, remove and set aside

Salt and pepper shrimp

Add to pan and cook 2-3 minutes each side until cooked through

Remove shrimp from pan and set aside

Add additional ghee if needed to pan

Add scallops to pan and cook through roughly 3 minutes each side depending on size

Remove and set aside scallops

Add lobster to pan belly side down and cover w lid, straight on to pan

After 3 minutes flip lobster, place lid over again and cook for a remaining 3 minutes

Remove from pan

Add onions (and additional oil if needed) to pan and cook until translucent, remove

Add chicken stock to pan and deglaze, scraping bits off

In a separate large pan add cauliflower rice

Add chicken stock from cast iron skillet to cauliflower rice and cook on medium high

Add crushed tomatoes and onions to cauli rice and bring to boil on medium high heat

Add paprika, saffron and chili powder, stir to combine thoroughly

Cook until "rice" is soft and tender but not soggy

Add all seafood and chicken into pan and combine

Continue to cook another five minutes or until most liquid has boiled down

Sprinkle parsley over top and serve