Pineapple Fried Cauliflower Rice
I have to say, my diet and taste preferences up through college were pretty much what one would expect from a regular 'ol suburban kid from the 80's. My favorite foods consisted of Chicken Crispers from Chili's, turkey sandwiches and tacos from Jack in the Crack. And when Krispy Kreme opened for the first time in the Bay Area? Ohh lord! I didn't even have my first taste of sushi until college and that was maybe for a total of three times. I just could not get enough of those California Rolls man! 😉 You can say cauliflower didn't pay a large role in my life at this point.
However, when I moved to San Francisco I was exposed to so many different types of food. It's honestly a food lover's paradise. And outside of NYC, I hold firmly that it's the best city for foodies. I can go on and on about my love for the food of San Francisco but that's an entirely different post.
I do remember one night when I had first moved there, a bunch of us had decided to go out for Thai food. I'd never had it and the thought of something exotic and scary like "curry" made me nervous. (Aw, such a fresh little food newbie I was!) I remember when someone ordered the pineapple fried rice I felt a little relieved. It still sounded strange to me combining PINEAPPLE and RICE.. but push come to shove I liked pineapple and I liked rice so I could just eat the pineapple out then eat the rest, right?
Well I didn't have to! It was delicious! Like a rave-till-the-wee-hours-of-the-90's, party-in-my-mouth delicious. And truth be told, the wider variety of foods I tried, the more I liked. Ask my friends. Any of them! Michelle likes food, they'll tell you. I haven't met much I don't like. Except for oysters. As much as I reeeeally want to like them, I just can't. I will always try them, thinking THIS will be the time it clicks for me. It's yet to click.
Anyhoo. I couldn't wait to try and recreate the same flavors in that pineapple fried rice for you in a grain-free, paleo version. When I succeeded, I couldn't have been happier with the results. In fact, my husband has said this was one of his favorite recipes. And for a meat lover like himself, thats a lot to say for this veggie conglomeration!
And if you're yearning for some more cauliflower rice love, make sure to check our my Cauli Rice Paella and Lemon + Herb Cauliflower Rice.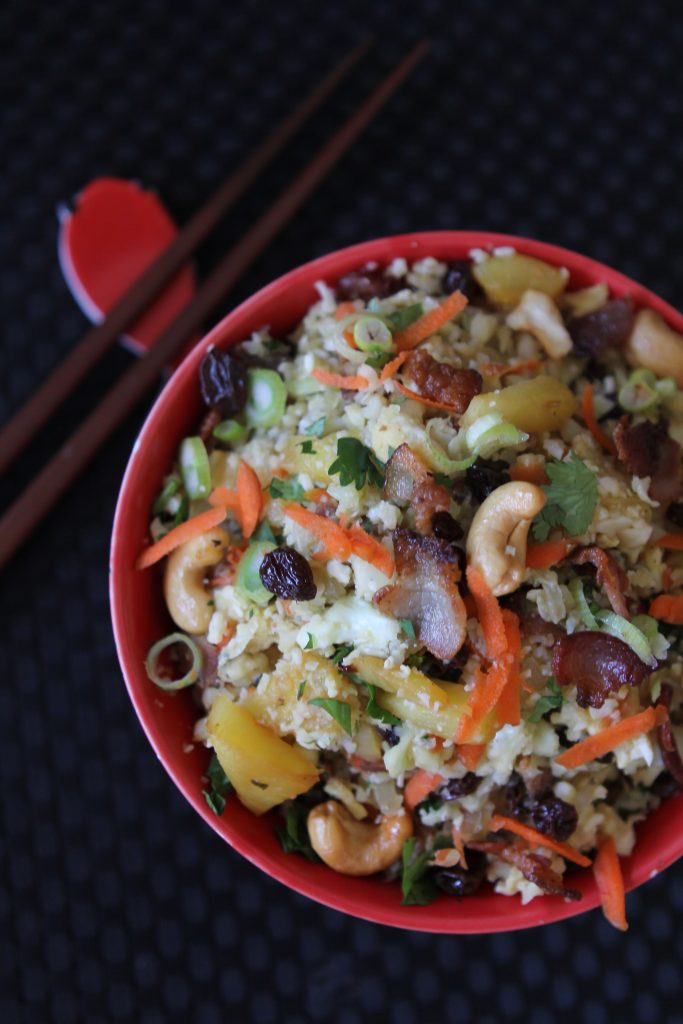 print recipe
pineapple fried cauliflower rice
A paleo & whole30 compliant version of cauliflower fried rice
Ingredients
7

pieces

of bacon

5

eggs scrambled

2

heads of cauliflower

1

carrot shredded

1

medium onion chopped

3

green onions thinly sliced

1

Tbsp.

coconut oil

2

C.

chopped pineapple

preferably fresh

1/4

C.

raisins

no sugar added

1/2

C.

cashew pieces and halves

1/4

C.

coconut aminos + additional for serving if desired

2

Tbsp.

sesame oil

2

tsp.

fish sauce

1/4

C.

chopped cilantro
Instructions
Using kitchen shears, cut uncooked bacon into small pieces

Heat large skillet to medium-high and cook bacon to desired crispiness

Remove bacon with a slotted spoon and set aside

Pour some bacon grease into appropriate container and set aside

With remaining bacon grease in pan, add scrambled egg and cook

Set egg aside

Add a bit more bacon grease back into pan and add shredded carrot, onion, and green onions

Cook until onion mix is tender and slightly browned

While onion mixture cooks, break apart cauliflower and add to food processor or high powered blender

Pulse until cauliflower is the consistency of coarse rice. It is helpful to do this in batches to ensure an even texture

Once the onion mix is done, add the cauliflower to the pan and combine, cooking covered for 5 minutes. Cauliflower should be tender but still retain a "bite" to it

In a separate pan, heat coconut oil. Once the pan and oil is hot, add pineapple. Do not stir right away, let pineapple get a brown sear on one side, THEN toss to coat

Once pineapple is done, add raisins and cashews to the pan and cook for an additional 2 minutes until raisins are plump

Add pineapple mix into cauliflower rice and toss

Add coconut aminos, sesame oil, and fish sauce to cauliflower and toss to coat

Add bacon, eggs and cilantro to dish and combine

Heat thoroughly for an additional two minutes and serve