Sausage + Cauliflower Rice Thanksgiving Stuffing
Uhhh, holy cow you guys. This stuffing came out oven the oven screaming "Thanksgiving, I am HERE." And it's now officially become on of my favorite Thanksgiving dishes. I can't emphasize how much I adore this recipe. It's one that I feel we'll now have every Thanksgiving and become a tradition in our house.
Growing up, I confess, I never liked stuffing and I always passed it over at the Thanksgiving table. I'm not sure why, but I assume it has something to do with me scarfing down sweet potato casserole instead. #truth I'd say it wasn't until my 20's that I started appreciating the art of a good stuffing. And then a few seemingly short years later, I become intolerant to gluten and had to say good-bye to my stuffing dreams. At least we had a good decade or so together. Awesome. <---- That was sarcastic in case you couldn't tell.
Fast forward to now, I wanted to come up with a dish that would replicate all of those yummy stuffing flavors that I started to love. But here's the thing… when it comes to Thanksgiving there are so many dishes to make the that last thing I wanted to do was bake up some paleo bread to get my stuffing. Honestly, it was kind of the LAST thing I would ever want to do when I had a zillion other things to cook. So my mind immediately went to my favorite grain substitute… cauliflower rice. And magic was born.
What's pretty cool about this is that it also serves as a veggie side since it's loaded with veggies. So if Grandma insists on using her recipe for the stuffing, you can easily just add this to the mix on the table. A win win for everyone.
This dish holds up really well so feel free to make it ahead of time. In fact, that will give the flavors even more time to meld and party together.
And finally, if you make sure your sausage or use ground pork this dish will be Whole30 compliant too!
Lemme know below if this made it to your Thanksgiving table and what you think!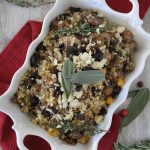 print recipe
cauliflower rice thanksgiving stuffing
A paleo stuffing replica for Thanksgiving using Cauliflower Rice.
Ingredients
1

lb.

sweet Italian sausage or ground pork

4

Tbsp.

butter or ghee

1/2

lb.

sliced cremini mushroooms

1

portobello mushroom cubed

1

onion chopped

2

stalks of celery chopped

3

carrots chopped

1

leek white portion sliced thinly

1

C.

parsnips chopped

2

tsp.

minced thyme

1

tsp.

minced rosemary

1

shallot chopped

6

C.

cauliflower rice

1-2

Tbsp

turkey drippings

2

C.

thinly shredded collard greens

1/2

C.

dried currants

1/2

C.

sliced almonds

Salt and pepper to taste
Instructions
IIn a large cast iron skillet heat butter or ghee over medium high heat. Add the sweet Italian sausage (or ground pork) to the skillet and cook for about 7-9 minutes until it is lightly browned and cooked through, gently breaking it apart as it cooks. Once sausage has cooked, remove the meat from the skillet and set aside.

In the same skillet add the onions, carrots, celery, leek and parsnips. Add additional oil if necessary. Once the vegetables are tender, add the thyme and rosemary and str to combine. Cook for an additional 3 minutes and remove from heat.

While the onions are cooking, heat 1tablespoon of the butter in a separate pan over medium heat and add mushrooms. Cook for 8-10 minutes, frequently stirring. Salt to taste and set aside.

In a very large pan (this is where you will add all components), add 2 tablespoons of the butter over medium heat. Once the oil is hot, add shallot and cook until soft. Add cauliflower rice and toss to combine. Add 2 tablespoons of turkey drippings to cauliflower and toss to coat again and salt to taste. Add the collard greens and toss.

Cook until cauliflower has softened but is not soggy, you want some texture and bite to it still.

Once the cauliflower is ready, add all of the cooked components of the dish and toss to combine.

Serve with currants and sliced almonds on top