These sweet scrambled Chocolate Banana Eggs from The Whole Smiths are the perfect breakfast for the mornings that you are just sick.of.eggs. They're paleo, gluten-free and easy to make.
Banana WHAT?
Banana eggs. The crazy dish that will leave you scratching your head. You either had them and loved them (most of you) or heard banana and eggs in the same sentence and ran away.
Well, banana eggs are back but with a little twist this time… chocolate. Yep. Chocolate banana eggs. This either makes you extremely excited or you're frantically scanning for the nearest emergency exit. If the latter is you, please stay. I promise you'll thank me later.
I ask that you think of banana eggs as one dish, not as the individual components. For example, if I title a dish Whipped Butter Sugar Beaten Eggs and Flour it doesn't sound nearly as delicious as "a cookie", right? So think of banana eggs as the sum of it's parts. A lightly sweetened custard-like scramble. That might make them ease to wrap your head around.
Sweet Scrambled Chocolate Banana Eggs – A convenient breakfast.
One of the greatest parts about banana eggs is just how easy they are to make on a busy morning.
I mean, essentially they're like scrambled eggs but one more step. And you won't get sick of them the same way you get sick of boring old scrambled eggs! Whether you're making banana eggs before your workday or to get a substantial, protein fueled breakfast into your kids bellies before school, it's sure to add some peace of mind into your morning.
Here's another great thing about bananas eggs you can add all sort of additional nutrients to them. I love adding things like chia seeds, flax seeds, unsweetened coconut, fruit or even a drizzle of peanut butter. It makes for a powerful nutrient-dense start to your day that will leave you satiated until lunch. Or at least long enough to resist the office donuts.
And yes, you can even reheat banana eggs. Feel free to make a batch ahead of time to reheat in the morning. But really, they take all of five minutes are best fresh. So take that time for yourself in the morning because you deserve it.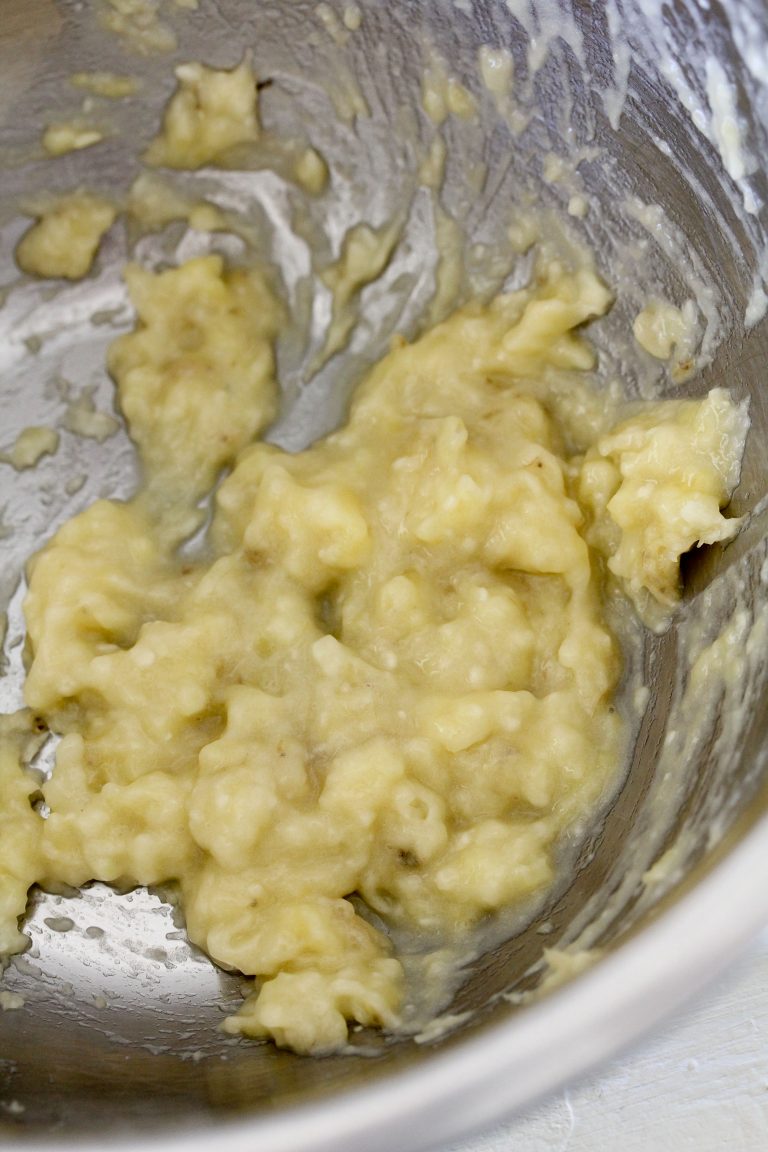 Kids love banana eggs.
One of the things I hear most often from parents is how can they get their kids to eat healthy breakfasts in the morning? And in particular, how can they get their kids to eat eggs? Well, clearly the secret ingredient that's been missing all of these years is bananas!
The posts that have made me the happiest over the last year and the ones that you've
shared of your kids loving banana eggs. I can't tell you how many times a parent has reached out to me saying they have tried to get their kids to eat eggs to no avail. BUT! Banana eggs cam along and their kids gobbled them up. I can't even begin to tell you just how much that means to me. It's why I'm here. To help you get better foods into your families bellies.
I know how picky kids can be and how draining it can be as a parent to be continuously trying to improve their diets with little results. So to know I can take one thing off your mind in that journey just makes me beam.
If you post your kiddos enjoying their banana eggs, please tag me. Selfishly, it just makes my whole damn day. Besides, I love seeing your adorable kiddos.

FAQ
Are these sweet scrambled eggs Whole30 compliant?
Yes and no. I haven't gotten a clear cut answer on this but the short of it is, if you become obsessive about banana eggs (and who doesn't) it's probably best to keep them out of your Whole30.
Can I make a larger batch of these paleo banana eggs?
Yes! This makes a generous serving so if you are feeding two smaller children, this recipe will suffice. But if you are looking to feed multiple, larger humans double this recipe as needed to accommodate for how many people you are feeding.
I hate bananas, is there anything I can substitute?
Why yes, there is! Be warned though, they are not going to taste quite as lovely as banana eggs but you can use mashed, cooked sweet potato flesh in lieu of mashed bananas. They won't be as sweet or custardy but it will do the trick.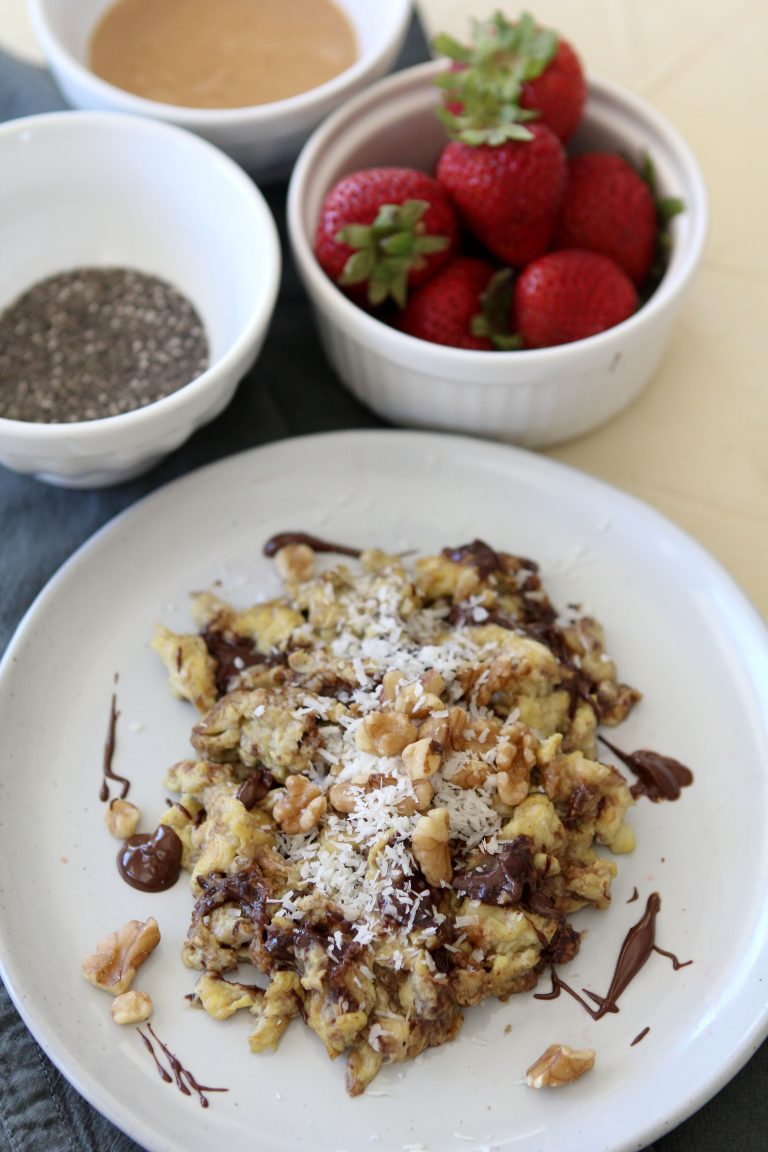 TIPS
Let your mashed banana sizzle away in the pan a bit before adding the eggs, it will help caramelize the banana a bit and add a deeper flavor.
Don't overmix your eggs as they are cooking as you want lighter, fluffier curds.
I never realized just how much bananas vary in size until I tried finding the perfect egg to banana ration for this recipe. The good news is this recipe will even It's ok if your banana is a little too big or too small, it will still work.
Mash the banana until it has the consistency of baby food, it should be smooth with minimal chunks.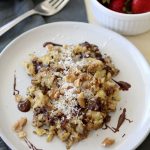 print recipe
Chocolate Banana Eggs
These Chocolate Banana Eggs from The Whole Smiths are the perfect breakfast for the mornings that you are just sick.of.eggs. They're paleo, gluten-free and easy to make.
Ingredients
1

teaspoon

coconut oil

1

small banana

about 4 ounces mashed

1/8

tsp

cinnamon

2

eggs

beaten

pinch

of salt

1

tablespoon

dark chocolate chunks

Toppings of choice like fresh berries Toppings of choice like fresh berries, unsweetened coconut shreds, chia seeds, flax seed and
Instructions
Heat a pan over medium heat and add the coconut oil. Once the oil is hot add the banana and cinnamon. Cook the banana for about one minute without stirring it.

Pour the eggs into the pan and add a pinch of salt. Gently stir the eggs to create large curds ie scrambled eggs. Once the eggs are cooked, add the chocolate to the pan and stir several times.

Don't over mix the chocolate into the eggs.

Plate the banana eggs and top with the toppings of your choice.
Notes
Let your mashed banana sizzle away in the pan a bit before adding the eggs, it will help caramelize the banana a bit and add a deeper flavor.
Don't overmix your eggs as they are cooking as you want lighter, fluffier curds.
I never realized just how much bananas vary in size until I tried finding the perfect egg to banana ration for this recipe. The good news is this recipe will even It's ok if your banana is a little too big or too small, it will still work.
Mash the banana until it has the consistency of baby food, it should be smooth with minimal chunks