Coconut Chai Pumpkin Bars
This recipe for Coconut Chai Pumpkin Bars from The Whole Smiths is a perfect alternative to pumpkin pie. They're a tad less sweet, dairy-free and gluten-free and perfectly spiced.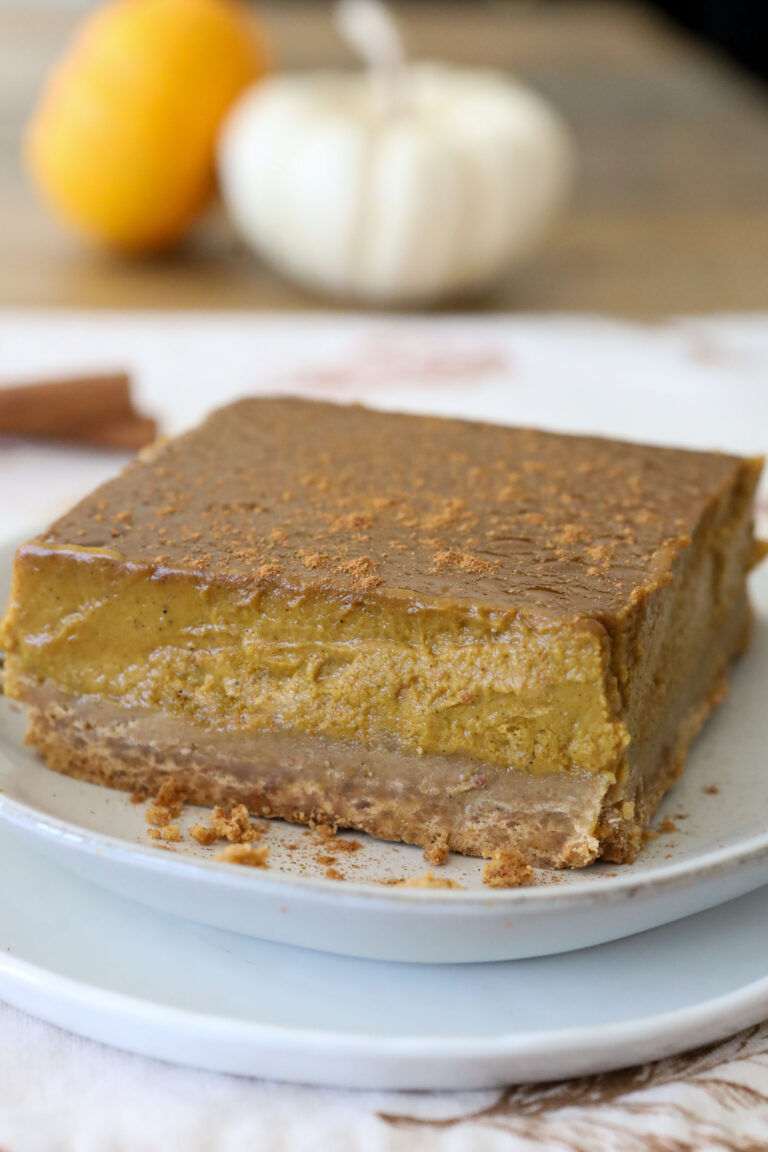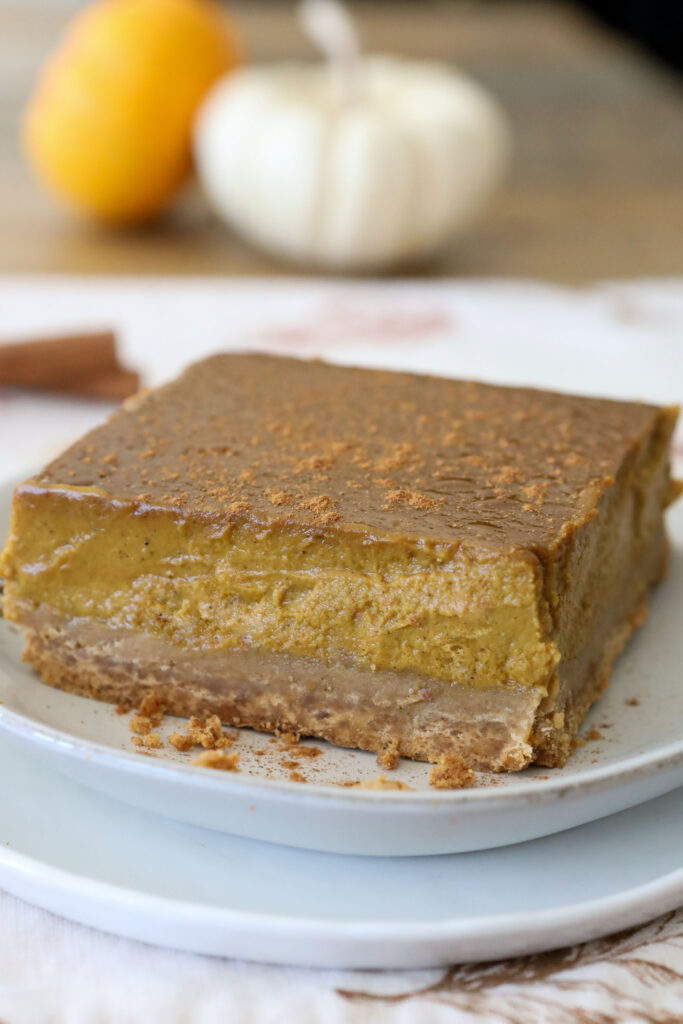 Pumpkin. Always and Forever.
I'm a proud card carrying member of the I Love Pumpkin Cub and I don't care who makes fun of me and my "basic" tendencies. I've looked forward to Halloween and Thanksgiving solely for the purpose of enjoying pumpkin since I was a little kid and before pumpkin spice everything was so popular that it became uncool.
No needless to say, any time I have the opportunity to make something pumpkin, I'm going to take it. I decided to make slight variation on Thanksgiving's sweetheart, pumpkin pie, by A. making it dairy-free and gluten-free, B. making it a tad less sweet and C. adding a more complex flavor profile with the chai. I'd even go as far to say it's a more grownup version of pumpkin pie.
I also used a brown sugar in the crust to add a deeper flavor to go along with the chai. If you prefer to use coconut sugar, feel free to make the swap. It's just as delicious!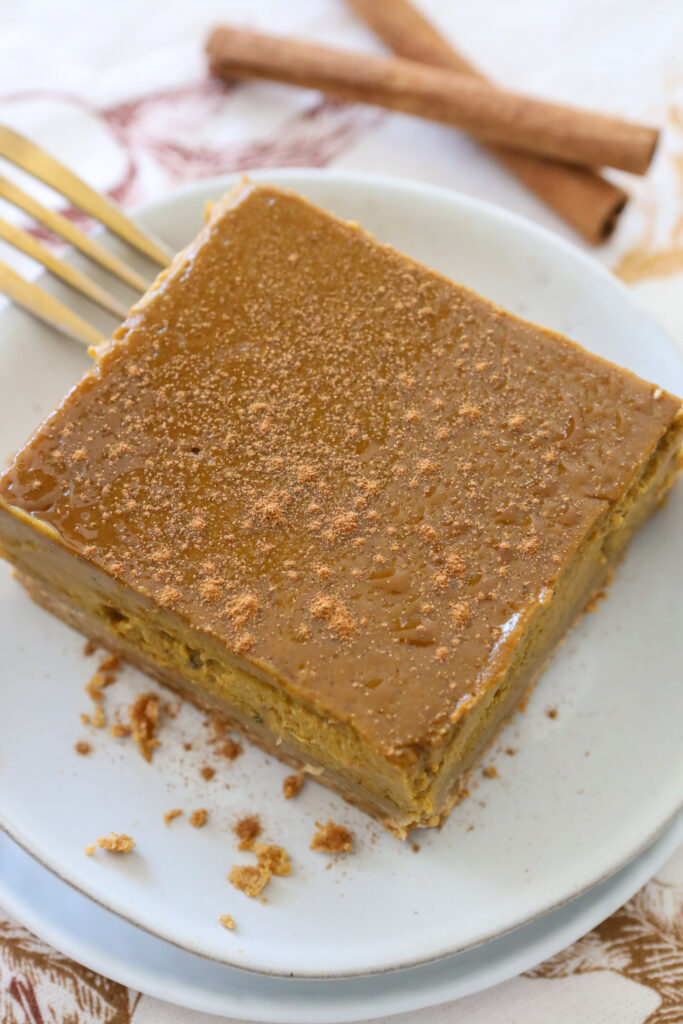 Making Coconut Chai Pumpkin Squares is Easy.
If I had to pick the easiest pie ever to bake, I'd say it's pumpkin. Especially if you use a store-bought crust. This is just as easy. There are two main components to this recipe; the crust and the filling. Both of which I promise any novice home cook can master at home.
Crust.
The crust is a standard crust I use for any sort of bar like my Gluten-Free Strawberry Crumble Bar and it's fool-proof. While I typically use a regular white sugar in the crust, I changed it for this Coconut Chai Pumpkin Bar recipe to use brown sugar. To make the crust, you simply cream the butter and sugar together and slowly add the flour in along with the cinnamon and salt. Once it's become cohesive, you'll want to form it into a ball and press it evenly into the sides of your baking dish. From there, you pre-bake the crust and it's ready to go. My favorite baking dishes ever are these from Le Creuset. They come in a set of three varying sizes and a variety of colors. Clocking in at $135, I have to say I think it's a superb value. These are baking dishes that I will have forever and stand the test of time, short of dropping them. 😉 They are hands down some of my favorite pieces in my kitchen.
Filling.
And the filling. Nothing is easier than this filling. If you can open a can, measure and mix, you can make this filling. You simply add all of the ingredients to a large bowl and blend it together. I prefer using a whisk to ensure that it's perfectly blended. Don't half-ass it. Make sure to have each ingredient fully incorporated and mixed in until the filling is perfectly smooth.
Chai Spice and Everything Nice.
So what's the difference between chai spice and pumpkin spice? Not a whole to to be honest. In fact, they both contain a lot of the same spices. Both side blends contain cinnamon, nutmeg, cloves, allspice and and ginger. The difference however lies in the proportion of each spice and inclusion of cardamom in chai spice. So for all pumpkin haters out there that love chai spiced things… it's really not all that difference. Minus a few subtle notes.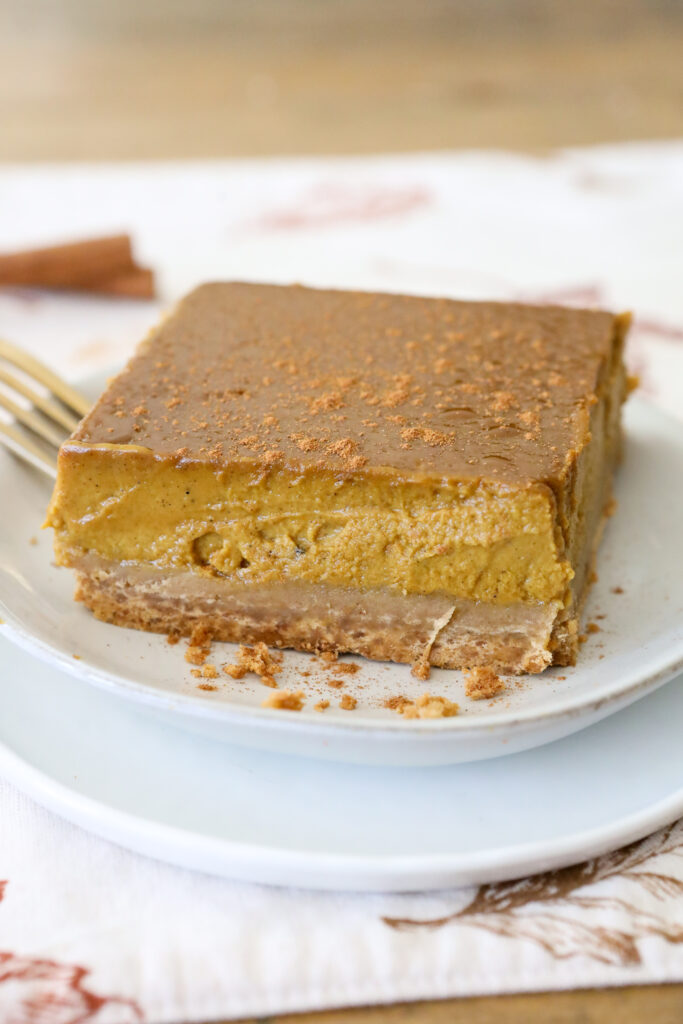 TIPS, TRICKS, HACKS & SWAPS
Regular dairy cream works in this recipe as well as coconut sugar instead of the brown sugar. Adjust according to your own dietary preferences.

If you'd like an extra kick of flavor in this recipe, add a small pinch of cayenne to the filling ingredients. It won't make the filling spicy but it will give the Coconut Chai Pumpkin Bars a subtle extra layer of flavor.
If you'd prefer to make this into a traditional pie, you can do so by simply adding the filling to a pie crust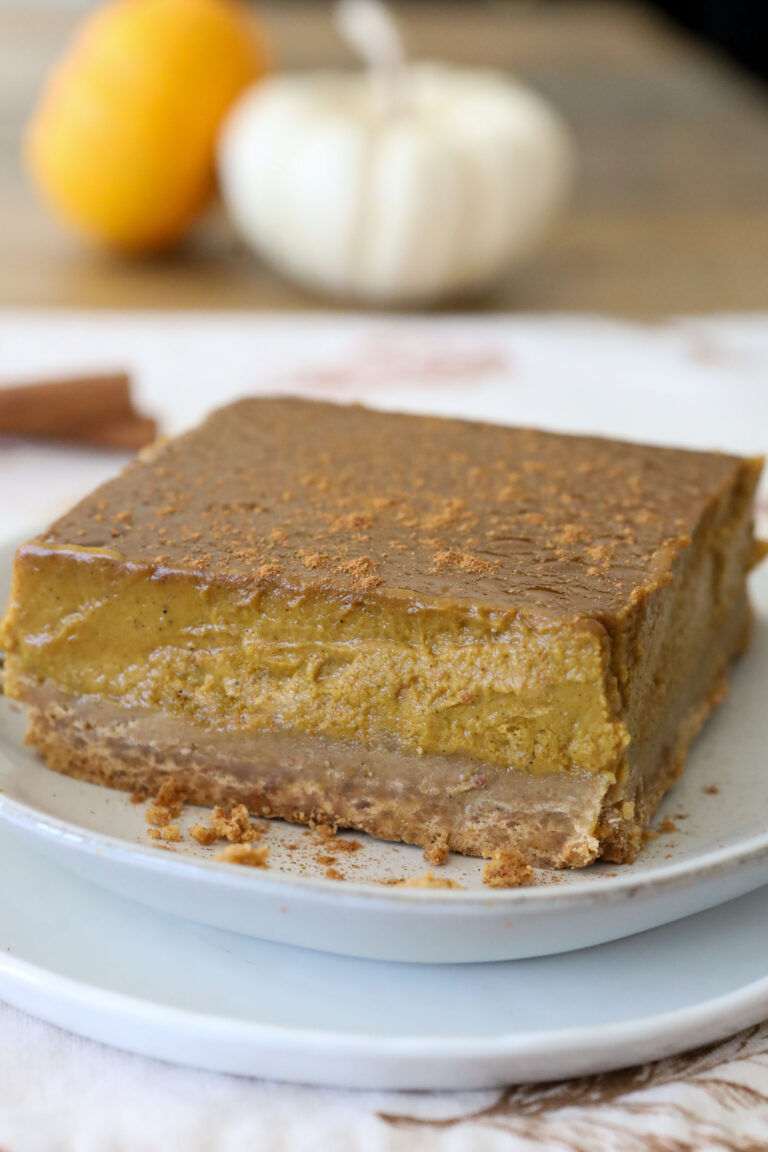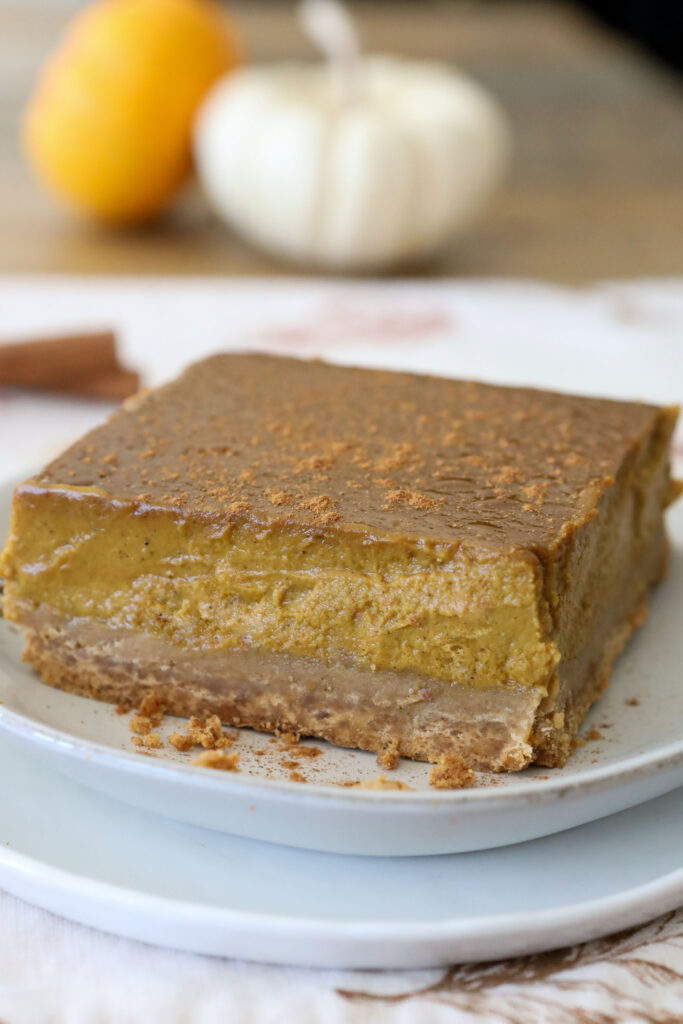 print recipe
Coconut Chai Pumpkin Bars
Ingredients
For the crust:
2

sticks butter

room temp

½

cup

coconut sugar

2 ⅓

cups

gluten-free 1:1 flour

or regular wheat flour will work as well

½

teaspoon

cinnamon

1

pinch

salt
For the filling:
2 15-

ounce

cans pumpkin puree

1 ½

cups

brown sugar

1 15-

ounce

can full-fat coconut milk

6

eggs

beaten

1

teaspoon

salt

2

teaspoons

vanilla extract

2

teaspoons

ground ginger

1

teaspoon

cinnamon

½

teaspoon

ground cloves

½

teaspoon

ground nutmeg

½

teaspoon

allspice

½

teaspoon

cardamom

¼

teaspoon

black pepper
Instructions
Preheat the oven to 400* F.

Cream the butter and sugar together in a stand mixer or with a hand mixer until fluffy and well combined. Slowly add the flour, cinnamon and pinch of salt to the butter mixture while mixing.

Press the dough into a 9-inch by 13-inch baking dish so that the bottom is even and the dough comes up slightly onto the edges.

Bake the crust for 15 minutes until lightly browned.

While the crust is baking, add all of the filling ingredients to a large bowl and whisk them together until smooth.

Once the crust has finished baking, pour the pumpkin filling into the baking dish over the crust and bake for 40 to 45 minutes. The center should jiggle ever so slightly but not be liquid.

Let cool to room temp on the countertop and then chill in the refrigerator for 4 to 6 hours prior to cutting.