So we're all too familiar with the amazing dessert known as the lemon bar but do you know about the magic of the Apple Bar? Probably not because I think I just invented it. But maybe not. But maybe I did. I'm going to have to find out and give that a quick Google because I really want to show up at my 20th high school reunion claiming to be the inventor of the Apple Bar. I mean, it's no Post-It, but once you try it I think you'll agree that it's just as amazing as a strip of adhesive on a small square of paper.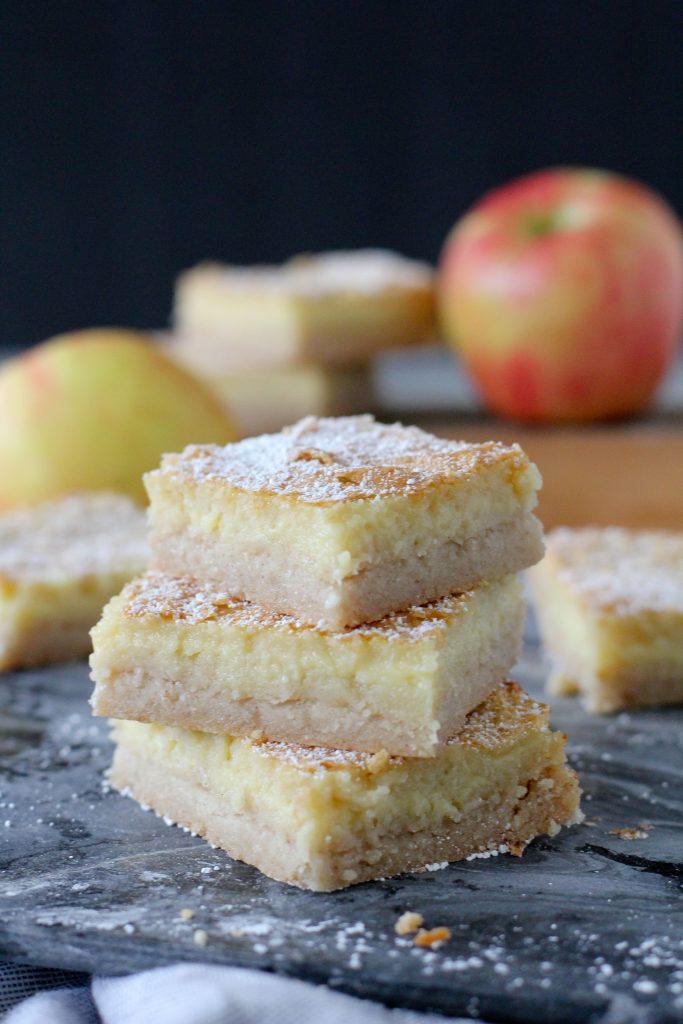 So in the middle of making these Apple Bars, I had an epiphany. While I love lemon bars, the natural tart (ie. downright sour)-ness of the lemon means that you have to add a LOT of sweetener to it. Like way more than you would anticipate. And as you know, a traditional lemon bar uses refined sugar for that. It all adds up to a lot of bad sugar.
BUT! The Apple Bar uses naturally sweetened apple cider (from none other than North Coast Organic) to sweeten the majority of the bar up. I even simmer the apple cider down to get a more concentrated apple flavor out of it.
I love that North Coast Organic is a brand that my family has been using long before I even began my food blog. They're local to me so have been around in a variety of Whole Foods for quite some time so to be able to partner up with them now and share their products is such a great extension of my family's clean eating journey. Not to mention they have even more products to enjoy. So head over to their website and check out where their products are sold near you.
And make sure to check out my Apple Cider Braised Chicken + Collards I created using North Coast Organic's Apple Cider Vinegar, it's phenomenal! I'll also be posting an Apple Cider Moscow Mule later this week for you, so stay tuned.
Besides the fact that they are local and organic what I love most about North Coast Organic is the quality of their products, they actually taste like apples! Not like an overly sweetened apple-like product but actual apples that were picked off a tree.
Needless to say, my kids gobbled these treats up and they didn't last all that long in our house. I'd like to say it was all the kids but the truth is my husband and I helped out. My husband mostly. 😉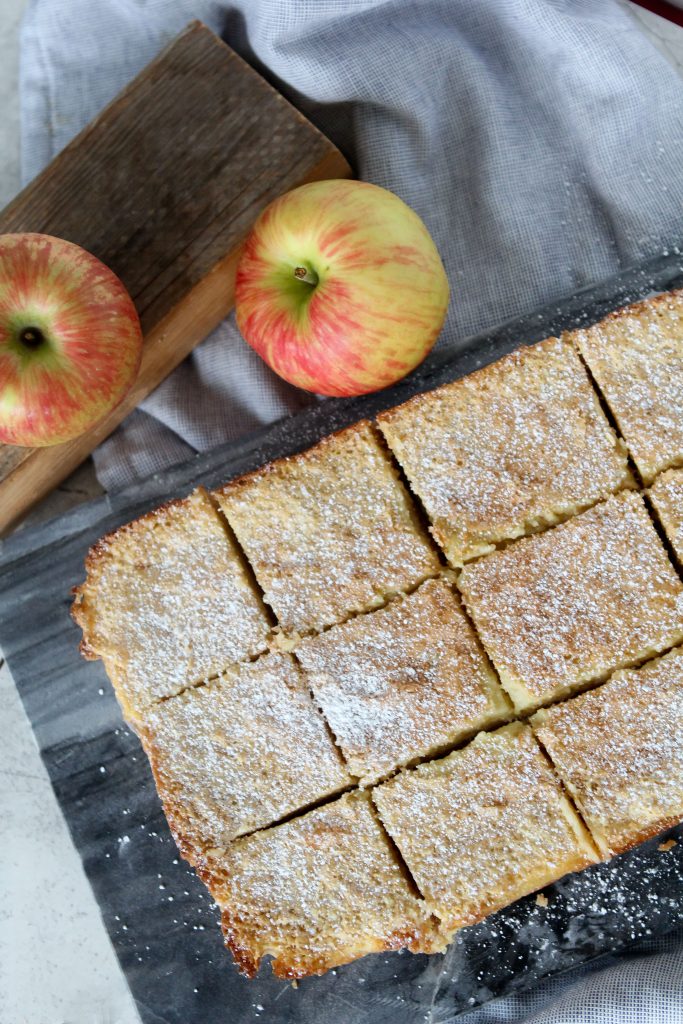 As far as the crust, I used a gluten-free 1:1 flour. I had tried to make a grain-free version but the crust just didn't hold up to the filling and I wanted to deliver something delicious to you, not soggy. And here's my philosophy on that, these are supposed to be treats, not something you eat every day. And because of that (and my motto of everything in moderation) I think using some gluten-free flour instead of a grain-free is ok. Personally, I can't eat gluten so anything I create must be gluten-free. I do try to minimize the grains I have in my diet as I don't respond to them well but that's why I leave it to treats, not every day.
And I will say that these are made quickly and easily. I'd like to think they are fairly fool-proof. But they won't last on your counters long!
Enjoy!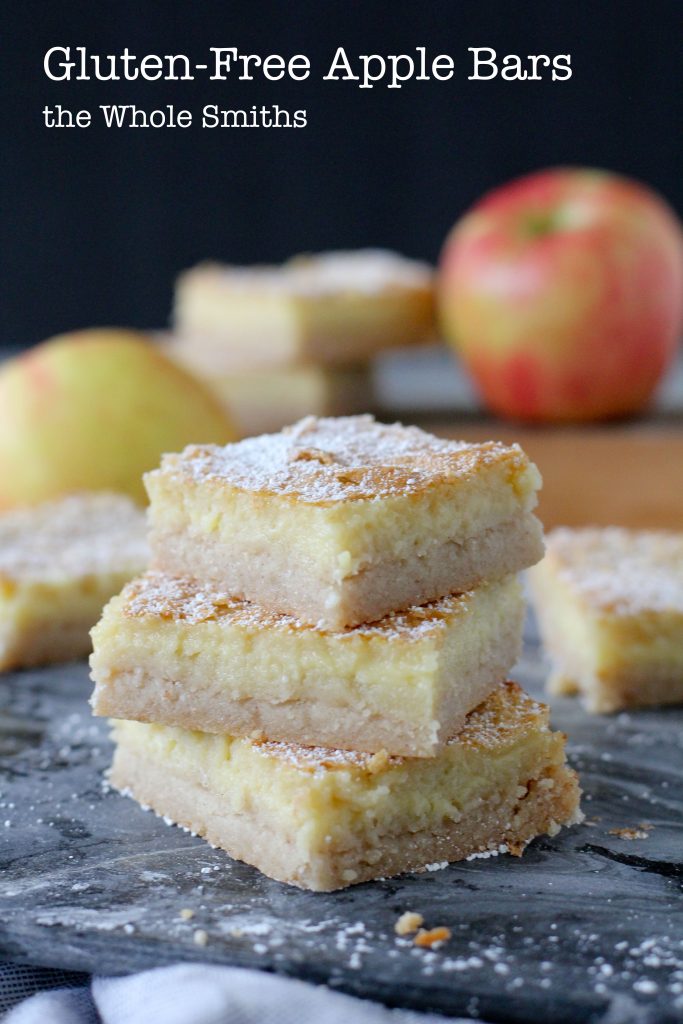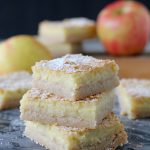 Print Recipe
Gluten-Free Apple Bars
Ingredients
Crust:
2

sticks of butter

room temperature

2/3

C.

coconut sugar

2

C.

gluten-free flour

1/2

tsp.

cinnamon

Pinch

of salt
Filling:
4

eggs

1/2

C.

honey

1

C.

apple cider

2

tsp.

apple cider vinegar

1/3

C.

gluten-free flour

1/2

tsp.

baking powder
Instructions
Preheat oven to 350*

Line a 8"x11" baking pan with parchment paper leaving a bit of parchment paper hanging over the edge

In a mixer, beat butter and sugar until smooth and combined

Slowly add gluten-free flour, cinnamon and salt to butter and sugar and beat until combined and a dough begins to form

Once combined add dough into lined baking pan and press crust down into pan evenly

Place crust in oven and bake for 10 minutes

Add 1 C. of apple cider to a small sauce pan and reduce down to 1/2 C. and cool

Meanwhile beat eggs well for 2-3 minutes on medium

Add sugar, reduced apple cider, apple cider vinegar and combine another minute

Slowly add gluten-free flour and baking powder while continuing to mix

Combine on medium speed until well incorporated

Once done, remove crust from oven

Pour apple filling over crust and bake for 30 minutes

Once baked, cool apple bars for 1 hour

Using excess parchment paper, lift apple bars out of baking dish and place on cutting boards

Using a pizza cutter, cut apple bars into squares and serve