I don't know about you guys, but weekday mornings around here are always… special. Like, really special. And because this is written not spoken word, let me make this abundantly clear… sarcasm is heavily laced into that sentence.
Mornings here are a mix of me telling the kids 20 million times (trust me, I've counted) to put on their shoes, listening to them complain that they can't wear shorts or dresses even when it's dumping buckets of water outside and sweet 'ol Teagan complaining about the fact that we are having eggs. Again.
It's a good thing they are as wonderful as they are in many, many other aspects. Mornings, not so much.
As you can imagine, making a balanced, healthy breakfast during the midst of that isn't always easily done. Which is why if I can make something ahead of time that reheats easily, I'm game. And if you can add some carnitas into that dish? I'm double game.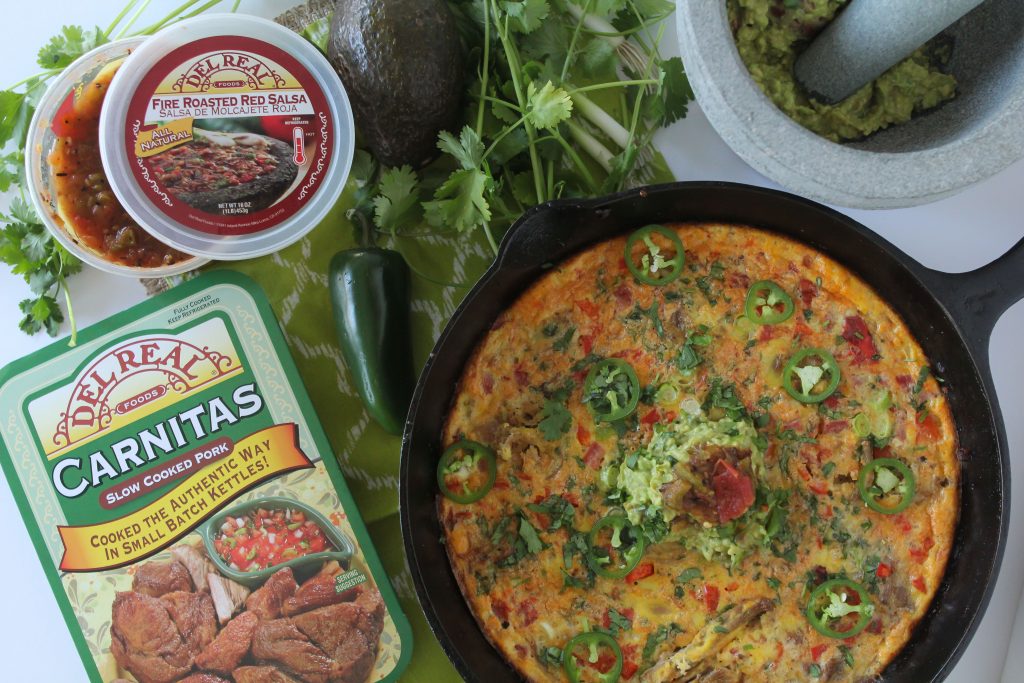 You might have seen my recent post for Chicken Stuffed Poblano Peppers using Del Real Foods' Shredded Chicken, well I am happy to say they are back. This time with carnitas. And if you haven't tried those stuffed peppers yet, you must.
I can't tell you how long we've been eating Del Real Foods Carnitas, because it's either been that long or I had too much fun in college that my memory is suffering these days. But trust me, it's been a long time. As you know, if I can have pre-cooked proteins on hand it makes throwing last-minute meals together that much easier. And thus less likely to order out on those busy days.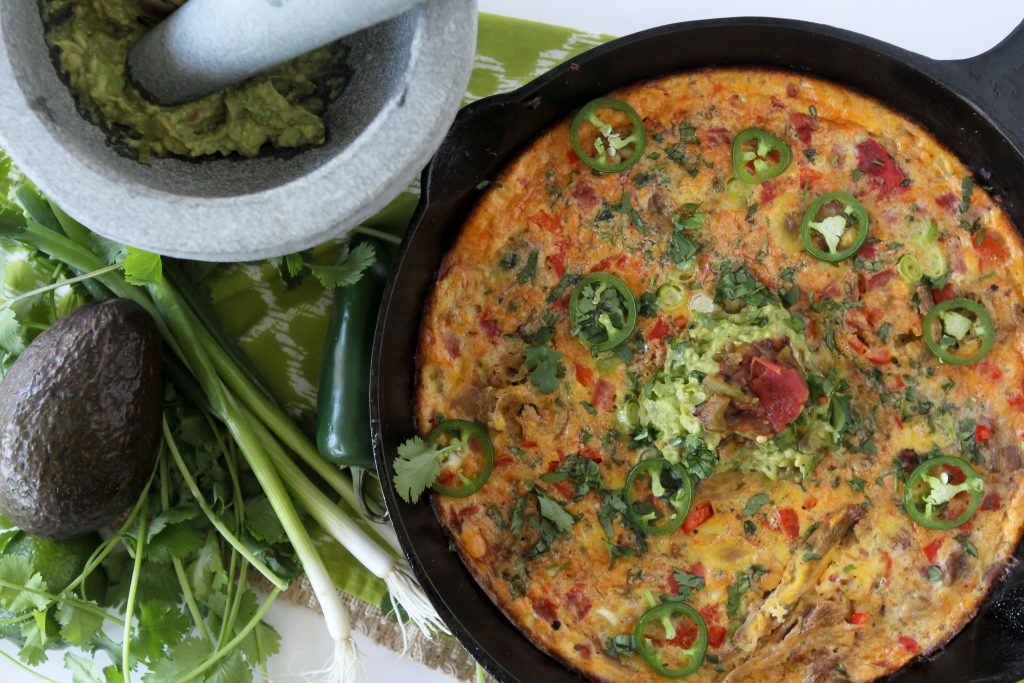 Same concept goes for this dish. Usually after dinner, I send the kids to go get their jammies on and brush their teeth, and pick up their rooms. During that time is when I usually try to get something going for the next morning. And guess what? Tegan doesn't seem to complain about eggs when she's eating a frittata. I'm not sure if she doesn't know that frittatas are comprised of mostly eggs or if she's just enjoying all of the other yummy ingredients in it. I actually don't want to have that conversation for fear of her no longer wanting frittatas.
I love that all I need to do to serve Del Real Foods' Carnitas is heat them up. They heat up easily and perfectly in a skillet and you can use them in so many other things besides a frittata. Tacos (duh), stuffed into a sweet potato, in a salad, you pretty much have endless possibilities. Next time you see them at the store grab them, you'll be thankful next time you find yourself staring into the fridge wondering what you should make.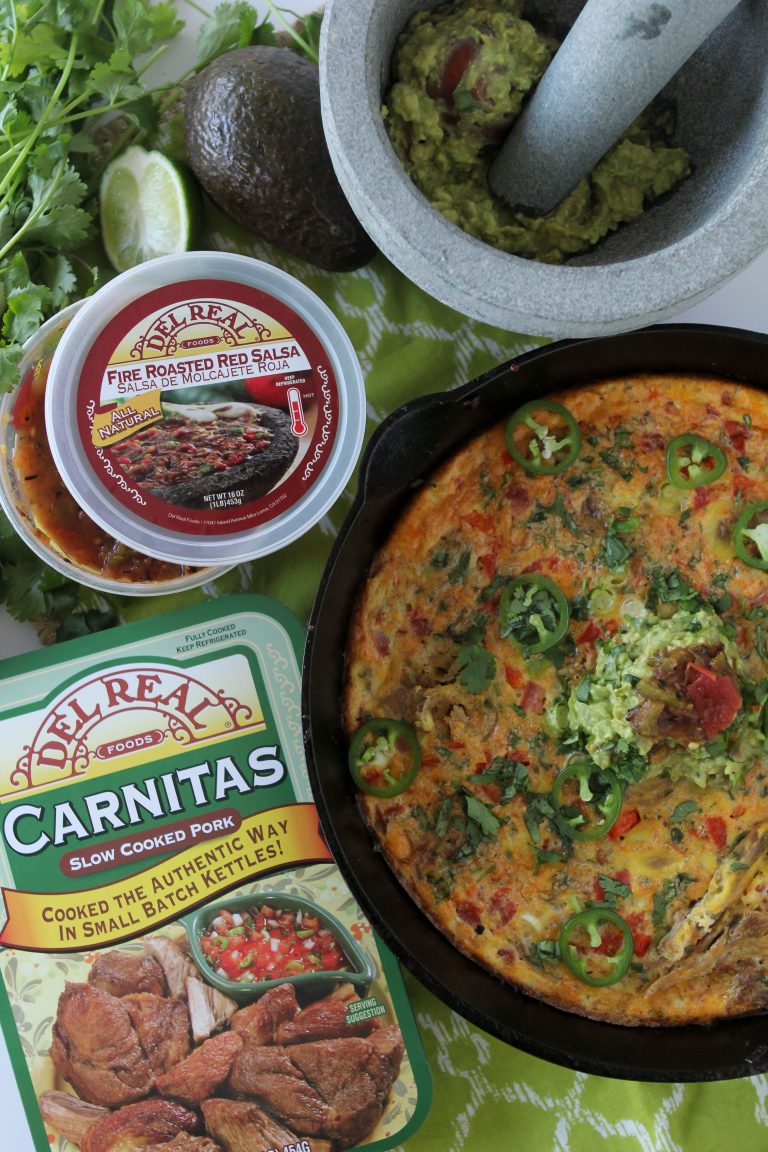 Asfar as how to serve this frittata, the possibilities are endless. Top with hot sauce, guac, salsa, sliced radishes, jalapeños, sauerkraut, fresh tomatoes whatever you like. Have fun with it!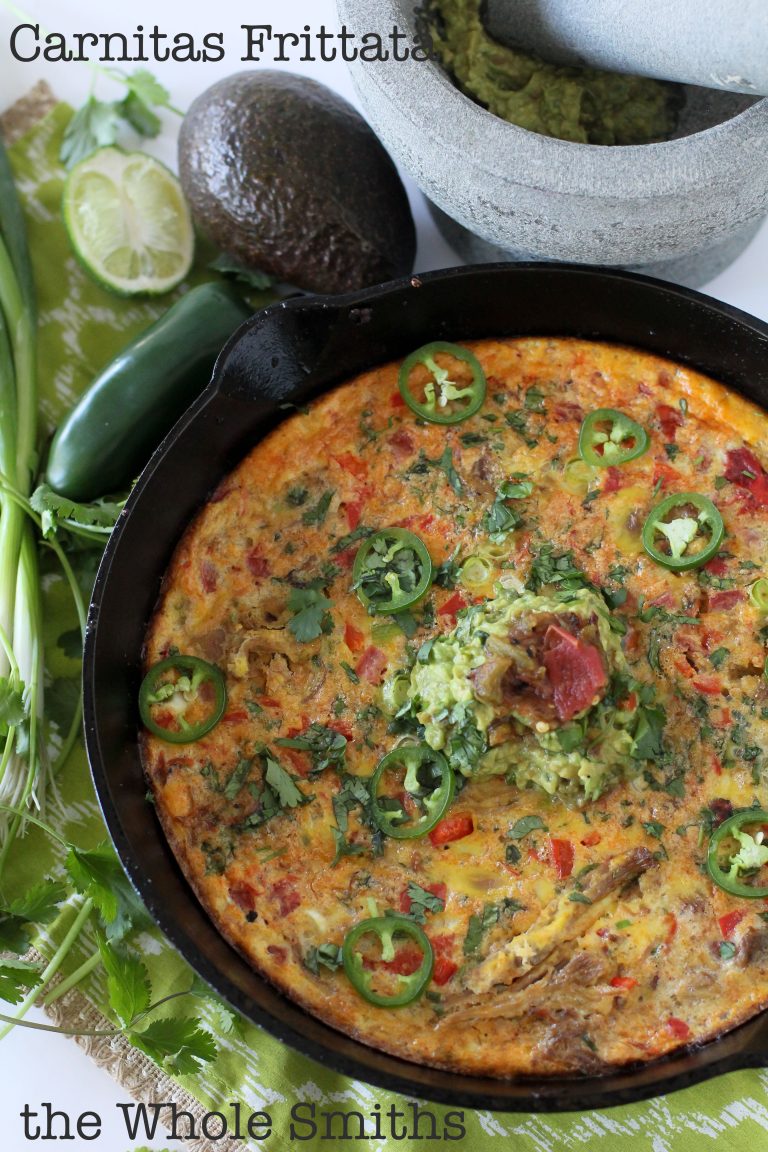 print recipe
Carnitas Frittata
An easy-to-make breakfast from the Whole Smiths that reheats perfectly. Great for mornings on the go!
Ingredients
10

eggs

1

tsp.

avocado or olive oil

3/4

pound

carnitas

3

green onions sliced thin

1

red pepper diced

2

cloves

garlic

minced

1/2

C.

diced tomatoes

1/3

C.

chopped cilantro

1

jalapeno sliced

1

avocado

1

Tbsp.

chopped cilantro

2

tsp.

salsa

Salt to taste
Instructions
Preheat oven to 375*

In a large bowl whisk eggs until well beaten, set aside

Heat a large cast iron skillet to medium heat

Once hot, add 1 tsp. of oil to pan

When oil is hot, add  carnitas to the pan

Use a spatula to break apart carnitas as they cook

Once heated through, remove carnitas from pan and set aside

Add additional oil to the pan if needed and add green onions and red peppers

Cook until tender

Add garlic to pan and cook for an additional minute

Remove green onions, red pepper, garlic mix from pan and add to beaten eggs

Add in diced tomatoes and chopped cilantro to eggs

Spray cast iron skillet with additional oil to ensure frittata doesn't stick

Add carnitas back into skillet and spread into an even layer

Pour egg and vegetable mix over top of carnitas into pan

Continue to cook frittata in skillet for roughly two minutes

Transfer skillet to preheated oven and continue to cook for 10-15* minutes until frittata is set

Meanwhile mash avocado and cilantro together to make guacamole

Once mashed, add salsa and stir to combine

Salt to taste

Once frittata is set serve with sliced jalapeños, guacamole and additional Fire Roasted Red Salsa

*Baking times will vary slightly depending on size of pan used