Gluten-Free Chunky Monkey Breakfast Cookies
Looking for healthy breakfast cookies? Look no further than these Gluten-Free Chunky Monkey Breakfast Cookies from The Whole Smiths. The perfect grab-and-go breakfast for busy families and picky eaters. Gluten-free, portable and easy-to-make.
Change up your breakfast routine with this healthy breakfast cookies recipe
Morning breakfast struggles can be tough. Especially if you have little ones at home. Nothing says peaceful morning like trying to get ready for school and arguing about what's for breakfast. We don't have time for breakfast meltdowns every morning and quite frankly, it's not how I want to start my morning every day.
While in a perfect world, we'd have sautéed veggies and eggs every morning, my kids are over it. I get it. Even as an adult I get sick of eggs and I get sick of having the same darn thing every morning. I realized we needed some variety.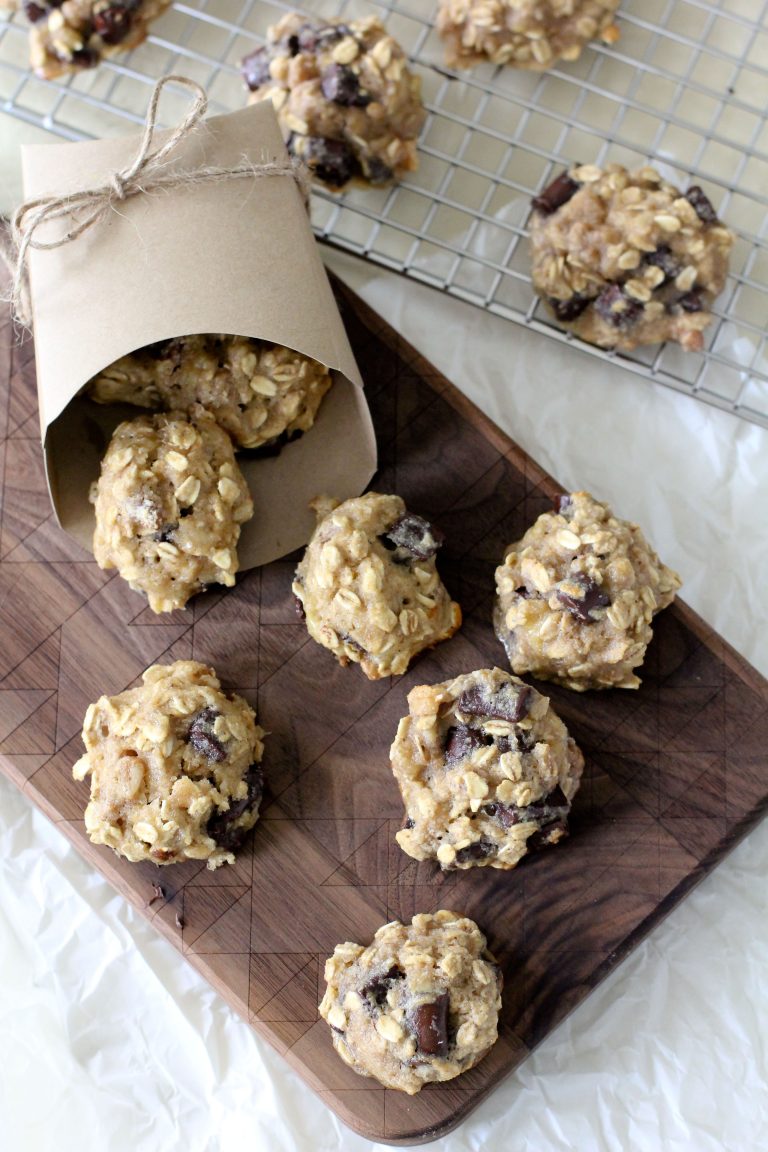 If left up to my kids, their choice every morning would be pancakes (WITH gluten as they have requested in the past), donuts, junk cereal or perhaps they'd prefer a Pixie Stick hooked up right into their veins. So yeah, they still don't get to have a FULL choice in the matter.
It's all about offering healthy options.
But I can hang with some options that work for both of us. I won't budge however on loading them up with sugar and processed "food" that doesn't actually fuel your body. That's a hard no.
I also insist it must have SOME protein and fruit or veggie. Those are the same rules I guide my own breakfast choices by. In fact, while I designed these healthy breakfast cookies for the little ones in our lives, they're perfect for us grown-ups too.
I find that if I can give my children a voice in what they're eating we have a lot more luck in the complaints department.
I mean, think about it… If you're complaining about YOUR OWN IDEA aren't you just complaining and criticizing yourself? Fortunately that's not something my kids tend to do at this point in their lives, they're always right.
Our mornings start off much like this, "Would you guys rather have some Banana Egg Muffins or those Gluten-Free Chunky Monkey Breakfast Cookies you liked last week?". No harm in reminding them how much they liked them, right? Because God knows, they may love one thing one day and decide the next it's the worst!
Healthy meal prep.
While I often still make hot breakfasts like my Sweet Potato Hash, it can be hard to find the time when it takes a 6-year-old 10 minutes to find a show and 15 minutes to put them on.
Which is why I wanted to make an easy healthy breakfast cookie recipe that we could whip up quickly on a Sunday and have them ready to go for weekday mornings.
You can heat these up in the microwave if you'd like or eat them at room temp. Once they're cooled you can store them in air-tight on the counter or in the fridge.
I'm a huge proponent of doing and making as many things ahead of time as possible to ensure a peaceful morning. I have the kids pick out their outfits the night before, backpacks packed, water bottles filled and ready all the night before.
So why not breakfasts too? It's one of the biggest no brainer moves but it's a keeper.
Tips for making this healthy breakfast cookies recipe:
If possible use Ceylon Cinnamon instead of Cassia. If your package from the grocery store simply says cinnamon it is most likely the latter, which does not share Ceylon's blood sugar-lowering properties.
Don't skip the salt! It enhances the flavor of your healthy breakfast cookies.
Make sure you use ripe bananas for this recipe. To quicken that process, place your bananas in a brown paper bag and close loosely. Ethylene will build up and speed up the ripening process.
Variations on this healthy breakfast cookies recipe:
You can stick to this breakfast cookies recipe as is or you can swap out the nuts and chocolate chips for other items. Think shredded coconut, dried fruit, ground flaxseed etc.
If you're allergic to nuts, feel free to use some sunflower seeds in place of them.
Not a fan of bananas? You can use 1 egg and 1/3 cup applesauce instead. The cookies will be slightly less sweet so maybe add some more maple syrup to the batter.
If you do have an almond allergy you'll obviously want to omit the almond extract as well. The almond extract isn't a critical component of the recipe but it does enhance the banana flavor of the cookie, that's why it's there. So if you need to omit them, know the cookies will still turn out but just have a slightly different flavor.
You can use honey instead of maple syrup.
FAQ:
How long do these cookies keep?
These breakfast cookies will stay fresh in an airtight container at room temperature for up to 1 week.
Can I freeze gluten-free breakfast cookies?
Yes, breakfast cookies freeze well for up to 3 months. You can thaw them overnight in the refrigerator and bring them to room temperature, before enjoying. Or pop them in the microwave real quick.
print recipe
Gluten-Free Chunky Monkey Cookies
These Gluten-Free Chunky Monkey Breakfast Cookies from The Whole Smiths are the perfect grab-and-go breakfast for busy families and picky eaters. They're gluten-free, portable and easy-to-make.
Ingredients
2

eggs

beaten

2

medium

banana

mashed

1/4

cup

maple syrup

1

teaspoon

vanilla extract

1/4

teaspoon

almond extract

1

cup

gluten-free oats

1

cup

almond flour

2

teaspoons

tapioca flour

1/2

teaspoon

cinnamon

1/4

teaspoon

baking powder

1/8

teaspoon

salt

1/2

cup

walnut pieces

1/2

cup

chocolate chunks

semi-sweet or dark
Instructions
Preheat the oven to 350* F and lightly grease a cookie sheet.

Add the eggs, mashed banana, syrup, vanilla and almond extract to a large bowl and combine well.

To the same bowl add the oats, almond flour, tapioca flour, cinnamon, baking powder, and salt and stir to combine well.

Fold the walnuts and chocolate chunks into the batter.

Spoon about 1 & 1/2 tablespoons of the batter onto the parchment paper and bake for 13-14 minutes until cooked through and lightly browned on the edges. The batter will look loose but don't worry, the cookies will hold their shape!
Notes
If possible use Ceylon Cinnamon instead of Cassia. If your package from the grocery store simply says cinnamon it is most likely the latter,  which does not share Ceylon's blood sugar-lowering properties.
Don't skip the salt! It enhances the flavor of your healthy breakfast cookies. 
Make sure you use ripe bananas for this recipe. You can