Cilantro Chimichurri Salmon Tacos
These Chimichurri tacos from The Whole Smiths will knock your socks off and are sure to impress any dinner guests. Simply swap out the corn tortilla for a paleo, grain-free option!
When social media isn't so social.
I've been thinking about social media a lot this year. A lot. So much of my job is spent here online and while I think it is a great outlet for us to connect and exchange ideas and offer support, it shouldn't be a replacement for connecting with others in real life. I also worry about the implications of social media for my daughters as they get older. We cannot be living our lives out via Instagram.
And then I had an idea.
Was there a way that we could possibly combine the benefits of social media with real life connection? How could I use social media to help us to facilitate in person talks and time with our friends. How can we incorporate the idea of whole and well into one big, FUN package? A giant virtual dinner party is how.
Virtual Dinner Party is ON.
Not only is this a way to get offline and connect, but it's a way to gather our friends around the table and eat healthy foods that are delicious. (I bet your friends won't even realize what they're eating is good for them!) The idea of social media bringing us together for a similar, real life experience gives me life. We'll share the same menu, drinks even a playlist (more on that later). I'll even be sharing some fun dinner questions via my Instagram later this week.
For as long as I can remember I've loved hosting friends in my home and feeding them. Even if it meant ordering 50 tacos from Taco Bell as part of our Cinco de Mayo party. True story. Back then it was more of an excuse to party. Today I have a deeper feeling of connecting when we invite friends to our home. It's more about caring for friends and serving them than just getting them wasted and playing matchmaker. Now through the magic of social media it's like I can host all of you… minus the clean up!
Tacos for ever. And everyone.
I spent a lot of time thinking about what I wanted to serve for our inaugural dinner party. I wanted it to be something that everyone loved obviously but it also had to be something that wasn't crazy laborious to make for a group. I also wanted it to be something that people with a variety of dietary restrictions to be able to eat. And then it hit me.
Tacos.
Everyone loves tacos. Tacos have inspired countless memes base soy on the fact that everyone loves tacos. I also love that tacos are really easy to prepare most of the components ahead of time and guests can assemble their tacos taco-bar style right at your counter tased on what they like.
Tacos are also super easy to customize based on dietary restrictions. If you don't eat corn, there are grain-free options available today as well a large leaf of lettuce makes for a great lettuce wrap. If you're avoiding dairy no problem! Omit the bit of cheese at the end. And if your best friends is a vegetarian? Great! Serve up some extra cauliflower onto hers instead of the salmon.
Not to mention kids love tacos. Even if you have the littlest of kiddos attending your dinner party they can indulge. (Please, please don't serve them up some chicken nuggets instead!) If their hands are still too little to manage proper taco eating techniques fell free to just serve them up some salmon and cauliflower.
Tacos and…
margaritas! Duhhh. What's a taco without a proper margarita? I suggest making a pitcher of my Clean(er) Mason Jar Margaritas for the occasion. These margaritas are made specifically to be served from a large mason jar which means you can make a giant batch ahead of time.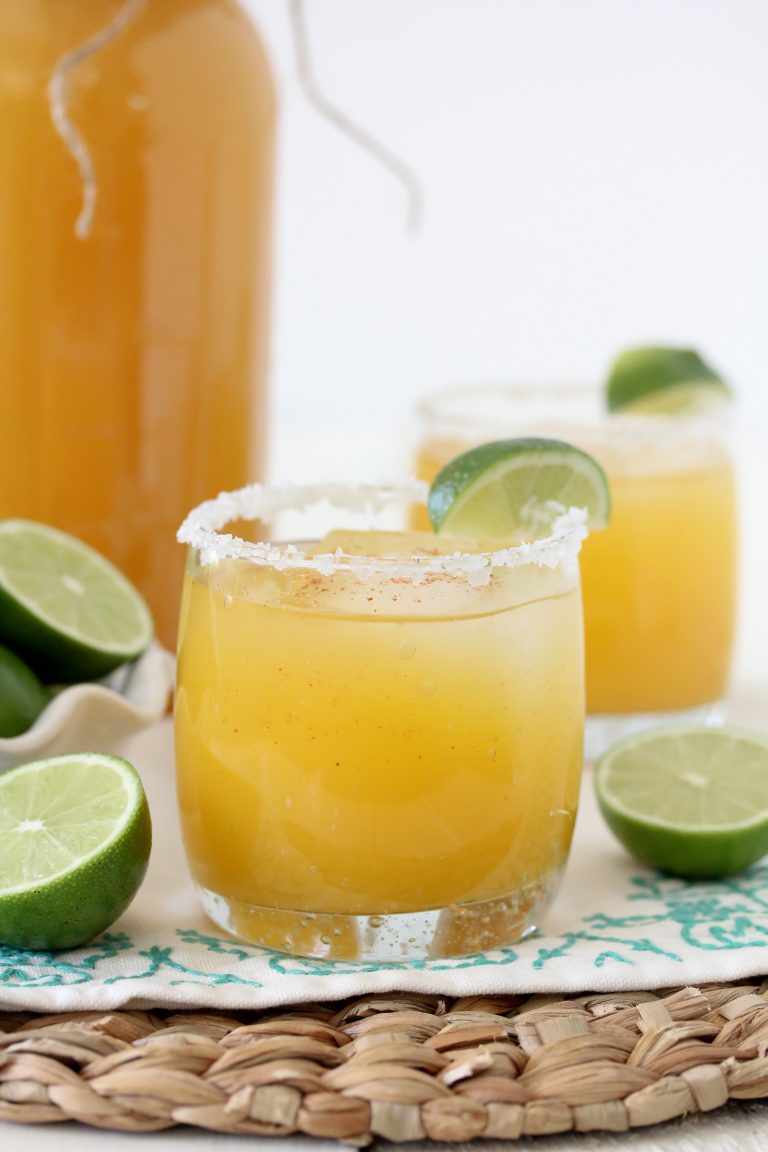 If you're looking for a super easy dessert to share, whip up a batch of my favorite Strawberry Filled Chocolate Cupcakes using Simple Mills' cupcake mix. Or better yet, tell your friend to bring dessert. This is a community table after all, isn't it?
And with that I think you are ready to join us for the very first Whole Smiths #virtualdinnerparty. Make sure to post your pictures to IG with that hashtag and let us know what your favorite part about connecting was.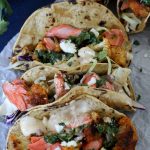 print recipe
Chimichurri Salmon Tacos
These delicious tacos from The Whole Smiths are perfect for a weekday family meal or your next gathering. While they're gluten-free as-is, you can customize them and make them paleo, Whole30 or grain-free.
Ingredients
1

pound

cauliflower

broken down into bite sized florets

2 1/2

teaspoons

salt

1

tablespoon

avocado oil

+ 2 teaspoons

1

teaspoon

smoked paprika

1

pound

salmon

8

corn tortillas heated

(grain-free tortillas or lettuce wraps all work)

2

cups

shredded slaw mix

1/2

cup

queso fresco
For the cilantro chimichurri sauce
1/2

cup

chopped cilantro

1/2

cup

olive oil

1/4

jalapeno

deseeded and minced

2

teaspoons

lime juice

1/2

teaspoon

honey

1/2

teaspoon

salt

1/8

teaspoon

smoked paprika

1/8

teaspoon

red pepper flakes
For the chipotle crema
1/2

cup

mayonaise

2

teaspoons

almond milk

1

clove

garlic

minced

1/4

teaspoon

chipotle powder

1/4

teaspoon

lime juice

1/4

teaspoon

salt
Instructions
Preheat the oven to 425* F and line a baking sheet with parchment paper. Combine the cauliflower, 1 teaspoon of the salt, 1 tablespoon of the avocado oil and the smoked paprika to a bowl and toss to coat. Spread the cauliflower over the baking sheet in one layer and roast the cauliflower for 25 – 30 minutes.

Season both sides of the salmon with the remaining 1 1/2 teaspoons of salt and set aside.

Combine all of the ingredients for the chimichurri sauce into a bowl and set aside.

Combine all of the ingredients for the chipotle crema and set aside.

Heat a pan over medium heat and add the remaining 2 teaspoons of the avocado oil. Once the oil is hot, place the salmon skin side down on the pan. Cook the salmon for about 4 minutes on each side. Once cooked, gently break the salmon down into smaller chunks to serve on the tacos.

To assemble the tacos place about 1/4 cup of the slaw mix onto the tortilla and top with the cauliflower, salmon, chimichurri sauce, chipotle cream and some of the queso fresco.