White Chocolate Pumpkin Peanut Butter Cups
This White Chocolate Pumpkin Peanut Butter Cup recipe from The Whole Smiths is absolutely decadent and easy for any novice home cook to make. Each bite is fall-flavored, candy perfection.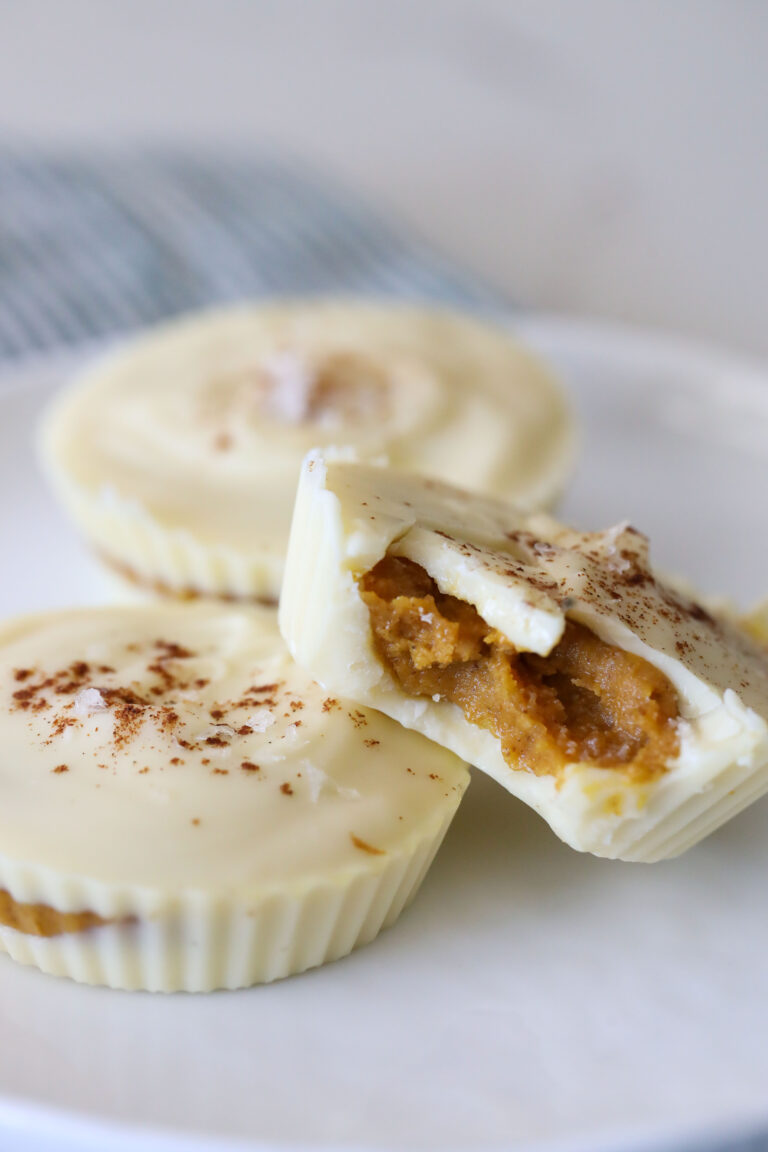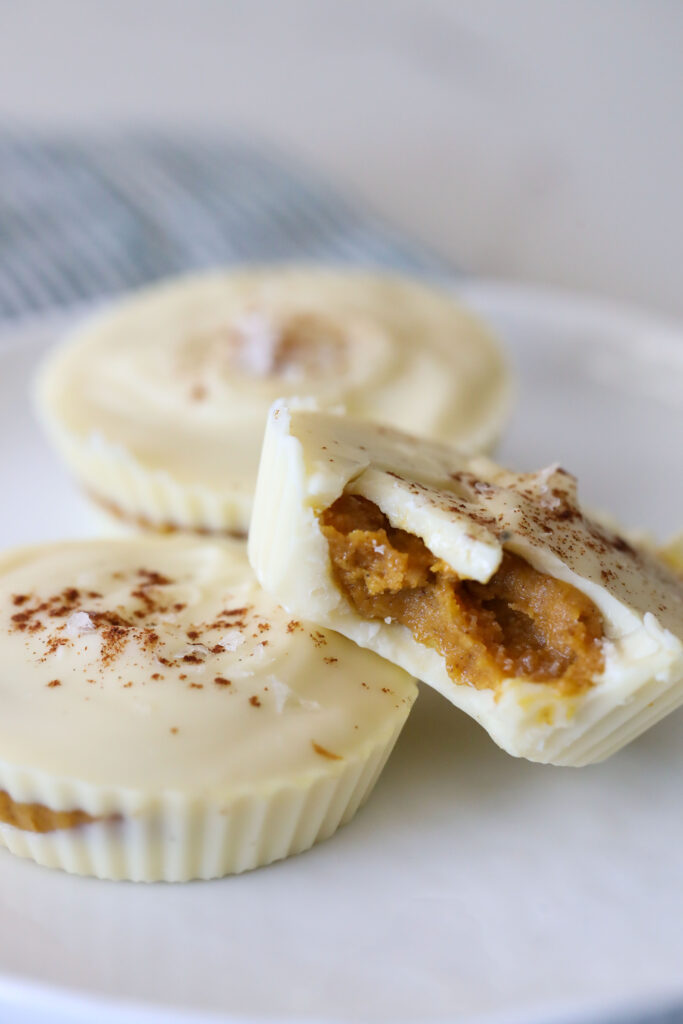 White Chocolate + Pumpkin, Together Forever.
I love pumpkin but you already know that. And I loooove me some peanut butter cups. Reese's were always the candy I hoped for most when I was trick-or-treating. But quite frankly, I just don't think pumpkin pairs well with chocolate. I know some may disagree, but based on a poll I did on my Instagram account, the majority of you agreed with me. Pumpkin does however pair well with white chocolate. You obviously see where this recipe is going, right?
Hence, how the White Chocolate Pumpkin Peanut Butter Cups were born.
I personally think that pumpkin pairs well with spicier flavors like cinnamon, nutmeg and cloves… none of which pair all that great with chocolate in my opinion. White chocolate however lends itself to a better flavor profile along those spices. I know people will add chocolate to things like pumpkin bread but I personally prefer a strong dose of cinnamon, like in my Grain-Free Pumpkin Cinnamon Bread. I think you see where I'm going with all this.
Making Candy Doesn't Have to Be Hard.
It can be intimidating to make anything candy or chocolate related. I always figured it would be so hard. The truth is, it isn't. It just takes a little practice. Even if it is a tad messy, it still tastes just as amazing. So don't worry if yours doesn't look like it rolled off a FACTORY LINE. It's not supposed to, it's homemade. You aren't a professional chocolatier and this isn't a content on social media, step away from the perfection.
This recipe won't take a whole lot of time but put some uninterrupted time aside, throw on some tunes and just enjoy the process of making them. Have fun with it.
Gear You'll Want for Making Your White Chocolate Pumpkin Peanut Butter Cups.
Having the right tools for working with chocolate will make all the difference in the ease of making this recipe. It's nothing fancy, just some standard equipment that's good to have on hand in your kitchen anyways.
First up are silicon muffin liners. I use these regularly at home and ditched paper liners long ago. My Pumpkin Pie Egg Muffins are a perfect recipe to illustrate that. They won't stick to anything and are a breeze to clean up. My favorite ones are from Wilton as they tend to be a bit sturdier than other brands.
You can also use a silicon muffin pan, although it is a tad bit harder to use with this recipe. Regardless, it will still make for easy clean up. The one I use at home is this one from Trudeau. It is reinforced with a metal frame to prevent it from getting wobbly and unsteady and you bring it in and out of the over.
SWAPS, TIPS, HACKS & MORE
How to melt your white chocolate. Two ways. You can either add it to a microwave safe bowl and microwave it in 20 seconds increments (20 seconds, stop and stir, 20 seconds, stop and stir) until it's smooth and melted or you can use a double boiler. A double boiler is easier than it sounds. You simply bring a pot of water to boil (you only need to fill it about ¼ of the way up with water), place a large, heat safe bowl into the bowl that can rest into the pot without touching the bottom and add the chocolate to the bowl, stirring frequently until it melts. The heat and steam from the water facilitate the melting and keeps it at an even temp. Once melted, turn down the temp to keep it warm and melty as you spoon it.
You will have a bit of extra pumpkin peanut butter filling when you are done with this. I went back and forth between creating a smaller amount of filling for the recipe but realized having extra of the tasty filling would make for a great dip for apples or spread on toast. Not only will you have a delicious filling but will also have a delicious dip / spread to use without any extra effort. Simply store it in an airtight container for up to a week. This is how we maximize our time in the kitchen and this is what I'm here to help you do. You're welcome. 😉
Don't worry about how pretty these are going to turn out the first time you make them. Working with melted chocolate is never pretty. It happens with time so stop comparing your creation to the professional photos you see online!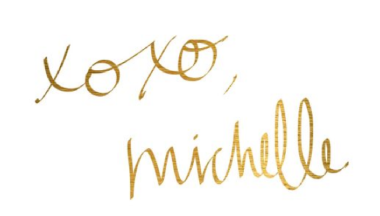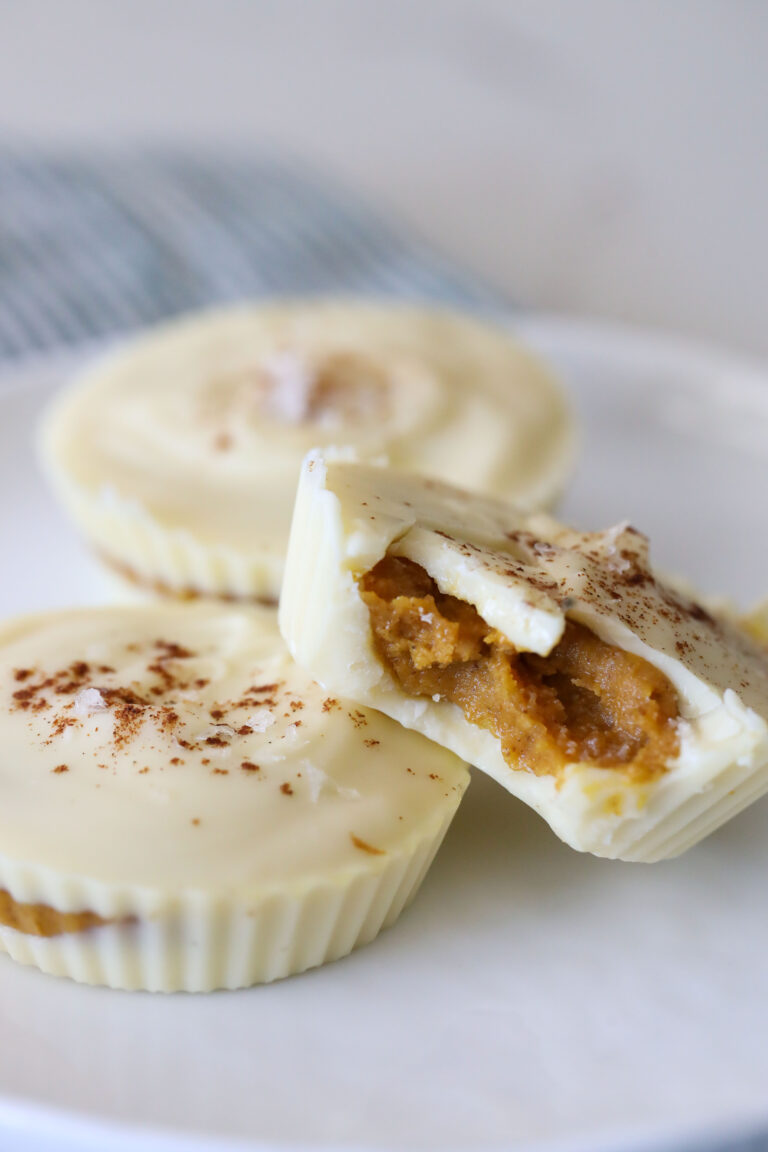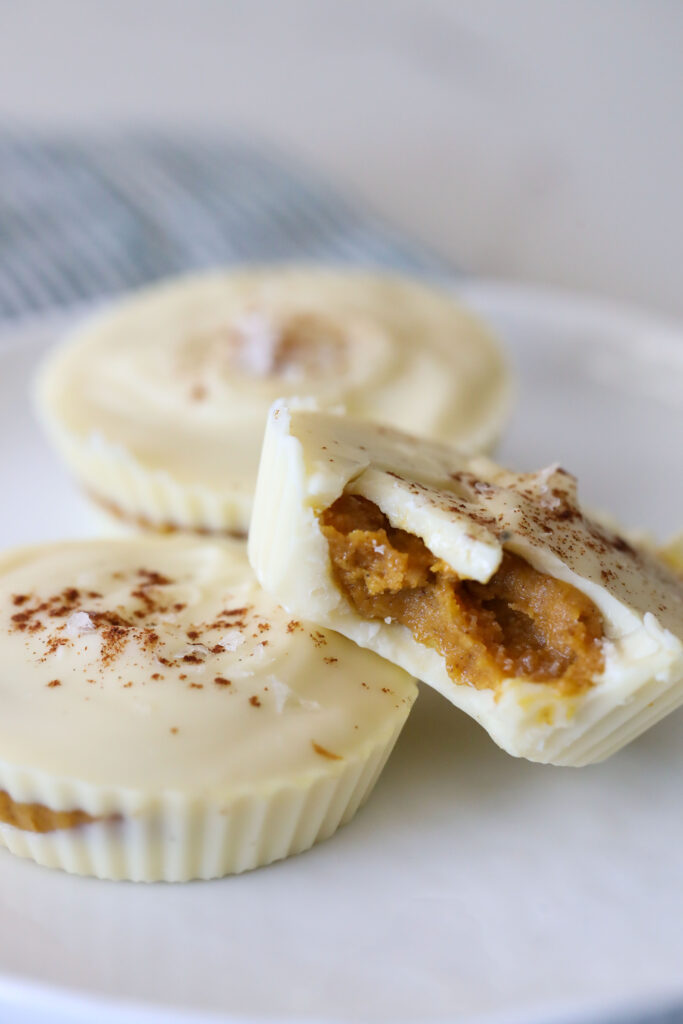 print recipe
White Chocolate Pumpkin Peanut Butter Cups
This recipe for White Chocolate Pumpkin Peanut Butter Cups from The Whole Smiths is absolutely decadent and easy for any novice home cook to make. Each bite is fall-flavored, candy perfection.
Ingredients
½

cup

canned pumpkin puree

⅓

cup

peanut butter

1

tablespoon

coconut oil

1 ½

tablespoons

maple syrup

1 ½

teaspoon

pumpkin pie spice

pinch

salt

12

ounces

white chocolate

melted
Additional:
Silicone muffin liners

Flaky sea salt like Maldon

optional
Instructions
Add the pumpkin, peanut butter, coconut oil, maple syrup, pumpkin pie spice and pinch of salt to a sauce pan over medium low heat. Stir until all of the ingredients are melted and combined and set aside. Let cool to room temperature.

Once the pumpkin mix has cooled, now is the time to melt your white chocolate until it if fully melted and creamy. You can do this using a double boiler technique or simply melting it in a microwave in 20 second increments, stirring in between until it is smooth.

Add the silicone liners into a muffin pan. Spoon about 1 teaspoon of the melted white chocolate into the bottom of a silicone liner. With a small spoon, make sure it covers the bottom completely and gently move a small amount up the sides of the liner. Just a tiny bit, you do not need to go up the liner, just a tiny bit. Freeze for about 5 minutes to harden.

Spoon about 1 teaspoon of the pumpkin peanut butter filling into the center of the cup and spoon another teaspoon of the white chocolate over top. With a small spoon, gently spread the white chocolate over top so it covers the peanut butter filling edge to edge.

Sprinkle the cup with a light pinch of pumpkin pie spice and flaky sea salt. Repeat for all cups.

Place the muffin tray into the freezer to set for 10 minutes and then store the White Chocolate Pumpkin Peanut Butter Cups in the refrigerator for up to 7 days.

Use any leftover filling as a dip for apples, graham crackers, or a spread on toast. OR you can melt more white chocolate and make even more peanut butter cups. Your call.