Delicata Squash Chips + "Awesome" Sauce
Alright folks, today is September 21st and Fall has officially arrived and I'm kicking the season off with one of my favorite veggies, the delicata squash! I always say this, but why, oh why did I wait so long to try these? They are amazing. And roasted up? Holy cow, simply perfection. They develop this faint sweetness and a hint of smokiness along the crispy edges that pretty much scream fall.
Once I tried it, I knew it would go perfectly with the sauce that I created for my baked onion. Just gonna say it, it's a knock off of the dipping sauce from Chili's Awesome Blossom. You know what the secret ingredient in there is? Horseradish. Don't let that scare you though. It's not spicy and overwhelming but just adds a bit of zippiness to the sauce that complements the flavors of the squash.
And do you want to know what else makes this the quintessential fall recipe? It's PERFECT for football watching. Pretty much anything you can dip is but when you can make it healthy and can feel good eating it while your team wins? I'd say that means it's a keeper. I've also been making it like crazy for our side dish at dinner. The dipping action is all it takes to get the kids to love it which makes life so much easer at the dinner table.
This recipe is pretty much a no-brainer. Olive oil, salt, smoked paprika and drizzle, sprinkle, rub.
That's it!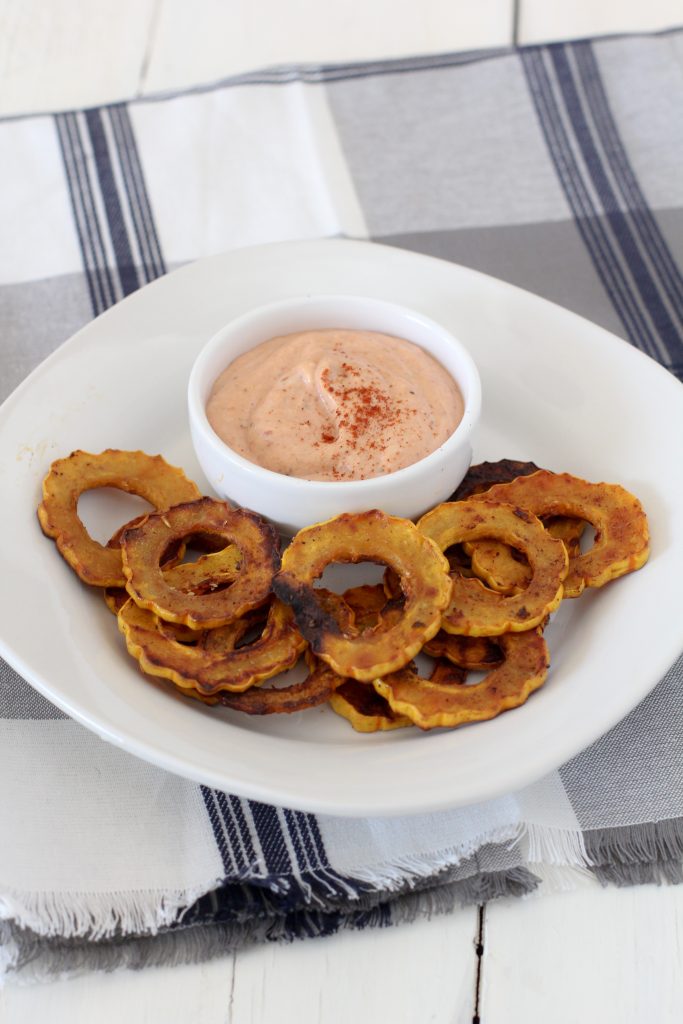 print recipe
Delicata Squash Chips + "Awesome" Sauce
A perfect roasted delicate chip with dipping sauce. Great as a side or football snack. Paleo, vegetarian and Whole30 compliant.
Ingredients
3

delicata squash sliced into discs

1/2

tbsp.

olive oil

1/4

tsp

smoked paprika

1/2

C.

paleo mayo - see #thewholesmithsmakesmayo for a tutorial

2

Tbsp.

tomato paste

2

tsp

prepared horseradish

1/2

tsp.

all purpose savory seasoning - I like 21 Salute by Trader Joe's

1/4

tsp.

salt
Instructions
Preheat oven to 375* and line a baking sheet with parchment paper.

Line baking sheet with parchment paper

In a bowl toss squash with olive oil and a sprinkle of smoked paprika then bake for an additional 10 minutes.

In a small bowl combine mayo, tomato paste, horseradish, seasoning and a pinch of salt. Serve alongside the squash.