Easy Instant Pot Whole30 Carnitas
These Easy Instant Pot Whole30 Carnitas from the Whole Smiths are a breeze to make and perfect to make ahead to use in recipes throughout the week. If you've been looking for the perfect way to make tasty carnitas, this recipe is for you.
Carnitas, carnitas, carnitas! You scream, I scream, we all scream for carnitas. No? That's not how they saying goes? Well, it should because carnitas are bomb. What are carnitas? In short, carnitas are slowly cooked pork butt shoulder that is then crisped up. There are a ton of ways to make carnitas from the very traditional Mexcian method in a copper pot to this easy less-than-authentic (but amazing) tasty 3-ingredient Instant Pot version. There's lots of options, lots of different ingredients to add for different flavors but here's the thing, I want quick and I want it to be clean.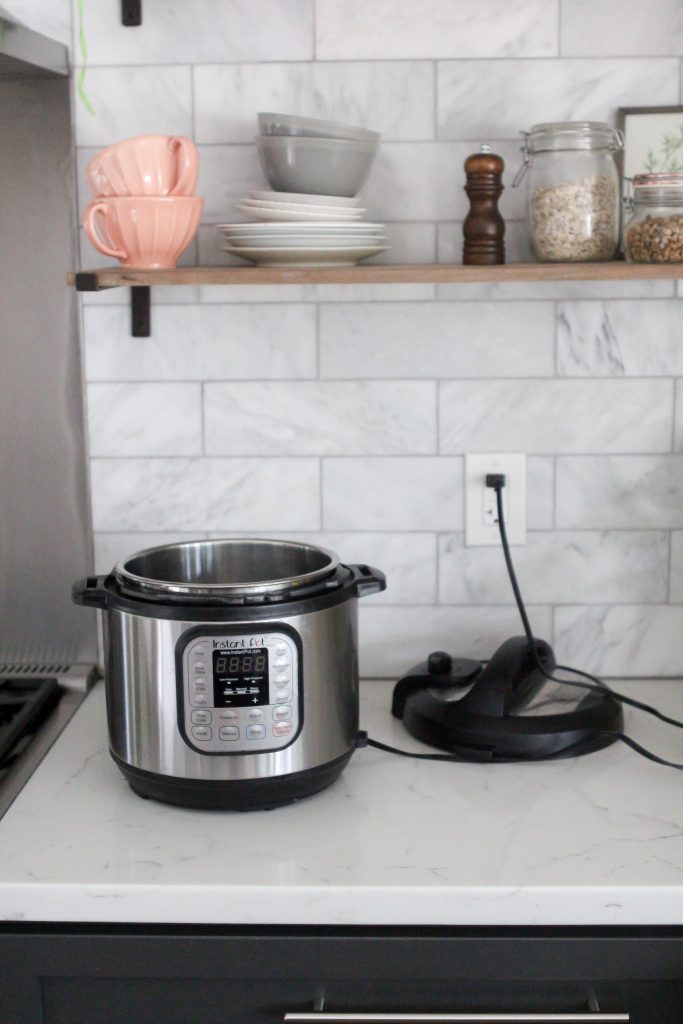 This particular recipe is for the Instant Pot but you can make it using your slow cooker too. I don't have a slow cooker and I didn't test this recipe for that, however the recipe is so easy there's pretty much no way that you can mess it up by using a slow cooker. Just know, you will need to slow cook it for a loooong time as you want to get that meat super tender, my suggestion would be for about 10 hours. If at the end of those 10 hours your pork isn't falling apart then keep slow cooking my friend. Once you've gotten the pork to it's desired doneness, you can go on with the rest of the recipe just as you would with the Instant Pot version.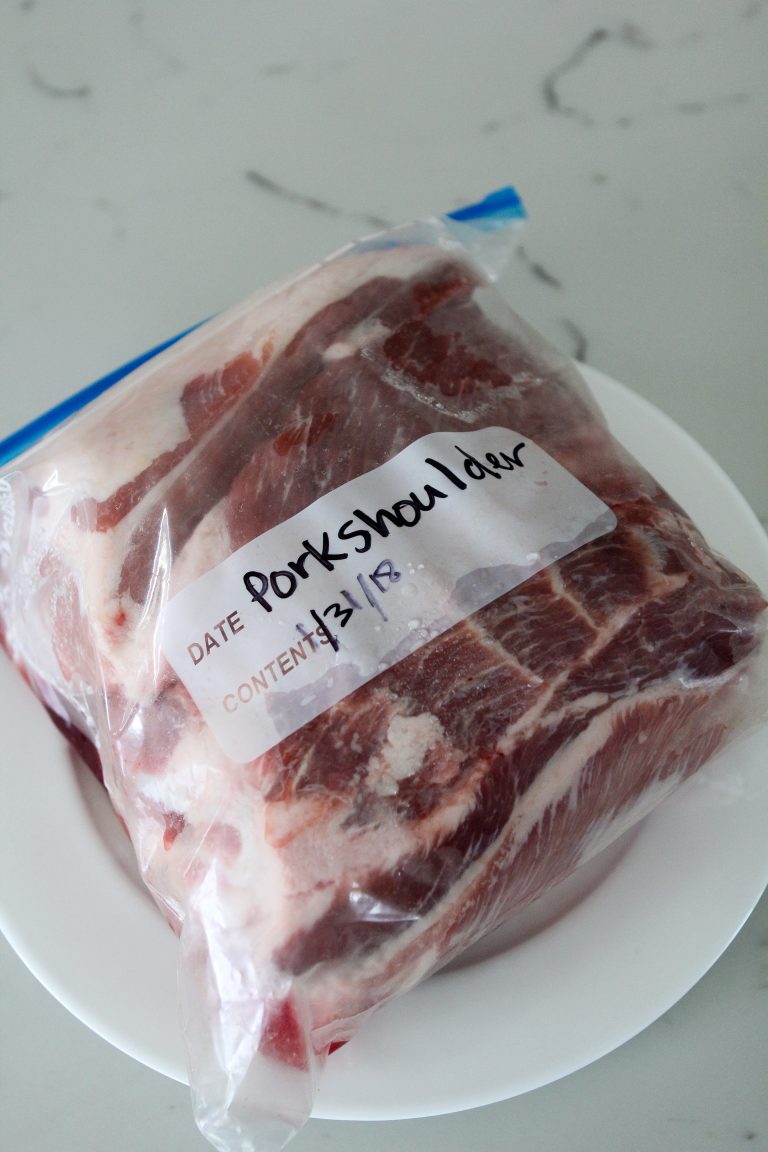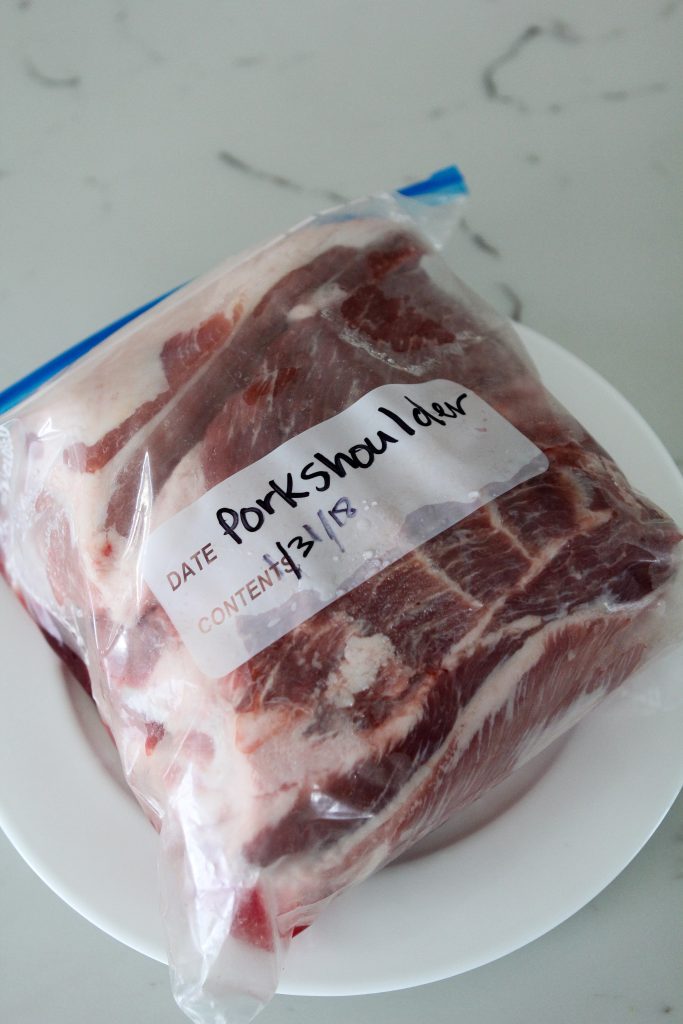 The cut of pork that you will want for this is a boneless pork butt shoulder aka Boston Butt. Typically it's a large cut of meat but I break it down to a 6 – 7 pound, more manageable size. As well, it fits into my Instant Pot quite nicely. From there I typically take my 6 – 7 pound piece and cut into into 3 large pieces to help it fit even better into my IP. Theres no right or wrong way to do this, just into three chunks that can nestle into your IP easily.
As far as time goes, the longer the better. This is a tough, large cut of meat and the longer it spends napping in your IP, the better it is for everyone. You want it falling apart as you try to pull it out of the Instant Pot. As far as letting your IP de-pressure on it's own or to release the pressure that's up to you. I like to let it naturally depressurize when I have the time but if I'm short on time I release that valve. I don't know if it makes a difference but in my mind the longer that thing is in there, the better it's gonna be. Check out the Instagram story that I uploaded detailing out exactly how to make these.
Once you've cooked your pork and it's oh-so-tender, you can either store it and use it as pulled pork in a variety of recipes or you can move onto step two and crisp up those bits of fat for some even tastier carnitas. I'm guessing since this is a carnitas recipe you're going to want to go with that and lucky for you it's super easy. You need a pan (preferable a cast iron) and a touch of your favorite cooking oil, I recommend extra-light tasting olive oil, avocado oil or even coconut oil. Heat the pan to medium high, add the oil to the pan, add the pork and let it sit. Don't touch it yet! Let it sit there and get it's 'do on. I.e. crisp up.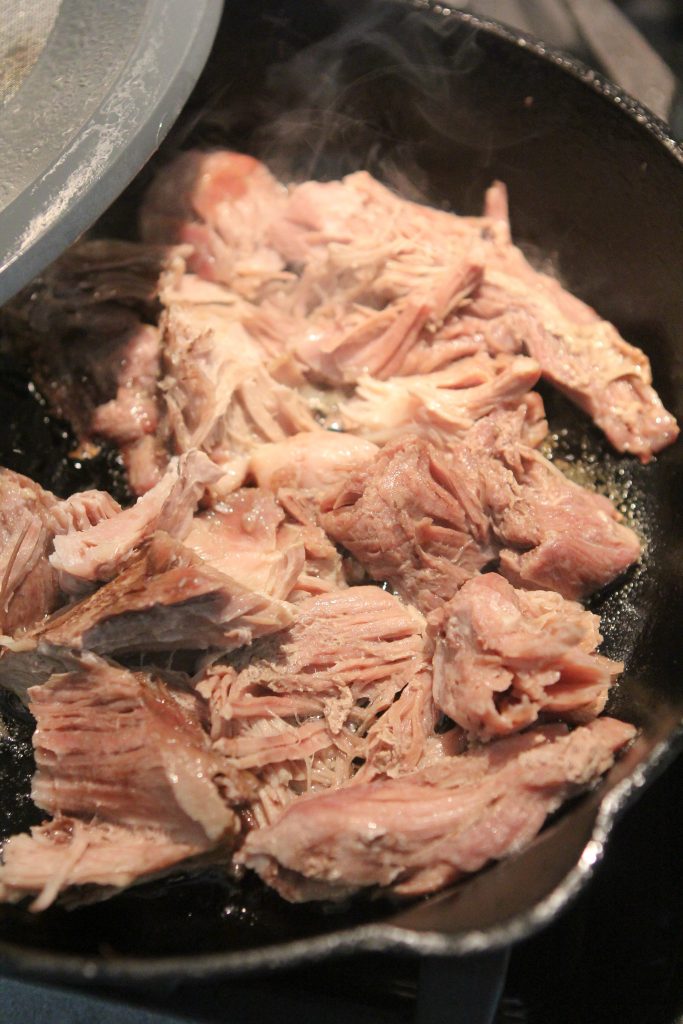 That's it! Once you have your carnitas you can eat it in a variety of ways. So let's go this, eh? 1. In a taco salad. 2. Over top a sweet potato with some guac and salsa, veggies on the side. 3. My Baja Shrimp Tacos (just swap the shrimp for carnitas) 4. My Pulled Pork + Bacon Hash 5. Added to some gluten-free ramen noodles with some cabbage, carrots, coconut aminos, sesame oil… oh wait. That recipe is still on the way, you're going to have to wait for that.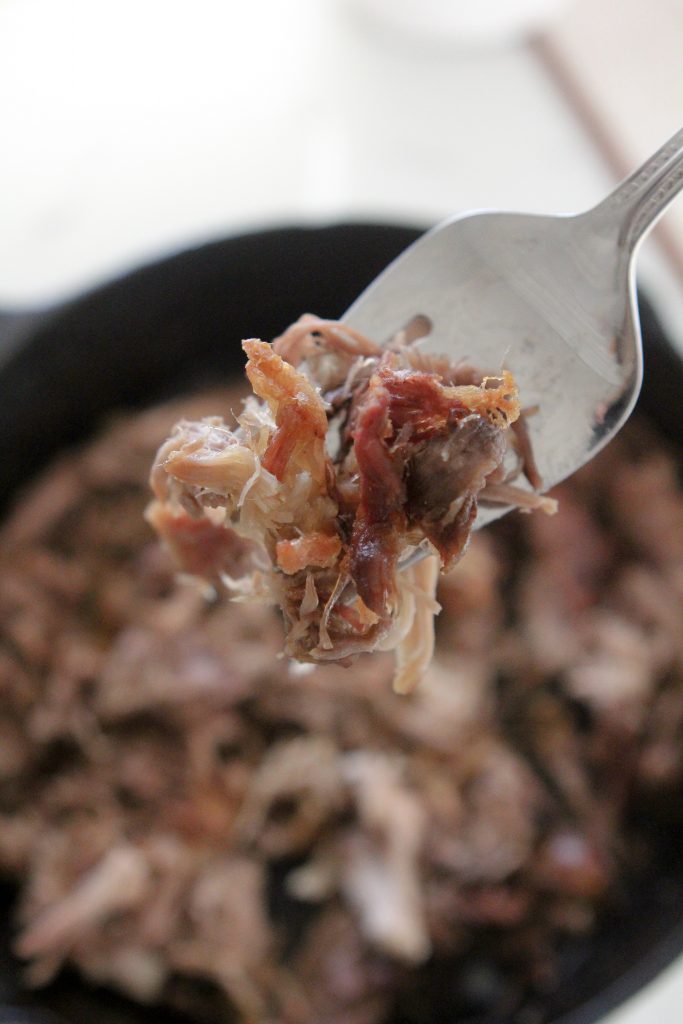 Ok friends, go pull out that Instant Pot and get going on this one.
print recipe
Easy Instant Pot Whole30 Carnitas
These Easy Instant Pot Whole30 Carnitas from the Whole Smiths are a breeze to make and perfect to make ahead to use in recipes throughout the week. Paleo and gluten-free. 
Ingredients
6-7  

pound

boneless pork butt shoulder

2

tablespoons

salt

more for seasoning to taste later

2

tablespoons

cooking oil such as extra-light tasting olive oil

avocado oil or coconut oil
Instructions
Add the pork butt shoulder to your Instant Pot along with the 2 tablespoons of salt and fill the Instant Pot about 2/3 of the way up the pork with water.

Set your Instant Pot to the Meat / Stew setting on high pressure for 120 minutes and start.

Once the meat has finished in the Instant Pot, heat a medium sized cast iron skillet over medium high heat and add the oil to the skillet. When the oil is hot add the carnitas and do not stir them for 3-4 minutes so that they can crisp up. Once they have crisped up, flip them to crisp the other side for 3-4 minutes. When the carnitas have reached their desired crispiness, salt to taste and serve.