Instant Pot Short Rib Black Bean Chili
This Instant Pot Short Rib Black Bean Chili from The Whole Smiths takes chili to the next level. Not only will is this hearty easy-to-make comfort food dish fill you up but it will also make your taste buds sing. Naturally gluten-free and with Whole30 option.
I've become a bit obsessed with my Instant Pot lately, can you tell? My last post for Instant Pot Coconut Rice was clearly an Instant Pot recipe and now this.
I promise I'll do some "regular" recipes for all y'all that don't use an Instant Pot next week. But in the meantime, why the heck do you still not have an Instant Pot? It's God's gift to your kitchen and sanity.
Another recent obsession I've had is with boneless beef short ribs. I've been making bone-in short ribs in my Instant Pot for quite some time.
The Asian Braised Short Ribs in my first cookbook, The Whole Smiths Good Food Cookbook, have been a huge hit with readers. While you're grabbing your Instant Pot you might as well throw a copy of that in there as well!
I stumbled onto boneless short ribs when my local store was out on bone-in short ribs. I always loved bone-in short ribs for that "bone-in" flavor you get from keeping the meat on the bones.
But it turns out that when properly cooked, ie in your Instant Pot, they come out just as delicious and tender. I can even find them regularly at my local Costco.
To be honest, I find boneless short ribs to be more versatile in their recipe application. In my upcoming, yet-to-be-titled and yet to have a release date, SECOND cookbook I made a short rib bolognese that is to die for.
So yeah, I realized that any recipe that needs a slow-cooked tender, flavor beef will benefit from a boneless short rib.
Hence the idea for this chili.
I mean, what dish could be a better contender? It's smokey, homey and begs for tender mouthwatering beef.
Your mouth is watering now, right?
This Instant Pot chili recipe is so delicious in fact, I was initially going to include it in that yet-to-be-titled second book.
Unfortunately (or fortunately), I realized I didn't need TWO Instant Pot short rib recipes in it, so lucky you! You get a sneak peek of the types of easy, mouth-watering recipes that will be in it.
This isn't your average chili. It's not like one that comes straight out of a can and it's not like the one your Uncle Stand probably makes. I like to think of it as a special occasion chili, one that you make for friends and family when they come over.
Or maybe when your team has made the Super Bowl?
OR whatever, maybe it's been a particularly long Wednesday and you just want something delicious to sink your teeth into.
This chili isn't spicy and I made it perfect for the entire family. But if you're like me a crave a little kick of heat, feel free to add some hot sauce to yours when you serve it.
I hope you enjoy this Instant Pot chili recipe as much as our family and that it makes a regular appearance at your dinner table.
TIPS FOR MAKING THIS INSTANT POT CHILI RECIPE:
Make sure that the short ribs are fully submerged under the crushed tomatoes and sauce prior to starting the Instant Pot as it could potentially dry out.
I adore San Marzano tomatoes and use them any chance I can. I'm not sure why or how they are so damn flavorful but they are. They are a little more costly than other varieties so I tend to use them in special recipes… like this one!
Try out a dairy-free, plain yogurt as a topping in lieu of sour cream.
I love Enjoy Life chocolate products as they are the cleanest I can find on the market and use them all of the time and are delicious in this chili. Not to mention you can nibble on them while you cook. 😉
Can I use other beans besides black beans?
Yes! Absolutely! I love the deeper flavor of the black beans but any pinto to kidney bean or mix of beans will work.
I can find boneless short ribs, can I use any other kind of beef?
Of course! Feel free to brown some ground beef up in your Instant Pot or use stew meat in it's place.
Can't I just throw everything into the Instant Pot at once? Why must I do it in two phases?
Because I'm a picky ass chef! You could if you're short on time and reeeeeally wanted to. But the beans will be a bit softer than what you'd desire as they only need 18-20 minutes to cook on their own. If you cook the short ribs for that amount of time they won't cook up to be as tender as they should.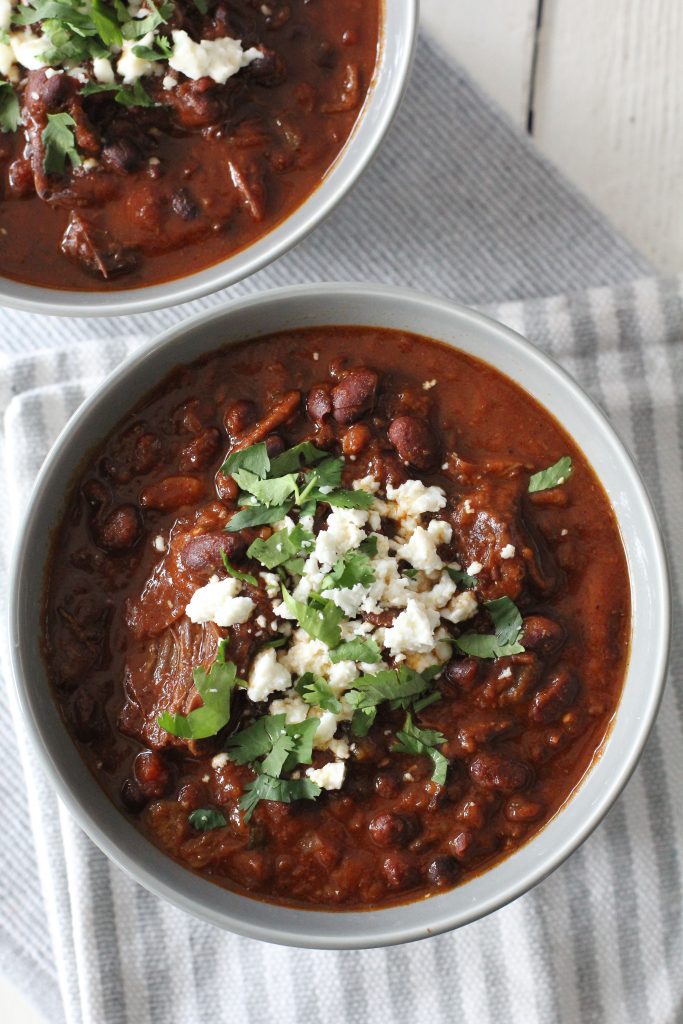 How can I make this recipe paleo and Whole30 compliant?
Well, as you know legumes, ie. beans, are out on the paleo and Whole30 diet so what to do in its place? Roasted sweet
potatoes! Roasted sweet potatoes will give you chili the same ump that the beans do yet are totally compliant.
Chop two sweet potatoes into bite-sized pieces, toss them with olive oil and salt and roast them at 425* F for about 25-30 minutes until they are golden brown.
As for the chocolate chips? Use two teaspoons of unsweetened cocoa powder in its place. Done and done. Check out my Sweet Potato + Chocolate Chili for more ideas.
Can I make this Instant Pot Chili recipe is a slow cooker?
Absolutely… if you have all day! Joking. Kinda… But yes, anything you make in an Instant Pot can be made in a slow cooker. Cook the short ribs for 7 hours on low then add the peppers and beans and cook for an additional hour.
Can you freeze this Short Rib chili?
Yes! Absolutely!
print recipe
Instant Pot Short Rib Black Bean Chili
This Instant Pot Short Rib Black Bean Chili from The Whole Smiths takes chili to the next level. Not only will is this hearty chili easy-to-make fill you up but will make your taste buds sing. It'snaturally gluten-free and has a Whole30 option for you
Ingredients
2

pounds

boneless beef short ribs

3 1/2

tsp

salt

28

ounces

crushed tomatoes - preferably San Marzano

15

ounces

tomato sauce

1

sweet onion

chopped

5

cloves

garlic

minced

2

tablespoons

chili powder

2

tablespoons

coconut aminos

2

teaspoons

smoked paprika

2

teaspoons

Worcestershire sauce

1

teaspoon

cumin

1/2

tsp

black pepper

2

ounces

semi-sweet chocolate

2

cans

black beans

drained and rinsed

1

poblano pepper

diced

1

yellow pepper

diced
Instructions
Season the short ribs with 2 1/2 teaspoons of the salt and add them to the Instant Pot along with 1 teaspoon of the salt, the crushed tomatoes, tomato sauce, onion, garlic, coconut aminos, chili powder, paprika, Worcestershire sauce, cumin and black pepper. Gently stir the ingredients and submerge the short ribs under the sauce.

Set the Instant Pot to "Manual" and set it on high pressure for 60 minutes. Once it's done, release the pressure and select "Cancel / Off"

Add the black beans, poblano pepper, yellow pepper and the remaining teaspoon of salt to the Instant Pot and set it again to "Manual" for 20 minutes on high pressure. Let the press release naturally when it is done.

Once done, hit "Saute" and let the chili reduce down and add the chocolate, occasionally stirring, for 10-15 minutes until it has thickened. Using a wooden spoon, gently break up the short ribs into smaller pieces.

It should be so tender it just breaks apart at this point.

Serve with any of your desired toppings.
Notes
Make sure that the short ribs are fully submerged under the crushed tomatoes and sauce prior
to starting the Instant Pot as it could potentially dry out.
I adore San Marzano tomatoes and use them any chance I can. I'm not sure why or how they are so damn flavorful but they are. They are a little more costly than other varieties so I tend to use them in special recipes… like this one!
Try out a dairy-free, plain yogurt as a topping in lieu of sour cream.
I love Enjoy Life chocolate products as they are the cleanest I can find on the market and use them all of the time and are delicious in this chili. Not to mention you can nibble on them while you cook. 😉