An easy-to-make Ginger Bourbon Cider cocktail that's perfect for your Thanksgiving guests along with a full Thanksgiving spread brought to you in collaboration with my friends at Whole Foods Market.

It's about that time of year when I start dreaming of pumpkin pie and turkey. Ok fine, I don't know that I've ever actually dreamt about a turkey but I'm pretty sure pumpkin pie has made an appearance in one of my dreams at some point. How could it not? I'm pretty sure Justin Bieber was there too. And a talking unicorn? I dunno… don't ask.
Anyhoo my point is, as a food blogger I live for Thanksgiving. But it's also a lot of pressure. I mean, everything that I make has to turn out perfectly for my friends or family otherwise they start thinking, "What the heck does she actually do for a living? This sucks." Which is why when I had the opportunity to host a Friendsgiving that was sponsored by Whole Foods Market I was so game! It was a perfect opportunity to host some friends and feed them awesome Thanksgiving food without any of the pressure. It doesn't matter whether it's for a Friendsgiving or Thanksgiving, that sentiment holds true. Having Whole Foods Market handle the food frees me up to actually enjoy the company of my guests and not have to worry about coordinating the cooking of a million different dishes.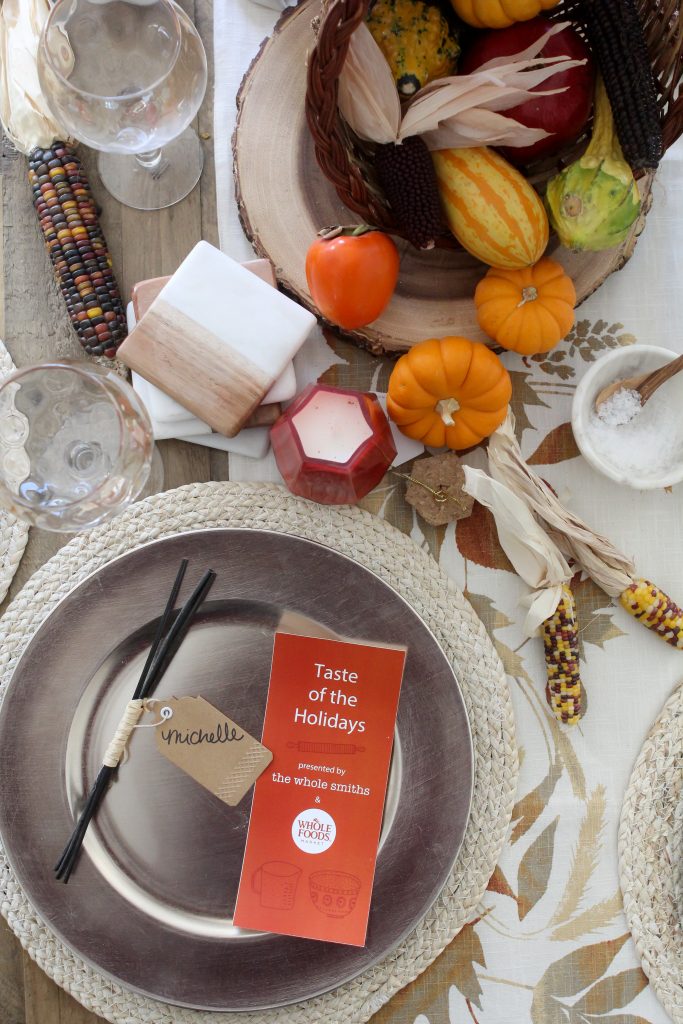 I also decided to create a fun craft cocktail that would be perfect for Thanksgiving guests and that's where my Ginger Bourbon Cider comes in. With no added sugar, it's the perfect fall drink. Feel free to adjust the levels of cider depending on how strong you like your drink. Personally I like mine strong but I know not everyone feels the same so I made it a little on the lighter side. I figure you can always add extra bourbon but you can't take it out. On the flip side, if your family is bonkers feel free to double up on the bourbon.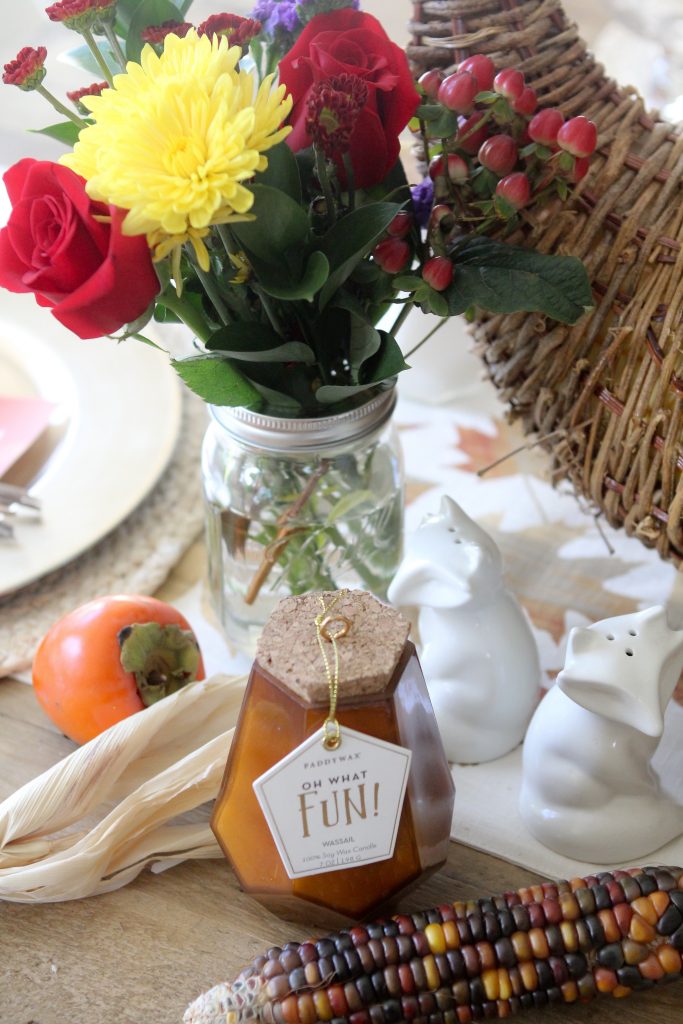 Let's get to it, shall we? Ordering from Whole Foods Market was super easy, they make it painless. You can either do it in-store, order online from your local store HERE or visit their shoppable table spread HERE. Once your order is complete you simply head over to the store and they have it waiting for you along with reheating instructions. And that's that.
It really is that easy, I was pleasantly surprised. When I went to pick up our goods I also grabbed some cheeses, fig jam and crackers for an easy cheese plate to start with. For our Friendsgiving we opted for the Roasted Turkey Breast which came already cooked. To reheat it you simply add your choice of rub and brush some softened butter or ghee over it and bake it for 30-40 minutes. And bingo-bango it's done. This option is especially great if you know you're going to be short on time or if your family and friends are white meat lovers.
Some of the other dishes we enjoyed included Whipped Maple Sweet Potatoes, Roasted Brussels Sprouts, and Green Beans. In addition we had their traditional stuffing which was gobbled (heh, gobbled, get it? like a.. forget it…) up and got me thinking… As someone who has started deep frying turkey on Thanksgiving, we're often left without stuffing. Which can be quite a contentious issue with some stuffing-lover family members. HOWEVER! I can easily supplement our Thansgiving meal by purchasing said stuffing from Whole Foods. So perhaps you have a few traditional dishes that are must-haves on your table that you'd like to focus your efforts on, how about delegate the other dishes to Whole Foods to free up your time?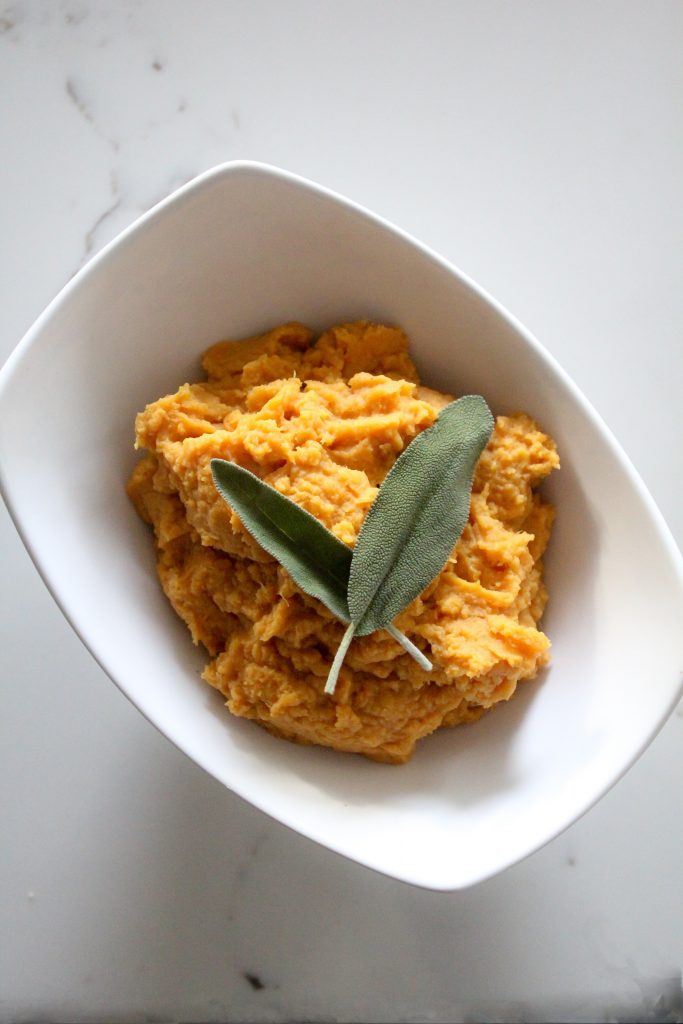 Another thought is perhaps one of your guests is vegan? Whole Foods Market has an assortment of vegan dishes, such as their Mushroom Gravy, that would make life easier for you and keep your guests happy. For what it's worth, despite the fact that I am not vegan I am in love with their Mushroom Gravy, which is also gluten-free and I'm planning to purchase it for our dinner spread this year.
As far as desserts go, I don't need to tell you how many options they have in their bakery. From pumpkin pie and gluten-free pumpkin pie, apple pie (which we had at our Friendsgiving) to an assortment of fall cakes in the display case, you will find what you need. If you're a fan of making your own pie they also have a great assortment of gluten-free pie crusts, traditional and graham cracker. Either way, you're covered. You can check out what vegan options your local store is offering HERE.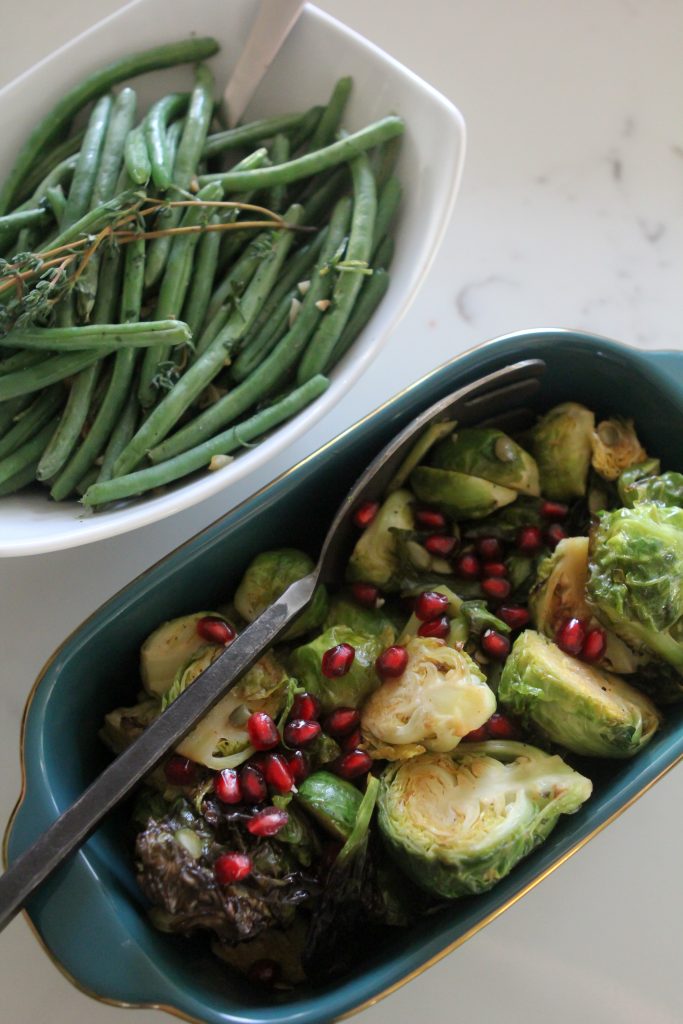 Let's talk drinks now, eh? As I mentioned I made these Ginger Bourbon Cider cocktails that can easily be turned into mocktails by simply omitting the bourbon and ginger beer. And guess what? That makes them Whole30 compliant as well. The recipe is at the bottom of this post. I used freshly grated ginger and nutmeg to punch up the "fall" factor and a splash of ginger beer on top for some fizz. In addition, Whole Foods was able to recommend a great Cabernet Sauvignon that paired well with our spread. As someone who knows their way around food, I have to confess I don't know my way around wine. Either I like it or I don't, beyond that tannins lose me. So having Whole Foods recommend a wine that worked well was such a help.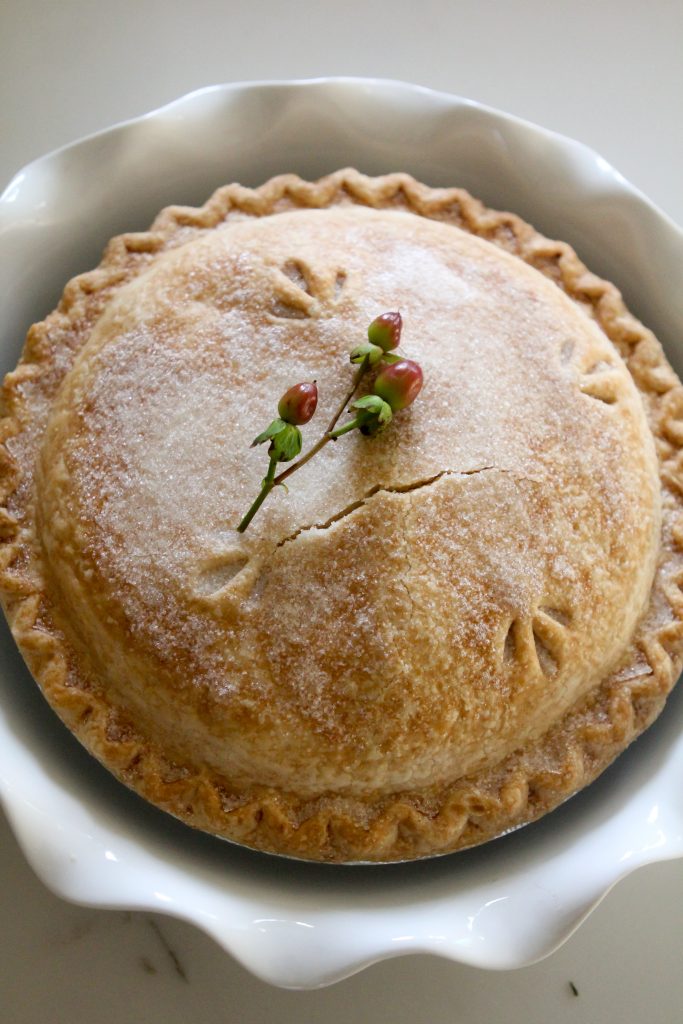 I was also able to create a fall-inspired tablescape using an assortment of fall gourds, pomegranates, candles and floral arrangements that I found all at Whole Foods. It's nice not to have to run around to 5 zillion stores for everything, especially when everyone in the town is trying to do the same. One thing that I did on my own (that I'm pretty damn proud of) are these cute little name place "cards". To make them I grabbed a pack of faux twigs from the craft store, some raffia and some gift card tags. I wrapped the raffia around a small bundle of the twigs and attached the name to the gift tag. Cute, huh?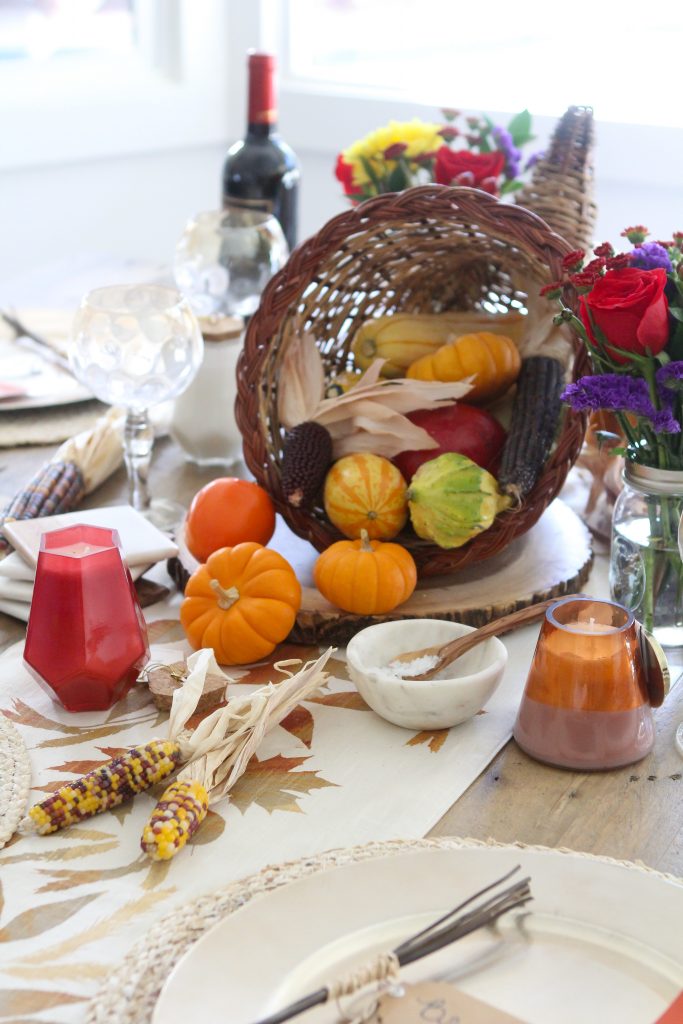 And there you have it, the easiest, least stressful Thanksgiving imaginable. Whether you plan to have Whole Foods Market cover all of your Thanksgiving needs or supplement portions of it, they will have you covered. Don't forget to hop over to their shoppable table or shop by store to get your orders in. Check out my IG story below to see just how easy everything was. And yes, our playlist was Hip Hop BBQ on Pandora (thanks for the recco Annie!).
Check out my IG story below from the evening to see just how easy out Friendsgiving came together.

print recipe
Ginger Bourbon Cider + Friendsgiving Whole Foods Market Style
An easy-to-make Ginger Bourbon Cider cocktail that's perfect for your Thanksgiving guests along with a full Thanksgiving spread brought to you in collaboration with my friends at Whole Foods Market.
Ingredients
3/4

cup

apple cider

1

[1/2] shots bourbon

1/4

teaspoon

freshly grated ginger

1/8

teaspoon

freshly grated nutmeg

Splash of ginger beer
Instructions
Add the apple cider, bourbon, ginger and nutmeg into a shaker glass and shake. Make sure to shake your booty while you do it because it's fun and makes the drink extra special.

Pour into a glass over ice and top with a splash of ginger beer.

To make Whole30 compliant omit the bourbon and ginger beer.