Patatas Bravas + Garlic Aioli
Whole30 compliant Patatas Bravas + Garlic Aioli by the Whole Smiths. Or in other words, the best, crispiest potatoes and garlic dipping sauce you'll ever had. Brought to you in collaboration with the NFL Fan Style Lifestyle Council. 
When I lived in San Francisco two of my favorite restaurants were Spanish tapas restaurants. Maybe it's because my grandmother was from Madrid or maybe it's simply because the food was bomb but I was always down for tapas. Always. So when I suggested to Brad a couple of Sundays ago that we have a "tapas day watching football" I was thrilled that he was just as excited as I was.
I know, tapas and football? Isn't it supposed to be pizza and football? Wings and football? But you guys, it totally works! Tapas are essentially small bites of delicious food with some Spanish flair… which, hello, couldn't be any better to nibble on while watching your favorite team. Am I right?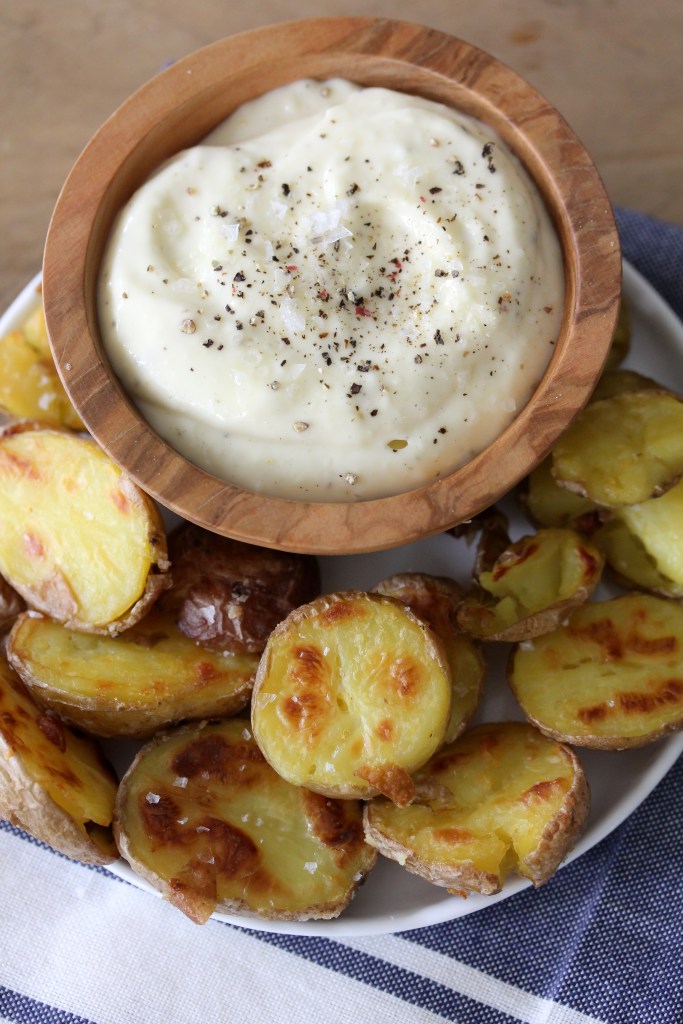 So off to the store I went and grabbed all sorts of things from cheese, olives, jamon serrano (i.e. ham, prosciutto, whatever) and stuff to make my favorite tapa of all, patatas bravas. Here's the deal, patatas bravas are essentially a roasted potato with a really flavorful dipping sauce. But the difference between patatas bravas and regular 'ol boring roasted potatoes lies in the technique.
Rather than chopping the potato and throwing it onto your roasting sheet, you par boil the potatoes first. What this does is cook them up a bit (duh) and get them a bit starchy and messy. And in case you didn't realize, starchy and messy = little bits of potato that get extra crispy. So here's the deal, I like to use baby potatoes and boil them whole then slice them up but you can also use red or yukon gold and cube them up prior to boiling them since they are a bit larger. But either way, I like to rough up those potatoes a bit more after they've been boiled. I'll use a fork to scrape a bit of the sides up or every so gently smash them to maximize the crispy factor. Then into the oven they go.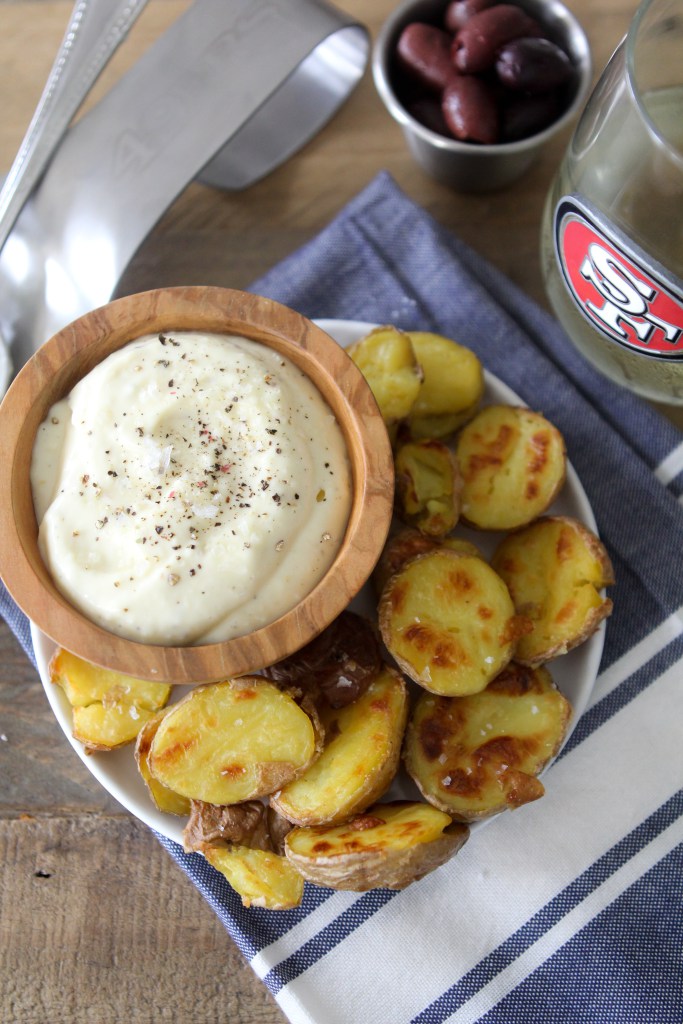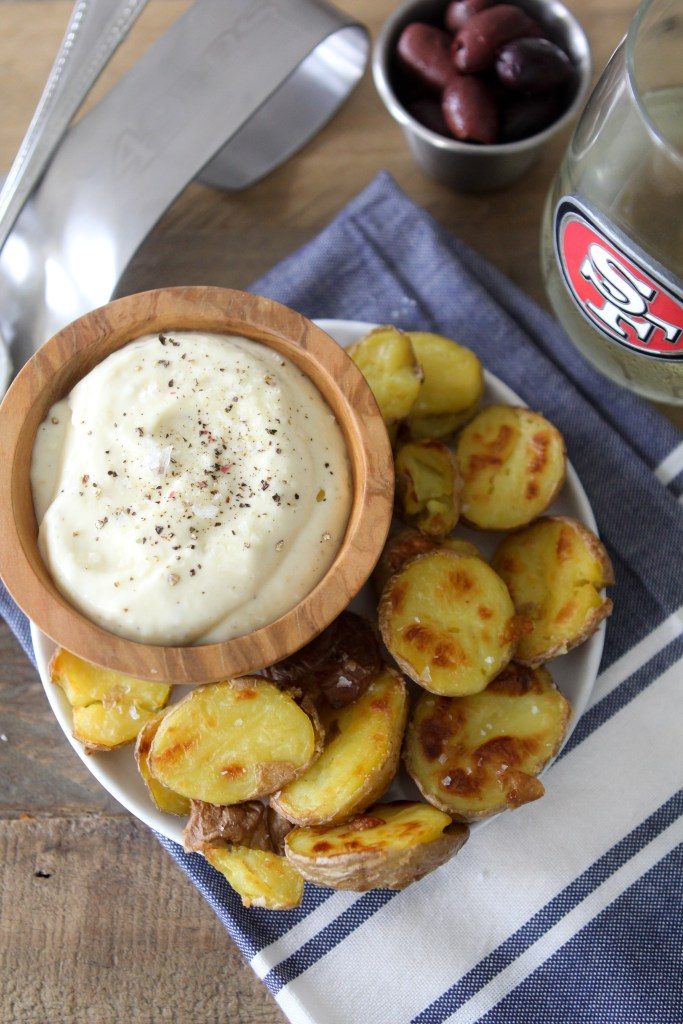 So back from the grocery store I came with my grocery haul balanced in my arms to find Brad still in his 49ers pajamas. Ha. Which was just perfect since we were going to be home cheering for the Niners anyways. As the wise Drake says, "Yolo".  You can grab your own set of NFL jammies here, there's tons of different ones and thy make a great Christmas present this time of year. As well, you can find all sorts of other gifts like the wine glass or spoon rest I used in the photo.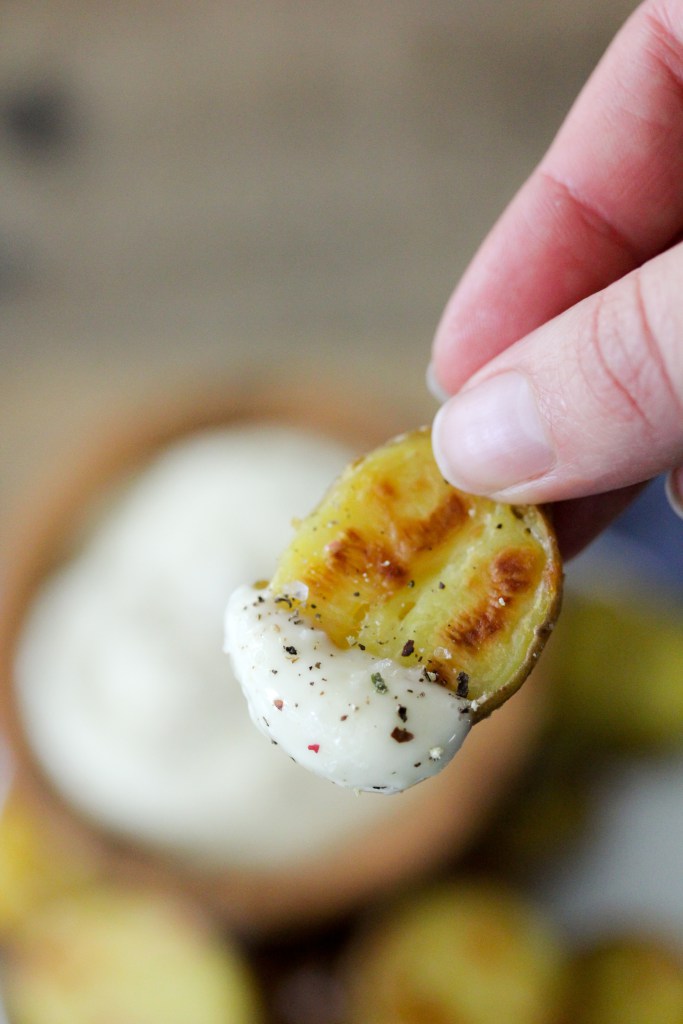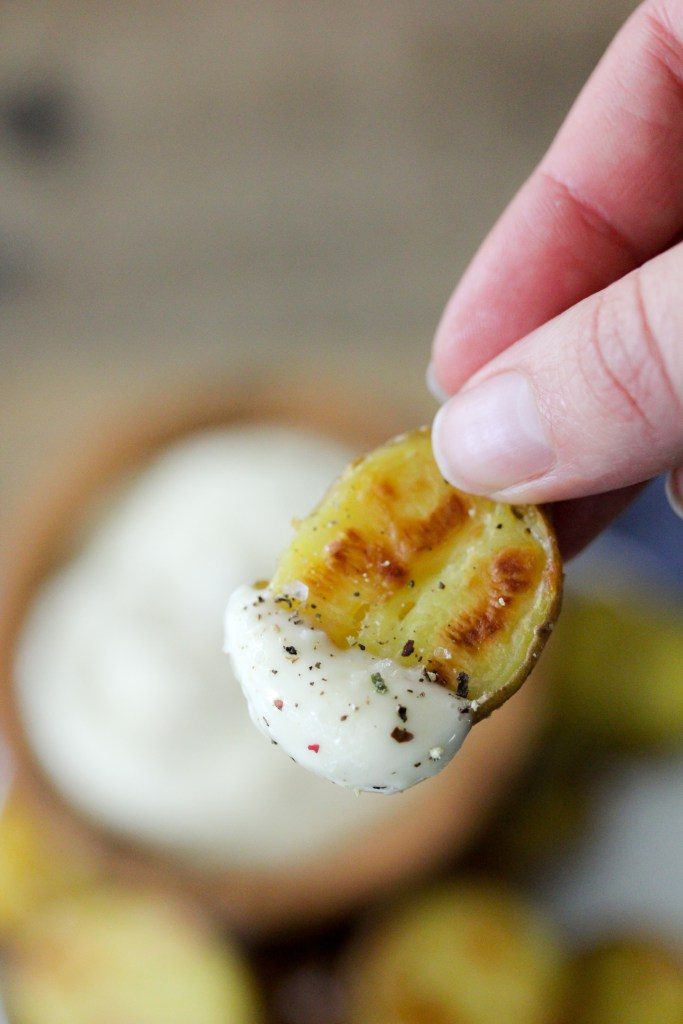 While the potatoes were roasting up, I created a quick garlic aioli for my potatoes. Often times patatas bravas are served with a romesco sauce however I have a recipe for a great romesco coming up in my new cookbook and I didn't want to duplicate efforts. If you'd like that recipe you can get it in The Whole Smiths Good Food Cookbook here. But never fear, these potatoes are also often served with a savory aioli and this garlic one pairs perfectly with the crispy potatoes. In fact, I'm just gonna say it. I prefer mine with a creamy aioli better than a romesco, red pepper based sauce anyways.
For the sauce I like to use my 30-Second Homemade Mayo as the base. It's super easy to make and keeps the recipe clean and guilt-free. I added a ton of garlic and fresh cracked black pepper to mine for loads of flavor. Regular black pepper will work too, never fear.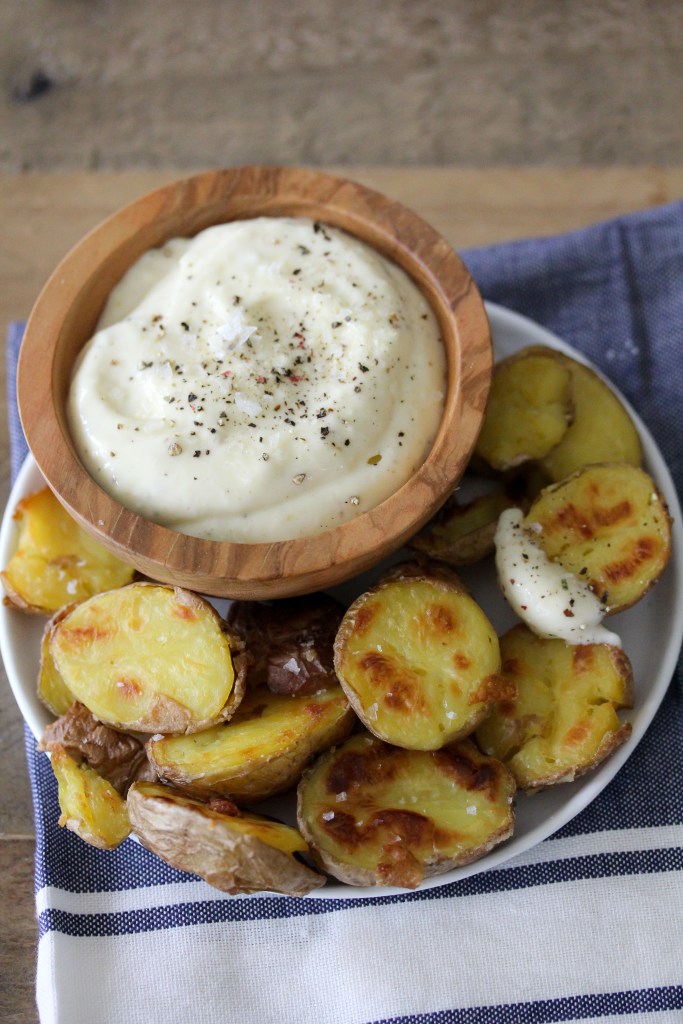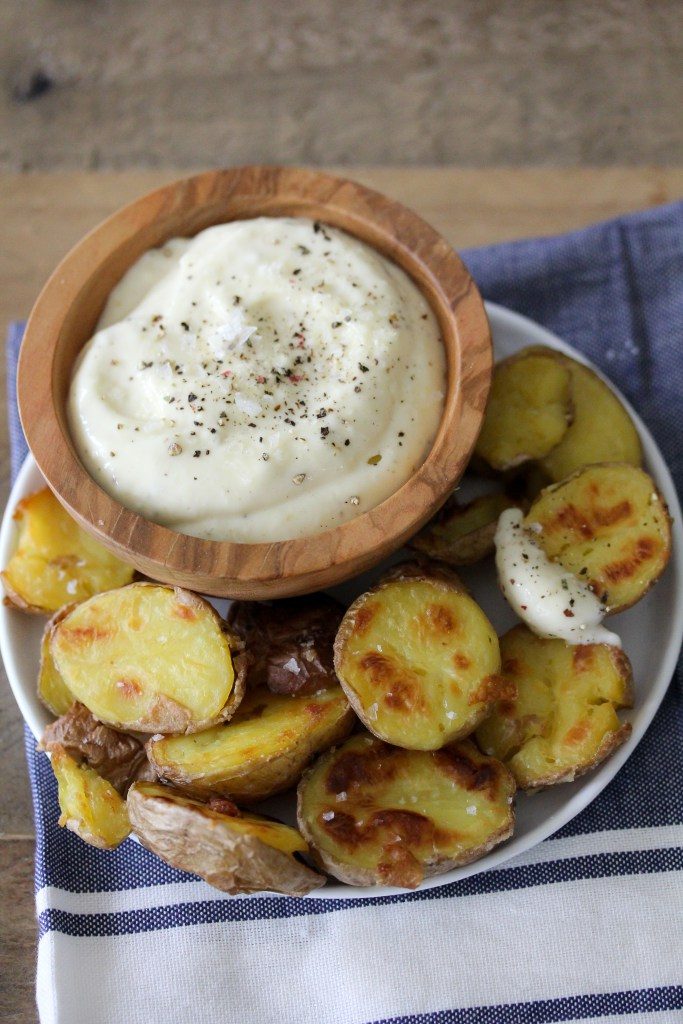 Unfortunately our beloved Niners lost the game but we enjoyed our tapas and watching them try their best. On the other hand, Brad and I were able to go to last week's game against the Seahawks and were pumped to see a little action from Jimmy Garoppolo there at the end. So salud to you Jimmy and your first touchdown as a San Francisco 49er, to many more yet to come!

print recipe
Patatas Bravas + Garlic Aioli
Whole30 compliant Patatas Bravas + Garlic Aioli by the Whole Smiths. Or in other words, the best, crispiest potatoes and garlic dipping sauce you'll ever have.
Ingredients
2

pounds

potatoes – baby

Yukon Gold or red (quartered or halved if using Yukon Gold)

2

tablespoons

olive oil

2

teaspoons

salt

1

cup

mayo

5

cloves

garlic

Salt and fresh cracked pepper to taste
Instructions
Preheat the oven to 450* F. Live a baking sheet with parchment paper.

Add the potatoes to a stock pot and fill the stock pot with water until the potatoes are just covered. Bring the potatoes to a boil and continue to boil until the potatoes are fork tender.

When the potatoes are tender, drain the potatoes and let rest until they are cool enough to handle. Slice the potatoes in half or quarter them to make bit sized pieces. Use a fork to gently rough the potatoes up a bit.

Add the potatoes to a large bowl and add the olive oil and salt. Toss to coat evenly.

Spread the potatoes onto the parchment-lined baking sheet in one even layer.

Bake for 20-25 minutes until the potatoes are golden brown and crispy.

While the potatoes are cooking add the garlic to the mayo and use an immersion blender to combine. Salt and pepper to taste.

Serve the potatoes with the dipping sauce.