Growing up on the West Coast, I don't think lobster is quite as plentiful as it is on the East Coast. But maybe I'm wrong? I have these visions of it being as common place as a chicken wing out here. Like everyone hangs out at their beach house in Montauk and brings in crates of lobster for dinner every night. Or maybe that was just an old Seinfeld episode?
Regardless. Lobster always seems like a special treat to me. And for so long I had it in my head that the only way to eat it was in it's original state. Perfectly cooked in it's shell with lots of butter. But it's so delicious that there really isn't a good reason to spread the lobster love to other dishes like I did with my Curried Lobster Bisque. But this time I wanted to put a spin on a lobster favorite, the lobster roll.
Obviously what we know as a traditional lobster roll isn't paleo, mostly because of the "roll" part. But that's super easy to fix. And because I like to tinker around, I wanted to add a twist to it so I decided to add some thai flavors. When I first came up with this idea in my head I knew it was going to go one of two ways.. billion or disgusting. I'm happy to say it was on the brilliant end of the spectrum otherwise it wouldn't have made it to the blog.
I also created a "peanut" dipping sauce but used almond butter instead. You can use creamy or chunky but I say go with the chunky. And as far as the "roll" part you have some options. You can obviously search for a paleo roll recipe and give that a go, but really? You wanted a quick recipe right? I like quick and making a batch of rolls doesn't sound very quick to me. A quicker option would be to make some of Stupid Easy Paleo's tortillas and wrap them in that. The recipe is easy peasy and you can find it HERE. And even easier than that would be to wrap it in some butter lettuce. In this case I used a premade paleo wrap that I found at my Whole Foods. You make the call! As well, make sure to add enough of the cilantro and mint leaves at the end, it really gives it a signature flavor. I say 3-4 mint leaves and a 1/2 of cilantro would do the trick.
Finally, this recipe is super easy to make Whole30 compliant. It's all in the dipping sauce and the wrap. Obviously, ditch the wrap and use lettuce instead. As far as the dipping sauce, simply omit the honey and you'll have to make your own thai chili paste or find a compliant one. You can find one from Vanessa and Plaid and Paleo right HERE.
I hope you guys will give this a try, it is wicked (don't they say that in Boston?) easy and anyone can make it, especially you!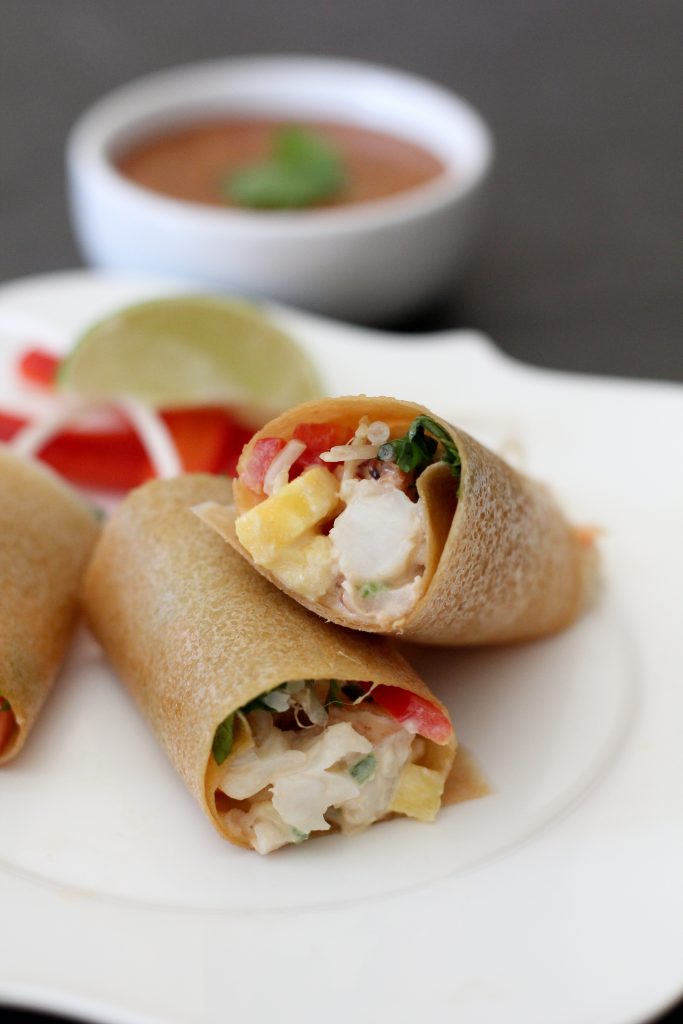 print recipe
thai lobster rolls
A paleo version of a lobster roll with a Thai twist.
Ingredients
1

lb

cook lobster meat cubed

1/4

C.

paleo mayo

1

mango diced

1

clove

garlic minced

1

jalapeno minced

1

red bell pepper julienned

1

C.

bean sprouts

1

bunch of cilantro

1

bunch mint

1

lime

Paleo rolls / tortillas / butter lettuce to serve

1/2

C.

almond butter

1/4

C.

coconut milk

2

TBSP.

coconut aminos

1

tsp.

fish sauce

2

TBSP.

thai chili garlic paste

more or less for heat

1

TBSP.

honey
Instructions
In a bowl combine lobster meat, mayo, mango, garlic, juice from 1/2 lime and jalapeno

Salt to taste

In a small bowl combine almond butter, coconut aminos, fish sauce, thai chili paste, juice from 1/2 lime and honey to form dipping sauce

Lay out whatever vehicle you'd like to wrap the lobster into and spoon some lobster filling into it

Add a bit of bean sprouts, red pepper, and 3-4 mint leaves and cilantro leaves

Roll up everything, dip and enjoy!