Blueberry, Chocolate + Strawberry Almond Milks
One of my biggest pet peeves (I have a lot*) these days include flavored milks, especially since they are targeted towards our kids. A couple of years ago, I watched a special that Jamie Oliver did about school lunches. I was pretty horrified at what was going on but one thing that really stood out in my mind was in regards to flavored milks. Growing up, our "chocolate milk" was Ovaltine. I didn't know any different AND it was a special treat for us. So it was downright shocking when one of the school supervisors informed Jamie that they couldn't possibly serve "regular" milk because the children wouldn't drink it. Say whaaaaa?
First off, when did flavored (aka sugar bomb) milks become a mealtime STAPLE? Aren't they supposed to be a treat? Like it's cousin the milkshake?? Not only are these drinks super high in sugar content but they contains a zillion (yes that is the official word on the street) additives and  are incredibly processed. Any nutritional value that comes from the milk itself is flushed down the drain by it's other contents no doubt.
But like I said, it can be a treat, right? And even still, I don't feel right giving these "milk" concoctions to my kids because a. They are THAT bad for you and b. I know that I can make a way better version! 😉
So here are my versions of blueberry, chocolate and strawberry milk. I used almond milk in mine. If you prefer giving your children regular milk, I recommend organic, whole or raw milk. And if you can find grass-fed, all the better!
My four years olds favorite version is the strawberry, no doubt because it's pink and, well, she's four and everything is princesses and rainbows these days. And my 2 year old gobbled down the blueberry because, well, she's 2 and can't yet tell me she liked the chocolate best. 😉
Enjoy!
*Some more pet peeves of mine but not limited to, include:
– Punny-Named businesses. Usually in the form of hair salons and pet stores.  i.e. Pam-Purred Pets, Shear Magic. I am oddly ok with Ash Wipe Chimney Services though.
– "Baby on Board" signs.
– The Seahawks 😉 (Sincere apologies to all of my Seattle readers. The rest of your state is GREAT though.)
– When someone (like your husband) declines to order dessert then proceeds to eat all of yours. 😐
– People who sit next to you on Bart or MUNI (public transportation) when there are plenty of open seats around but they sit in that open seat right next to you anyways.
– Kanye West. Whatever happened to the Gold Digger days when he just made catchy hip hop and rapped about Usher's baby mama drama, huuuh?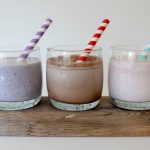 print recipe
Strawberry, Blueberry + Chocolate Milks
Wholesome, no refined sugar added versions of our favorite flavored milks.
Ingredients
1 1/2

C.

almond or whole organic milk

1

tbsp.

honey

1

tbsp.

cocoa powder for chocolate milk OR

5

strawberries for strawberry milk OR

1/2

C.

blueberries for blueberry milk
Instructions
In a blender or using an immersion blender add all ingredients into respective container.

Blend for 20 seconds or until all ingredients are emulsified.

Get 'yo drink on!