Best Ever Brussels Sprouts
It's seems like not too long ago that brussels sprouts were the ugly stepsister of the veggie world. But now? They're superstars! (Insert *jazz hands*) I guess people have finally come to realize that if you ROAST them rather than boil or steam them they don't taste like feet.
Well these ones definitely don't taste like feet. I wanted to incorporate a few new flavors into my brussels dish while keeping it easy. We've all seen the standard bacon and brussels sprouts which is an amazing flavor combo in and of itself, but I wanted to take it further. I added a pop of sweet and tangy, as well as some creaminess (if you so choose) to take it to the next level. So what are these flavors I speak of? How about raisins, walnuts, a gooey balsamic reduction and a sprinkle of goat cheese if you will?? It's kind of amazing how good all of these flavors pair with the earthiness of the brussels sprouts.
If you're looking to avoid dairy or make them Whole30 compliant, simply leave off the goat cheese.
The best part is, you pretty much just toss them all into the pan, coat with some olive oil and bake.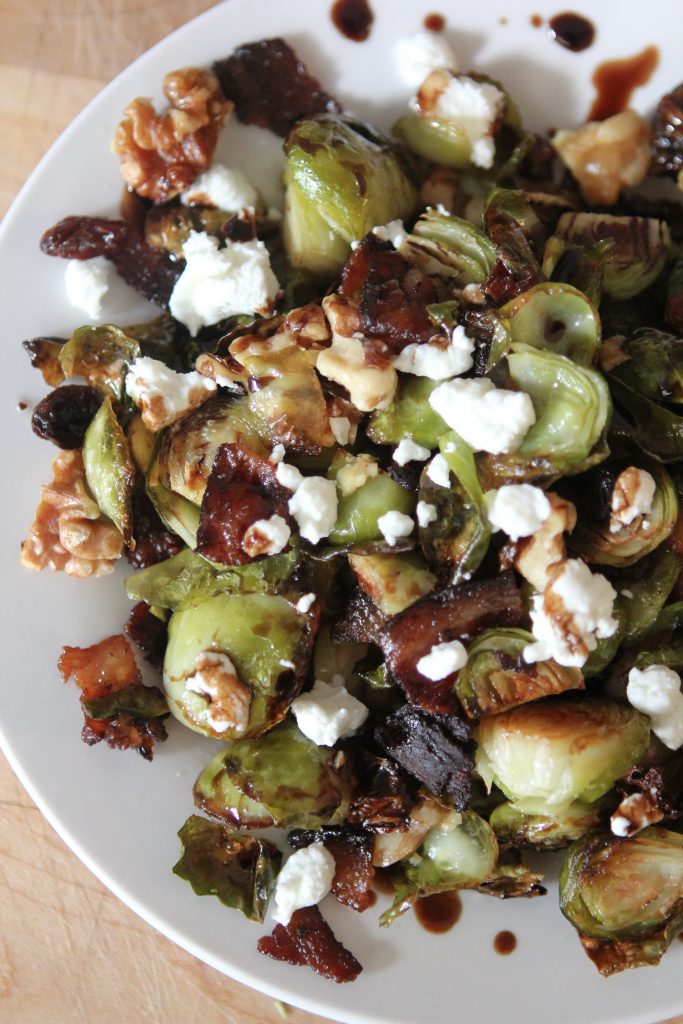 print recipe
Best Ever Brussels Sprouts
Sweet raisins give these roasted brusels sprouts the perfect sweet and salty balance.
Ingredients
1

lb.

trimmed brussels sprouts

halved and quartered

4

slices

of uncooked bacon cut into pieces

1/4

C.

raisins

1/4

C.

chopped walnuts

2

tbsp.

olive oil

1/2

C.

balsamic vinegar

Salt to taste

optional crumbled goat cheese
Instructions
Preheat over to 405*

Heat skillet and add bacon pieces, cooking until they are just about done, not fully

Remove the bacon from skillet with a slotted spoon and set aside

In a large bowl combine brussels sprouts, walnuts, bacon, salt and olive oil, toss to coat

Spread brussels mixture into a single payer onto baking pan, you may need two and put into oven

Add the balsamic vinegar to a small saucepan on medium and whisk constantly until the vinegar thickens creating a reduction, roughly 10 minutes.

After 20 minutes, add the raisins to the brussels, give the brussels sprouts a good stir and return to the oven for remaining 10-15 minutes.

The brussels sprouts should be browned on the edges with some crispy pieces scattered amongst

Once the brussels sprouts are done, plate and sprinkle goat cheese (optional) and drizzle balsamic reduction over the top
*I usually double this recipe because I love me some leftovers. Aaaaand, we tend to eat a lot of it. 😉