Chocolate Chip Chia Pudding
Ahh, Halloween! The time of year where we declare open season on all things sweet and delicious. After we sneak a million pieces of our children's Halloween candy, it's time for Thanksgiving and all of the indulging that comes along with that. From there we move on to a zillion holiday parties and Christmas and New Year's itself. Because food is always the ultimate party unifier, that means a lot of snacking, sweets and drinks along the way. By the time January usually arrives I find myself looking back on this whirlwind of food indulging and thinking to myself, "Ugh, what just happened?".
Well, not this year. This year I've decided to stay ahead of the game and plan to keep things a bit healthier yet still fun and delicious. With a little planning and conscious decision making, it will be easy! Which is why when I was tasked to come up with a recipe to celebrate Enjoy Life's brand new snack packs I knew I could marry both worlds without feeling like I was missing out on a yummy treat. And hence the Chocolate Chip Chia Pudding was born.
Before we get into the chia pudding itself, can we just talk about how amazing these Enjoy Life mini chips and morsels are? Particularly now that you can get them in snack packs. I've always used Enjoy Life chips in my cooking. (Make sure to try them out in my Jamocha Almond Milk!) I love that they're dairy, nut and soy free. When I first turned to a paleo diet it's one of the first things I was so happy to discover. You don't realize just how many yucky ingredients can be in a chocolate chip and it was such a relief to discover Enjoy Life.
And now I cannot get over these amazing little snack packs they have! You can find them online at their site HERE. As a mom to a 4 and a 6 year old it is such a blessing to have a treat that's free from the top 8 allergens. Even though my kids don't have any known allergies, many of their friends do and we must bring nut-free snacks to school and all of their functions. Which is much harder than it may seem, particularly when we follow a predominately paleo diet that tends to have a lot of nut-based foods. As an added bonus, these snack packs are automatic portion control for us grown ups. I can grab one of these little packs and be satisfied. Trust me, it's so much better than giving me a regular sized open bag!
I really wanted to create a fun recipe for Halloween (or any time of the year for that matter) that wasn't going to be loaded down with sugar as they will no doubt get enough of that from Trick-or-Treating. I also wanted it to be free from the top 7 allergens as well that way we don't even have to think twice about serving it up for friends.
As a side note, how cute are these little silicon caldrons? I found these at a local craft store and knew I needed them as they would be too adorable loaded up with this Chocolate Chia Pudding!
So while we're having a nice little low-sugar treat here, we are also getting tons of health benefits from the chia seeds. These little seeds are nutrient dense without serving up a lot of calories and they're loaded up with omega-3 fatty acids. In fact, gram for gram chips seeds offer up more omega-4 fatty acids than salmon. These 'lil guys are also loaded up with antioxidants and protein.
As you can see, this Chocolate Chip Chia Pudding is definitely a treat you can feel good about eating yourself AND feeding your kids.
Next time you're at the store, make sure to pick up some of these Enjoy Life snack packs and… enjoy!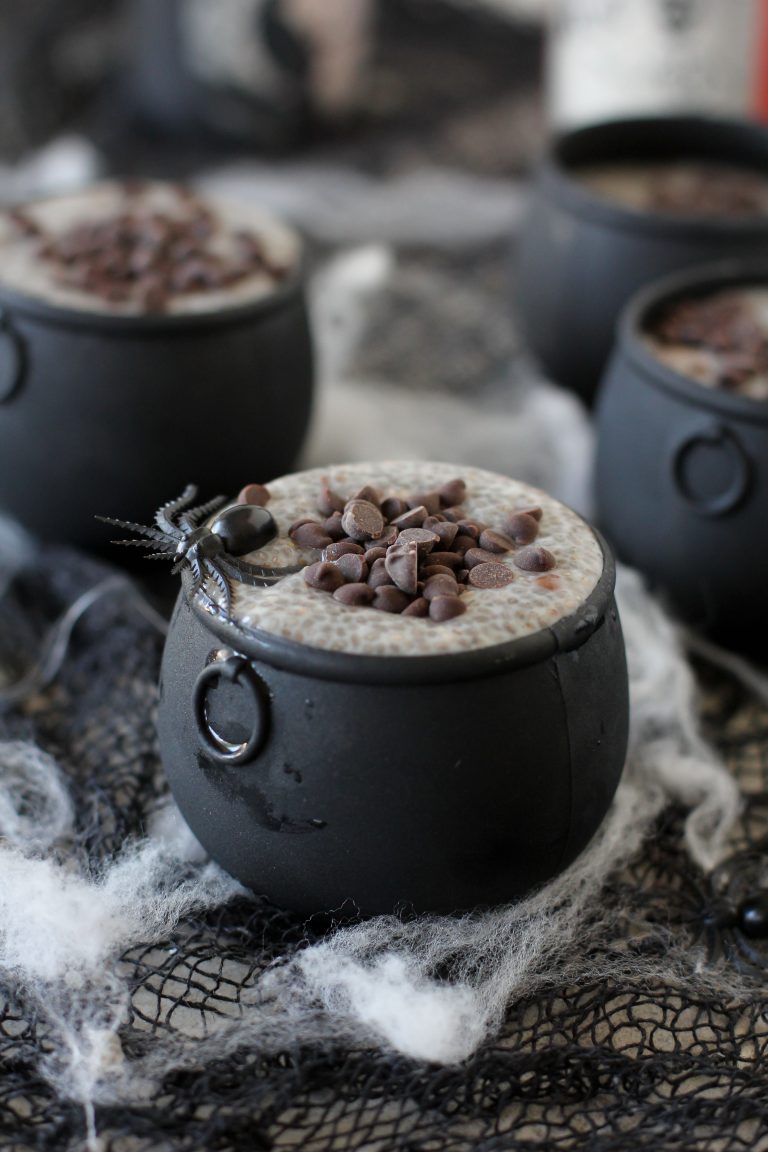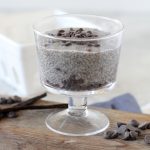 print recipe
Chocolate Chip Chia Pudding
This Chocolate Chip Chia Pudding from the Whole Smiths is the perfect treat for everyone. It's paleo friendly, gluten-free, vegan and vegetarian.
Ingredients
2

C.

coconut milk

beverage or whole

1/2

C.

chia seeds

1/4

C.

honey

1

vanilla bean

1/3

C.

Enjoy Life Mini Chips + more for topping

Pinch

of sea salt
Instructions
Melt honey a small bowl until liquified

In a large bowl combine coconut milk, chia seeds, honey and sea salt

Scrape inside of vanilla bean pod to remove the vanilla beans and add into mix

Whisk thoroughly for one minute

Add in Enjoy Life Mini Chips and stir

Pour chia mix into bowls, jars etc to serve

Refrigerate chia pudding overnight

Prior to serving stir up chia pudding as chocolate chips will settle while chilling