Grain-Free Raspberry + White Chocolate Chunk Cookies
Who is ready for some major cookie love? As bloggers we tend to GET a lot of stuff sent out way. Companies are constantly sending us products to try out and it truly is pretty cool finding new products that I can share with you. Please know, there are far more products that I DON'T share than I do because I'm pretty picky on the product AND the company.
When I was chatting with SF Bay Coffee about a creating a meaningful campaign about giving back the idea came about what if the blogger's flipped the switch and did some of the giving? Like I said, we get so much stuff, why don't we pay it forward? How fun!
I felt it was such a perfect campaign to partner with SF Bay Coffee on considering all that they do to give back to the communities and farmers that they work with. Their Community Aid Program is just one example of that. This program strives to break the poverty cycle in EVERY farming community they work in, regardless of size. Through building schools, homes, improving sanitary conditions and even helping farmers build better farming practices, it's an amazing endeavor.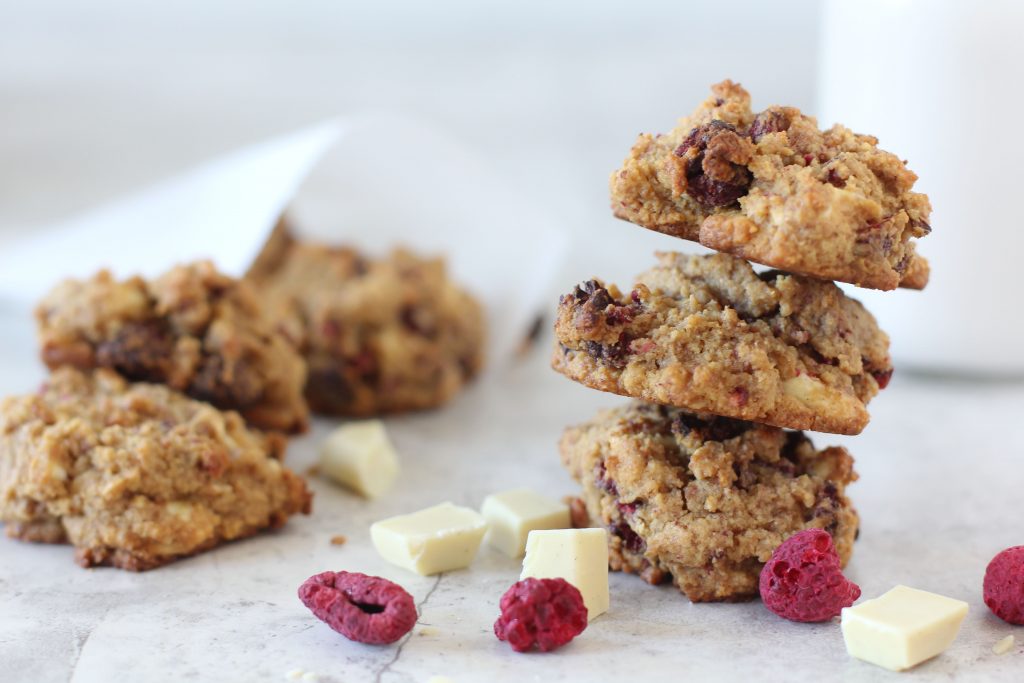 Something that's important to me when working with a company is that their values and products align with my values, which is one of the reasons I love partnering up with SF Bay Coffee on campaigns such as this. Please know, that as a blogger we get so many products sent to us and receive so many emails from companies asking us to share their products. And while I appreciate all of it, it's nearly impossible to share everything and quite frankly most don't align with the values I've set for my website. SF Bay is a company that truly resonates with me and how much they give back to the impoverished communities they work with are why.
As part of my giving back campaign, I decided to whip up a batch of these Raspberry + White Chocolate Cookies to gift along with some SF Bay Coffee and some SF Bay swag to three people in my life that are always helping us out. One being my next door neighbors Jeannie and Dan. I'm not sure why the previous owners of our house didn't use them as a selling point as I'm sure they could have increased their selling price. From playing Barbies with my girls so I can make a (peaceful) target run to coming over with some flashlights during a power outage, they have my back and I am forever grateful. 🙂
Next up we have my folks. My girls simply ADORE them and love going to "Bob and Rie's" house. I'm always so thankful for the times they have the girls overnight and let Brad and I feel like cool grownups, albeit it for a short time.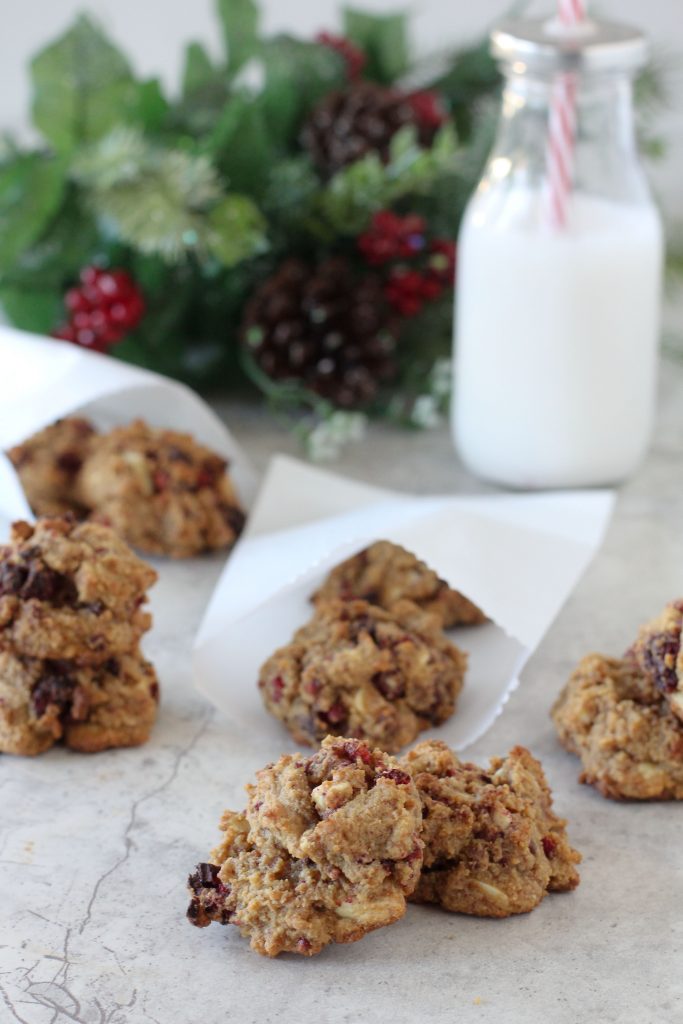 And finally I'm bringing some over to my friend Teresa. Earlier this week she helped me out and brought my daughter home from school with her when I knew there was a chance I may be late. Not only did she help me out of a pickle, but she always makes me laugh so that's definitely worth some cookies and SF Bay swag.
So, with that said, let's get to the cookie. I was recently at Disneyland and saw this delicious looking Raspberry and White Chocolate chip cookie there. I'm not sure exactly how they made it look so magical, I'll just chalk it up to Disneyland fairy dust, but I wanted it so bad. Sadly, due to my gluten intolerance I had to skip it. But I was ok with it because I knew I could go home and recreate the same flavors. And even better, I could share it with you on the blog.
If you've made any of my other cookie recipes like my No'tmeal Cookies, you know I'm picky about cookies. Particularly Grain-Free Cookies. They texture has to be good. I ain't got no room in my belly for some mushy, smushy, pseudo-cookie. And I think you'll find the texture of these similar to a "regular" cookie.
With that being said, let's get to the recipe!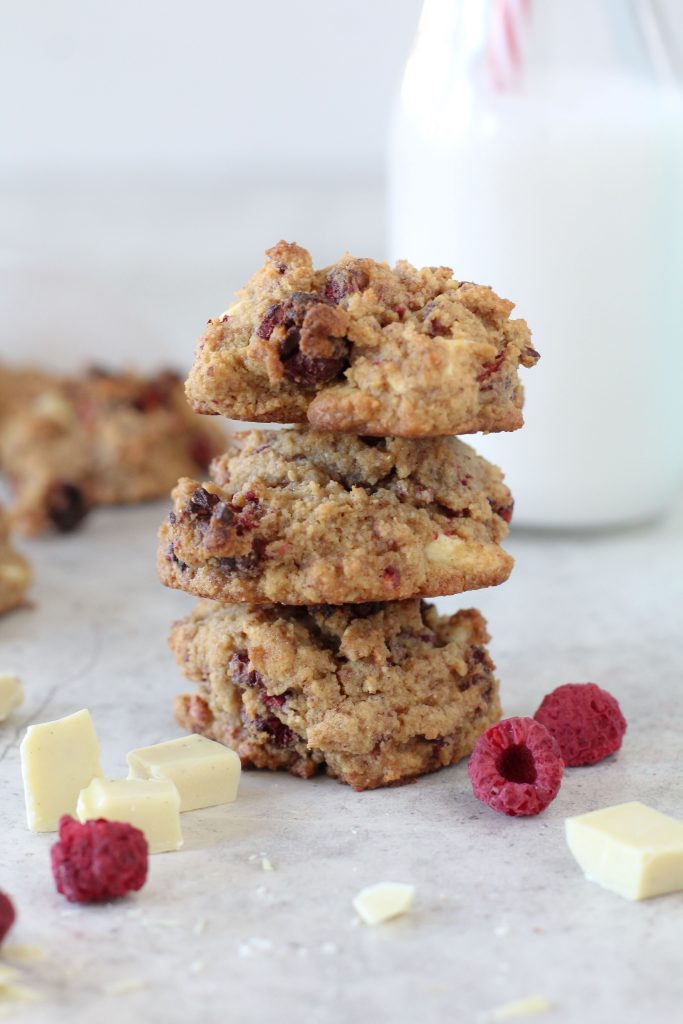 print recipe
Grain-Free Raspberry + White Chocolate Chip Cookies
The perfect Grain-Free Raspberry and White Chocolate Chunk cookie for everything. Paleo friendly and gluten free.
Ingredients
1

C.

almond flour

2

Tbsp.

coconut flour

2

Tbsp.

tapioca flour

1/2

tsp.

baking soda

1

vanilla bean

beans / seeds removed from pod

Pinch

of salt

preferable Maldon or sea

5

Tbsp.

grass fed butter at room temp

ghee optional but preferable to butter

1/2

C.

+ 1 Tbsp. coconut sugar

1

egg

1

Tbsp.

almond milk

3/4

C.

dried raspberries

1/3

C.

broken white chocolate chunks
Instructions
Preheat oven to 350*

In a large bowl combine almond, coconut and tapioca flours with baking soda, salt and vanilla beans

Toss to combine

In a stand mixer (you can use a hand mixer as well) add butter and whip on medium until it is a pale yellow color and softened

Add coconut sugar to mixer and whip with butter until combined

Add flour mix into mixing bowl slowly and combine, scraping down the sides as needed

Once combined add egg and almond milk

Add white chocolate and raspberries to cookie dough and mix until just combined

Using a fork, scoop about 1.5 Tbsp of cookie dough and roughly form them into a cookie shape, do not roll or flatten them as the jagged edges will help add some crisp

Place onto a baking sheet

Bake for 10 minutes

At the 10 minutes mark, gently pat cookie down for remaining 2-3 minutes

Cool on a cooling rack and serve