Favorite Things – October
Head over here to sign up for The Whole Smiths Lifestyle Edit newsletter for the opportunity to be gifted October's Favorite Things!
Something new at The Whole Smiths.
I've decided to add a new feature over here at The Whole Smiths and I'm so excited to share it with you! From here on out, I'll be sharing some of my favorite finds with you each month. From beauty to books to WHATEVER, I'll be curating a group of products that I am currently loving and sharing the details with you.
I so often get questions about non-food related items that I share via social media that it only made sense to put them into one place. Now you can come to one blog post, see exactly what it is and where to find it. While food makes up a huge part of wellness, it's not the only component to wellness. I'm big on self-care, reading to grow and life's small indulgences. All of those help contribute to my overall well being. While it's important to focus on the bigger picture of wellness such as food and movement, I think it's also important to think of how we can include life's small pleasures into our daily routine.
Whether that's a good hat for a bad hair day (or a hell-no-I'm-not-doing-my-hair-today day), a favorite lotion that ACTUALLY WORKS or a book that brings us a new perspective, I think it's important.
Did I mention you'll have a chance to WIN the curated group of products you see each month? Oh did I forget that part? Yep. One person who is currently subscribed to The Whole Smiths Lifestyle Edit newsletter will be entered to win each month. This newsletter is focused predominately on lifestyle rather than food as I like to keep things separate for those of you who are just here for the food.
Head over here to opt-in for the newsletter and be entered to win the goodies featured on this page. No need to do anything else! I'll send you an email just once or twice a month with lifestyle hacks, tips and products. If you're selected I'll reach out via email and let you know you're being gifted these goodies.
How do I pick what's being featured?
That's easy! They're items that I use and love on a regular basis. Period. Sometimes they will be new finds, sometimes they will be tried and true favorites. Either way, they are products that I have in my home and use regularly.
None of the items here will be sponsored. No brand will be able to pay to be featured on these posts. While some may be products from companies that I work with, at the end of the day the items selected are simply because I love them so much not because they paid to be featured.
In full transparency, I also have some affiliate links for certain products but again, I am only recommending things that I truly love and use. If going to send a bunch of you over to Anthropologie for my new favorite pair of pants… I do have bills and I feel ok if they help contribute to that.
Fall, fall, fall. 
You can say the theme of this month's selection is Fall comfort. They're all things that are making me feel especially cozy this time of year. So let's get into it.
First up is this knit hat from C.C.. This picture also explains why I'm not a fashion blogger… it took me 10 shots just to get this one mediocre photo. Good grief.
I've been getting knit hats from them for quite some time and just love how they fit. I've got a fairly large dome and finding a beanie that's not squishing my head to look like a penis is always nice. The fabric is also soft and won't pill up. There's a few different styles but I'm really loving this slouchy version. You can find it on Amazon and depending on the color it will run you $8-10. It's perfect paired up with some jeans and a T-shirt.
I've been turned on to Byron Katie's book, Loving What Is, through Melissa Hartwig and Danika Brysha. I admire both of those women and when they both say I need to read something, I listen.
Something I find myself struggling with is the narrative that I create in my head about a variety of scenarios. My mind will tell me a story that fills in the unknown blanks in any given situation. Even if it's not founded in reality. In turn, it creates so much unnecessary tension and anxiety. This book addresses just that and gives you easy tools to start looking at situations, people and our thoughts differently. I'm sure my brief description isn't doing this book any favors for feel free to head over to Amazon yourself and see if it's for you.
As the seasons change my skin tends to change as well. Not usually for the better, particularly in the cold dry fall / winter weather. That means I make extra efforts to keep things clear and healthy. I've been using this charcoal No.3 Balancing Facial Mask from Beautycounter for awhile now and love the results. It keeps my skin and pores clear to help prevent any blemishes that may arise from the change in weather. It's also really smooth and fun to put on.
As you know I love everything pumpkin spice. Make fun of me if you will but fall is my favorite season and anything that reminds me of cozy fall weather has me hooked. In fact, could I really have any sort of fall favorite round up without pumpkin spice something? I think not. In fact, my next two favorite items are both pumpkin spice.
I love me some Zupa Noma. That's no secret. Not only to I love the flavors but I love that it's an easy and portable way to cram in some extra veggies. So when I saw that they released a Whole30 collagen collaboration in PUMPKIN SPICE I nearly lost my mind. I was so excited to try it out but to be honest, I had high expectations for this flavor. I wasn't sure if it was going to meet my high pumpkin spice standards. Well I am here to tell you it certainly did. In fact, it's my new favorite flavor. Which makes me a bit sad because it's seasonal, but that just means I need to drink alllll the Pumpkin Spice Zupa Nomas while I can. If you'd like to try them for yourself you can head to their website. Feel free to use "WHOLESMITHS" at checkout for 15% off your order.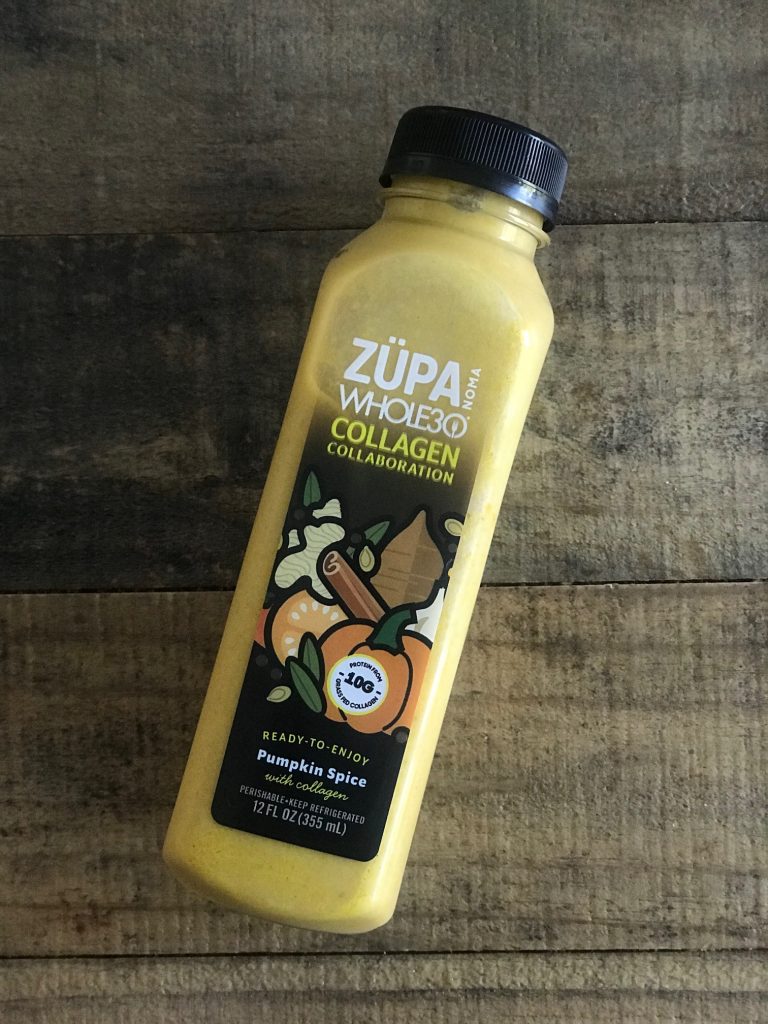 Next up is this Pumpkin Spice household cleaner from Meyer's. I picked up a bottle at Target recently and cannot get enough of it. My counters have never been so darn clean! I guess this means I've officially become an adult when I'm listing a home cleaner as one of my favorite finds. Regardless, IT ROCKS! In fact, their entire line of pumpkin spice rocks this season; hand soap, dish soap, and this all purpose cleanser. Swoon.
Last but not least is this unicorn mug from Anthropologie. It's the first mug I go to use as soon as it's pulled out of the dishwasher. For some reason it just makes me feel good to sip on a warm beverage out of it. In fact, I highly recommend you make my Paleo Pumpkin Spice Latte and sip it out of this, you won't regret it. I mentioned about that it's the little things in my day that I try to pay attention to and this is one of those little things.
And that my friends is my October round up of my favorite things. Don't forget, if you're signed up for The Whole Smiths Lifestyle Edit newsletter you will automatically have the opportunity to be gifted each of these items. In fact, if you're signed up you're automatically entered EVERY month.
Happy October everyone!