The Whole Smiths brings you the quintessential brunch necessity, a Pulled Pork + Bacon Hash. In partnership with Farmer John, this is a recipe you'll want to make over and over again.
Over the years, life has taught me many lessons… No matter how crazy your dream may be, believe in it, follow it and don't believe the haters. What matters most are the people in our lives. Fun is way underrated, we need more of it in every day. And perhaps the most important, when you're invited to a bacon party, you don't say no. So when Farmer John not only invited me to their Bacon Brunch in San Francisco but also asked me to do a Bacon Bloody Mary demo, there was no way I could say no to that.
How bacon has become such an iconic food is easy to understand. No other food packs as much salty flavor into one small bite than bacon. It's no wonder bacon is one of the few foods to develop such a cult following. Early thinkers such as Homer Simpson helped propel bacon to the status it retains today. And quite frankly I can't think of one dish, recipe, or meal that bacon doesn't make better. Including desserts.
Ok, on to the brunch. If the term "bacon bonanza" was ever to be used to describe anything, this would be it. Farmer John nailed it. I'm pretty sure the scent of bacon wafted throughout the entire city of San Francisco that day. Bacon lovers across the Bay gathered to delight in everything bacon. Surprisingly however, there were no vegans in attendance. We started off with the biggest Maple Bacon donuts I've ever seen. It's probably a good thing I can't indugle in gluten because I would have downed four of them. The smell of those donuts alone was worth going to this brunch. It was heavenly. Fortunately there was so much more bacon goodness to come.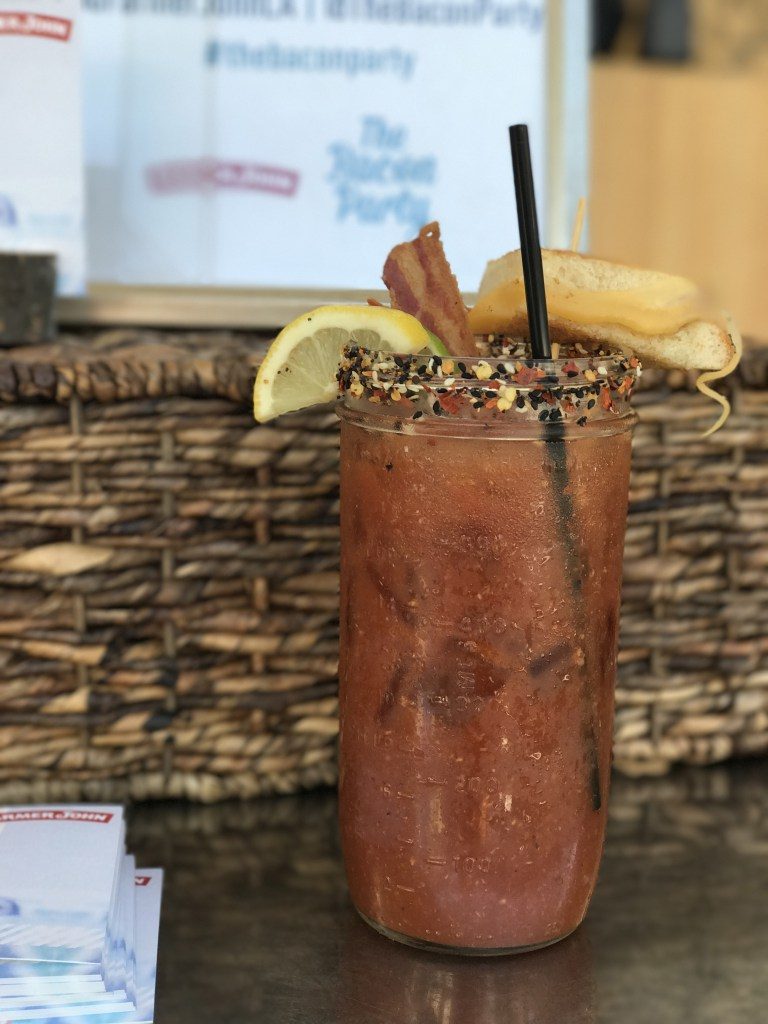 Next up was the bacon Bloody Mary's and you can see some of my demo and the recipe below. As a self-proclaimed Bloody Mary aficionado, Farmer John nailed it. For me I had to personally omit the grilled cheese (that darn gluten thing) and was super bummed about that but it was just as delicious without. I always think of a Bloody Mary as a meal in a glass (don't judge) as you have to create the perfect balance of flavors and this version was just that.
The rest of the menu was loaded up with all things perfect for a Bacon Brunch. Which got me thinking… I need a great new bacon brunch recipe to add to my blog! This Pulled Pork Hash was inspired by my time at the Bacon Brunch. I also realized that the combination of pulled pork and bacon was a match made in heaven. The bacon brought the perfect salty and smoky balance to this recipe and I could not stop eating it. Neither could my husband. Throw in some potatoes and I feel I could have powered through anything that day.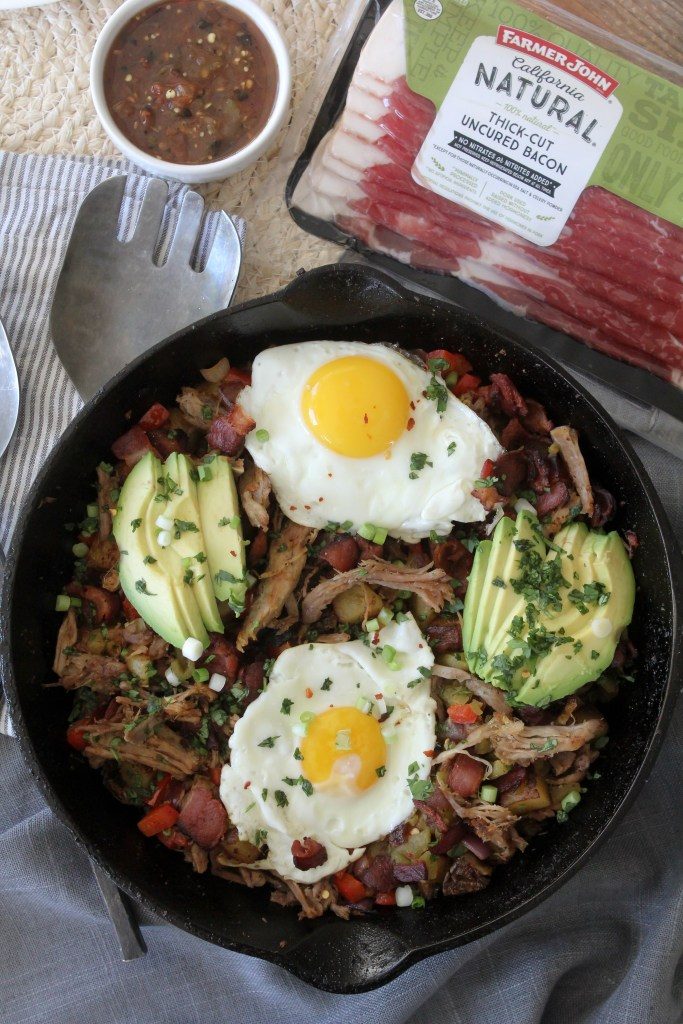 As far as the pulled pork goes, make it ahead of time. Whether it's in your slow cooker or pressure cooker, make it in advance. Just a head's up, you will have leftover pulled pork, which is always a good thing. For that you can thank me later. I purposely created this recipe so that you would have additional pork to use in recipes throughout the week. I didn't make sense to use a smaller portion not only because they don't usually sell pork shoulder it in that quantity but because I'm all about convenience and if you're going to be making pulled pork you might as well make a large batch and have some on hand.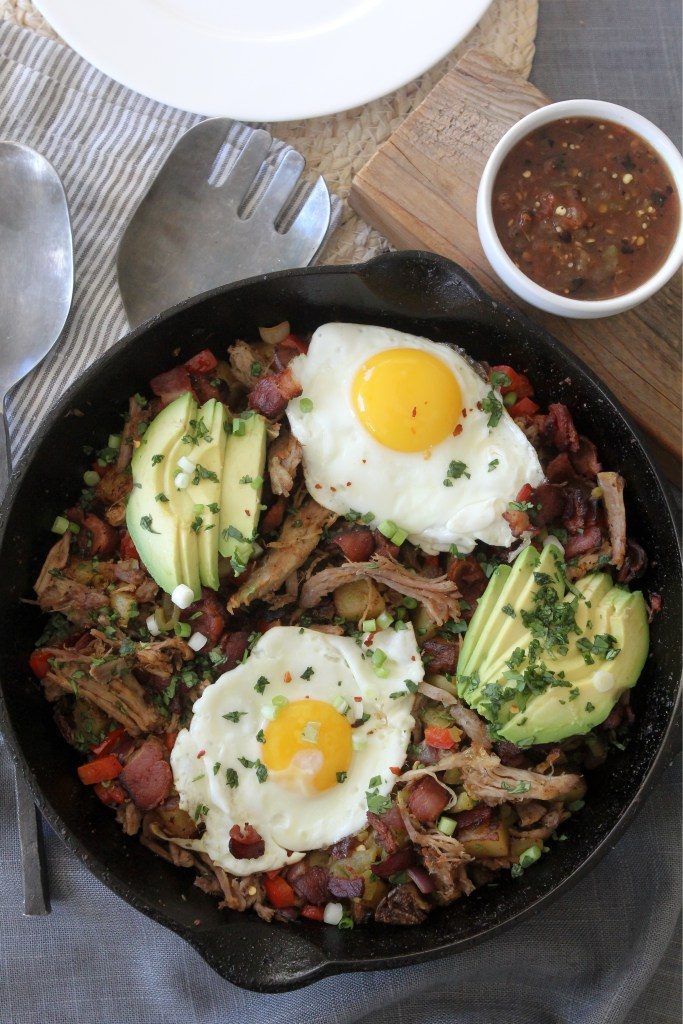 I used Farmer John California Natural Pork Shoulder Butt Roast (bone-in) to create the most tender pulled pork you've had and Farmer John California Natural Thick-Cut Uncured Bacon. With those two ingredients I like to think I created the perfect recipe for anyone's Bacon Brunch.
What do you think? Would this make a great addition to your brunch rotation?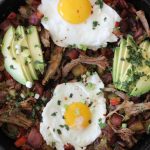 print recipe
Paleo Pulled Pork Hash
A delicious paleo Pulled Pork + Bacon Hash from the Whole Smiths that you'll want to make over and over again. Whole30 and gluten-free.
Ingredients
For the pulled pork:
3

slices

California Natural Thick-Cut Uncured Bacon

chopped into pieces

1 9.5

pound

Farmer John Bone-In Pork Shoulder Butt Roast

3

tablespoons

salt

5

cloves

garlic

minced
For the Hash
1

pound

yukon gold potatoes

5

slices

California Natural Thick-Cut Uncured Bacon

2

[1/2] cups pulled pork

1

red pepper

diced

½

red onion

diced

1

[1/2] teaspoons salt

½

teaspoon

smoked paprika

⅛

teaspoon

chipotle powder

1 4-

ounce

can diced green chiles
Top with any or all of the following:
Fried egg

avocado, salsa, green onion, chopped cilantro
Instructions
For the Pulled Pork:
In your Instant Pot or slow cooker, add the bacon pieces and sauté the bacon using the sauté feature until it is lightly crisped. If your device does not have a sauté feature, just add the bacon into the pot/cooker.

Generously season the pork with 3 tablespoons of salt and place into the Instant Pot or slow cooker along with the minced garlic and 5 cups of water.

To cook in your Instant Pot, use the "Meat/Stew" setting, and set the pressure to high and cook for 2 hours. In your slow cooker set the cooker to high and cook for 6-7 hours.

Once the meat is cooked, remove from the pot/cooker and use a fork to shred it into pieces.
For the Hash:
Add the potatoes to a large stock pot and fill the pot up with enough water to cover the potatoes. Bring the water to a boil and cook the potatoes for 7-10 minutes until they have softened/parboiled. Drain the potatoes and slice into cubes. Set aside.

Add the bacon slices to a large skillet (preferably cast iron) and cook for 6-7 minutes over medium heat until the bacon has crisped up. Pour the majority of the bacon grease into a glass container (reserve for later) leaving about ½ tablespoon in the skillet.

Add the pulled pork to the same skillet and cook for 5 minutes until the pork is warmed through and the edges have lightly crisped. Removed the pork from the skillet and set aside.

Add about 1 teaspoon of the reserved bacon grease to the skillet and add the chopped pepper, onion and ½ teaspoon of salt to the pan and sauté for 7-9 minutes until the vegetables have softened and lightly browned. Once cooked, remove vegetables from the skillet and set aside.

Add 1 tablespoon of the reserved bacon grease back into the pan and add the cubed potatoes along with 1 teaspoon of the salt, smoked paprika and the chipotle powder. Let the potatoes sit in the skillet for about 1 minute prior to stirring to create a crispy outside. Continue to cook the potatoes for 5-7 minutes, occasionally stirring, until they are cooked through and the edges have crisped.

Add the bacon, pork and vegetables back into the skillet along with the diced green chiles and stir to combine.

To serve top with a fried egg, avocado, salsa, green onion and chopped cilantro.