Egg Nog Bourbon + Bacon Float
An Egg Nog Bacon Bourbon float from The Whole Smiths in partnership with Farmer John. This recipe is one of a three part series of recipes using Farmer John products that are perfect for your holiday meals. Make sure to check out Pork Loin + Cherry Shallot Compote and Cauliflower Bacon Gratin to complete your meal!
Yeah, you read that right. Egg Nog. Bacon. Bourbon. All in one recipe. For you.
I'm still having a hard time wrapping my head around how phenomenal it is to be able to cram all of these favorite things into one recipe. I mean, can the holidays get any better than this?
And as the saying goes, "Is there anything that bacon doesn't make better?" This recipe proves that statement to be correct.
When Farmer John asked me to create a dessert that was festive and contained bacon I may have literally drooled right there on the spot. There were so many options. From baked goods to a cheesecake, my mind was flooded with ideas. And then it dawned on me, with all of the prepping, cooking, wrapping, shopping, and decorating we were already doing what if I created a recipe that could be put together in no time after Christmas dinner?
I mean, aren't we doing enough of all of that other stuff. Things can be delicious and festive and still be easy, right? This float proves just that. The amount of flavor that is packed into this float will make you feel as if you ordered it from a fancy restaurant. However, it's the bacon that takes it to the next level.
Sweet and salty is one of my favorite flavor combos and the smokey, saltiness of the Farmer John bacon really pairs up well again the fragrant egg nog and bourbon. I really wanted to get the right amount of bacon into all of the right places in this float so rather than just add pieces of bacon into the float I made bacon bits in my blender to disperse the bacon flavor evenly throughout.
If you haven't already made homemade bacon bits, you're missing out. I make them all the time and add them to my eggs, potatoes and veggies. Growing up we always bought bacon bits prepackaged from the tore and they have nothing compared to the flavor of these howled bits I made using Farmer John bacon. All you need to do is cook up some bacon slices as you normally would, let them cool and pulse them in your blender to create bacon magic. I mean bits. You can store your bacon bits in an airtight container in your refrigerator for up to 1 week… if they make it that long. Any type of bacon will work but in this particular case I used Farmer John's California Natural bacon.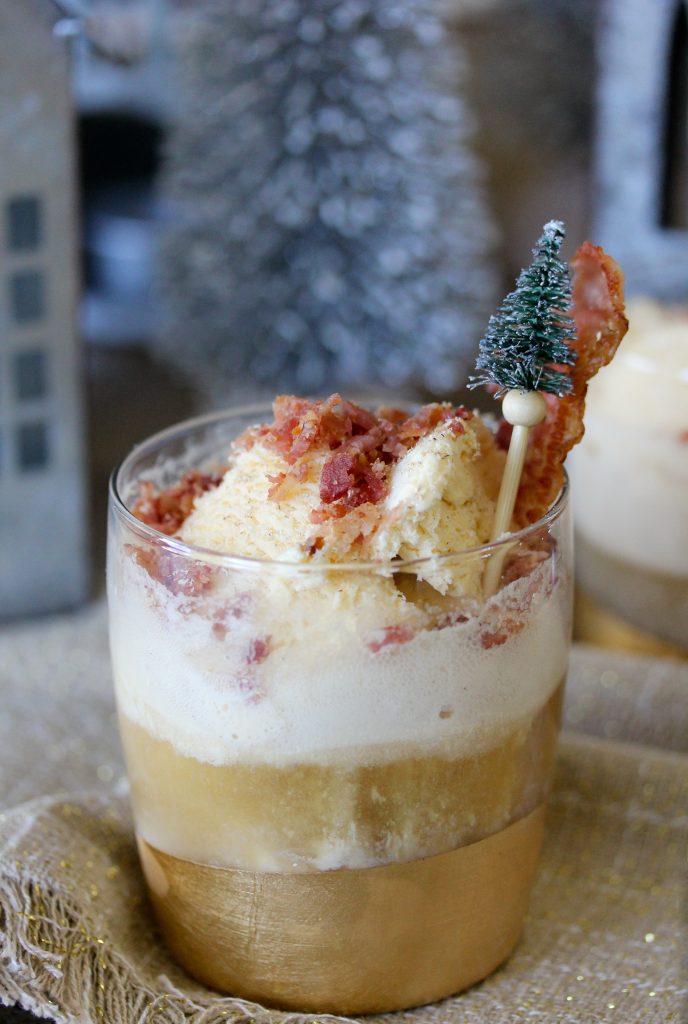 As far as this float goes you can easily make it dairy-free by swapping out the traditional egg nog with an alternative milk-based nog such as one made with almond or coconut milk. Those are readily available at most grocery stores today. As are dairy-free ice creams. Or you can go to town and use regular dairy. Each will give you delicious results. I also made a version for my kids to chow down on that omitted the bourbon and they loved it.
I made this recipe in a smaller cup but if you're really looking to indulge, grab a larger cup and double the recipe.
With that I hope you enjoy the final recipe in your Farmer John holiday series. Don't forget to check out my Pork Loin + Cherry Shallot Compote and Cauliflower Bacon Gratin to complete your festive meal!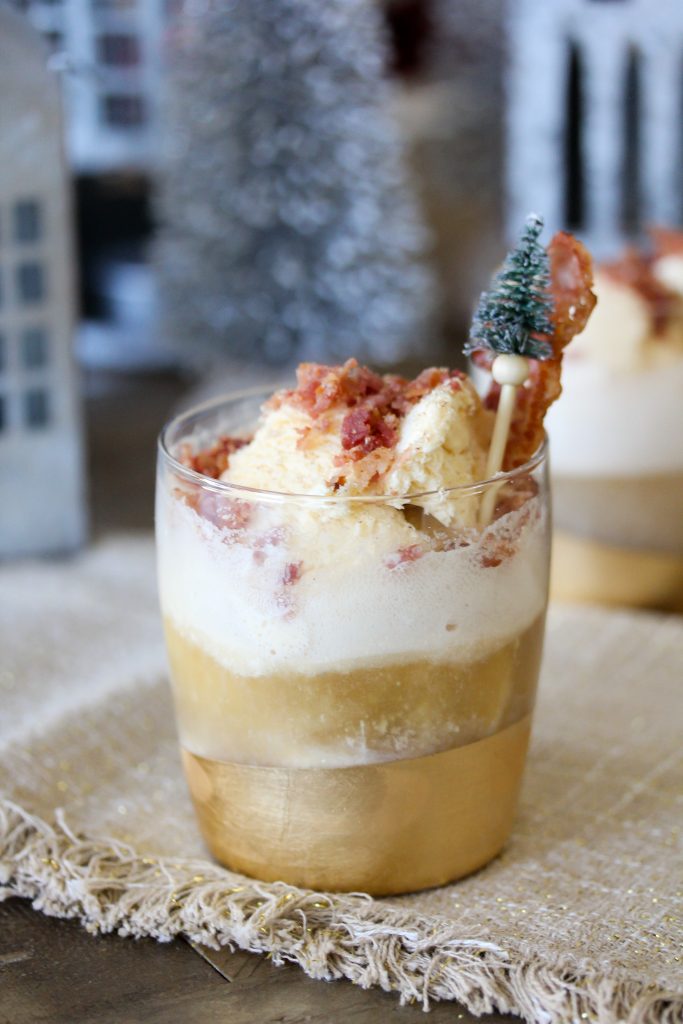 Egg Nog Bourbon + Bacon Float
An Egg Nog Bacon Bourbon float from The Whole Smiths. SO delicious and easy to make!
Ingredients
3

slices

Farmer John California Natural bacon

cooked

2

large scoops vanilla ice cream

about 2 cups

1

cup

cream soda

2/3

cups

egg nog

2

shots bourbon

1/4

teaspoon

freshly grated nutmeg
Instructions
Add the bacon sliced to a blender and pulse to create bacon bits.

Add one scoop of  vanilla ice cream to a cup and pour 1/2 cup of cream soda, 1/3 cup of egg nog and 1 shot bourbon over top.

Sprinkle 1/2 of the bacon bits and nutmeg and bacon over top to serve.