Pork Loin + Cherry Shallot Compote
A Whole30 compliant Pork Loin + Cherry Shallot Compote from The Whole Smiths in partnership with Farmer John. This recipe is one of a three part series of recipes using Farmer John products that are perfect for your holiday meals. Make sure to check out My Cauliflower + Bacon Gratin and Egg Nog + Bourbon Bacon Float to complete your meal!
As we close on 2017, let it be known that 2017 was the year that I perfected the pork loin. Yes, perfected. I've made pork loin so many times this year that I've got it down to a science and am so excited to share it with you. I even have a pork loin in my upcoming cookbook, that you can pre-order HERE.
But I digress, for so long I avoided cooking so many cuts of meat. Most of my life the only protein that I thought I was capable of cooking was limited to that of boneless, skinless chicken breasts. Yowza. can you say BOR-ING? The truth is, that as long as you have a proper meat thermometer and a simple cooking technique cooking larger cuts of meat is a breeze. I'll give you the scoop on my meat roasting tips in this post.
When I had the opportunity to create the perfect holiday spread for Farmer John this year I thought long and hard about what kind of main dish I wanted to create. First and foremost the recipe was going to need to feel festive and special. Second, I wanted the recipe to be something easy enough for anyone to create. Who wants to spend their favorite holiday in the kitchen? Not I. Not only am I exhausted from the festivities but I want to spend time with my loved ones. Fortunately this recipe will give you that opportunity.
And with that I landed on this Pork Loin + Cherry Shallot Compote and boy does it deliver. I created the compote two different ways, one with bourbon and one without. Both ways are delicious but this way you have the opportunity to add the booze or not. If you are on a Whole30 don't add the bourbon. If your in-laws are driving you crazy… add extra bourbon. Got it?
I love how easy Farmer John makes finding great cuts of pork. They have a huge variety of easy-to-find pork products that make cooking a variety of pork dishes a breeze. From breakfast to dinner and everything in between they have your protein needs covered. You can see their full array of products here.
So let's get to it shall we? I mentioned having a proper meat thermometer was key in cooking your proteins and I'm not joking. Prior to using a meat thermometer I was notorious for over-cooking my cuts of meat. Mostly because I was so afraid of serving something raw that I felt it was better to just cook the heck out of it. As you can imagine that left myself and those I served with dried out pieces of meat. By using a thermometer you take the guess work out of it and can cook it to just the right temperature. So it's a must. A must. Got it? Good.
Next I like to make sure that my meat is dry and for that I simply pat it dry with some paper towels. It doesn't need to be dry-dry just dry enough. I like to make sure the outside of the protein is dry because when you sear or cook it you'll be able to get a nice crust of flavor on the outside versus if the protein is moist. It's equally important to salt your meat properly. The rule of thumb I typically follow is 1 teaspoon of salt per every pound of meat. Let me just say, that's  loose rule. You may like things quite salty or you may not like much salt at all. As well, the surface area of different cuts of meat are going to vary. However, when I'm developing recipes that's where I always start.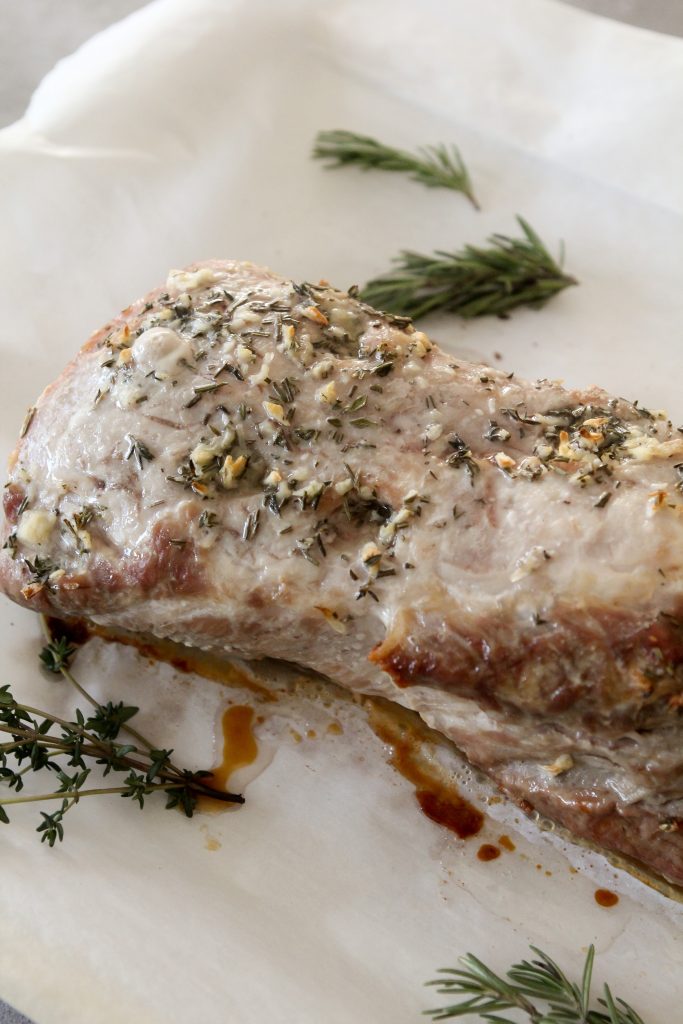 Another good practice that I tend to follow for a variety of meats (such as a pork loin) it to sear the outside of the meat in a hot pan prior to cooking. Theses where drying the outside of the protein will come in handy and lend itself to a nice, flavorful, salty crust. Typically from there I'll roast my cut but that again will depend on exactly what I'm cooking.
As a firm believer that rules are meant to be broken these aren't exactly rules but merely suggestions for you to understand how to cook a piece of protein properly. Cooking techniques are going to vary coking a pound of shrimp versus a roasting a pork loin or turkey but once you understand what creates good flavor in a protein it's easer to start nailing it every time.
When you hit up the grocery store to shop for your Farmer John pork loin, take note that this recipe calls for a pork loin not a pork tenderloin. Pork tenderloin tends to be a narrower and smaller cut of meat therefore will require a different cooking time. Cool? Cool! As well, this recipe calls for a 4 pound pork loin. My Farmer John pork loin came as an 8 pound cut so I simply cut it in half and doubled the recipe so that we would have leftovers for the week.
What do you think? Will this Pork Loin + Cherry Shallot Compote make it onto your holiday table this year? Don't forget to check out my Cauliflower + Bacon Gratin and Egg Nog Bacon Bourbon Float to complete your festive meal!
Pork Loin + Cherry Shallot Compote
A Whole30 compliant Pork Loin + Cherry Shallot Compote from The Whole Smiths. A must-have on your table. Gluten-Free, Paleo 
Ingredients
4

pound

Farmer John Pork Loin

1

tablespoons

+ 2 teaspoons salt

6

cloves

garlic

minced

1

tablespoon

chopped rosemary

1

tablespoon

chopped thyme

Fresh cracked pepper

1

tablespoon

extra virgin olive oil

5

shallots sliced

2

cups

pitted cherries

fresh or frozen

2

shots bourbon

optional, omit for Whole30
Instructions
Preheat the oven to 400*.

Pat the pork loin dry with a paper towel and season all sides of the loin with 1 tablespoon and 1 teaspoon of  salt.

In a small bowl combine the garlic, rosemary and thyme until a paste is formed.

Using a small knife, puncture about 10 holes into the flesh of the pork loin about 1 inch deep and stuff the garlic herb paste into each crevice.

Place the pork loin onto the parchment lined sheet and roast the pork loin until the internal temperature reaches 145* F, about 1 hour.

While the pork roasts, add the olive oil to a saucepan over medium heat. Once the oil is hot, add the shallots and remainder of the salt and cook stirring occasionally until the shallots are tender and golden brown, about 10 minutes.

Add the cherries into the sauce pan along with the bourbon (if using) and cook the compote for 12-15 minutes until the ingredients have broken down and reduced. Stir occasionally.

Once the pork loin has reached an internal temperature of 145* F, remove it from the oven and cover lightly with aluminum foil. Let the pork loin rest for 10 minutes to let the juices redistribute.

To serve, slice the pork loin and serve with a spoon of the cherry compote.