This Gluten-Free Pretzel Crusted Chicken Tenders sheet pan recipe and Honey Mustard Dipping Sauce from The Whole Smiths is sure to be a hit with your family. It's great for busy weeknights!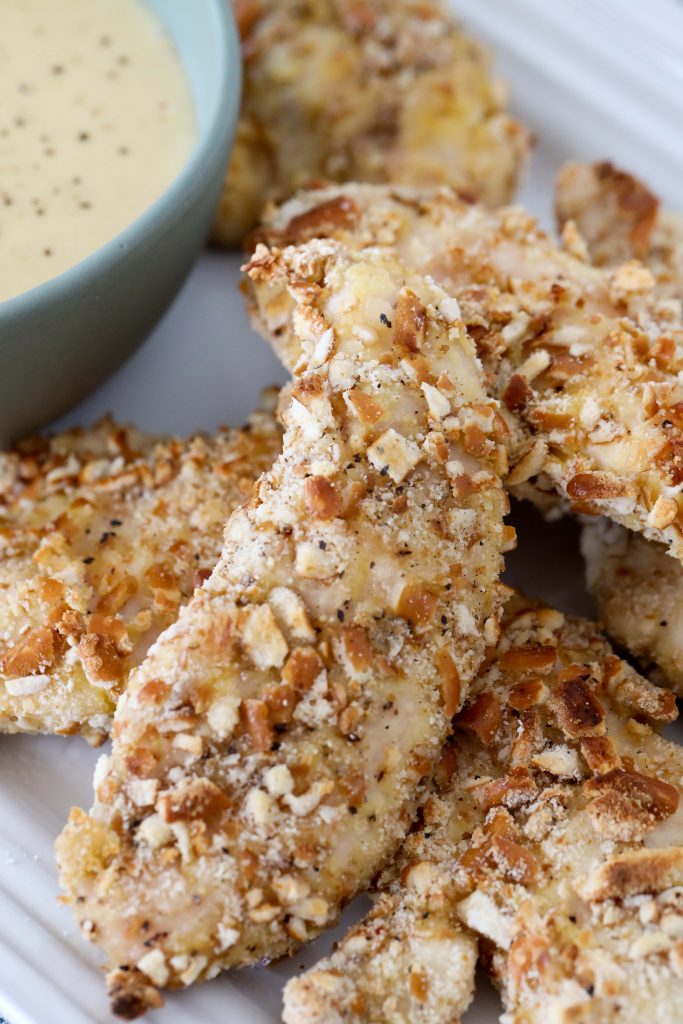 Hey guys! Brad here, again. I've been helping Michelle out a little more recently with recipes and blog posts these days. While it's fun hanging out and working with each other in the kitchen, apparently there's a wrong way and a right way to do things in the kitchen. It's always fun working with a spouse, right? Apparently you're supposed to measure stuff like salt when you're developing and writing a recipe. Who knew?!
"How much salt did you use?" (Michelle). "Uh, enough to salt it?" (me). Sends me a bewildered and exasperated look (Michelle). So I guess measuring the ingredients to let you know just how to make this dish is part of the process. Once I figured that one out, we were off and running.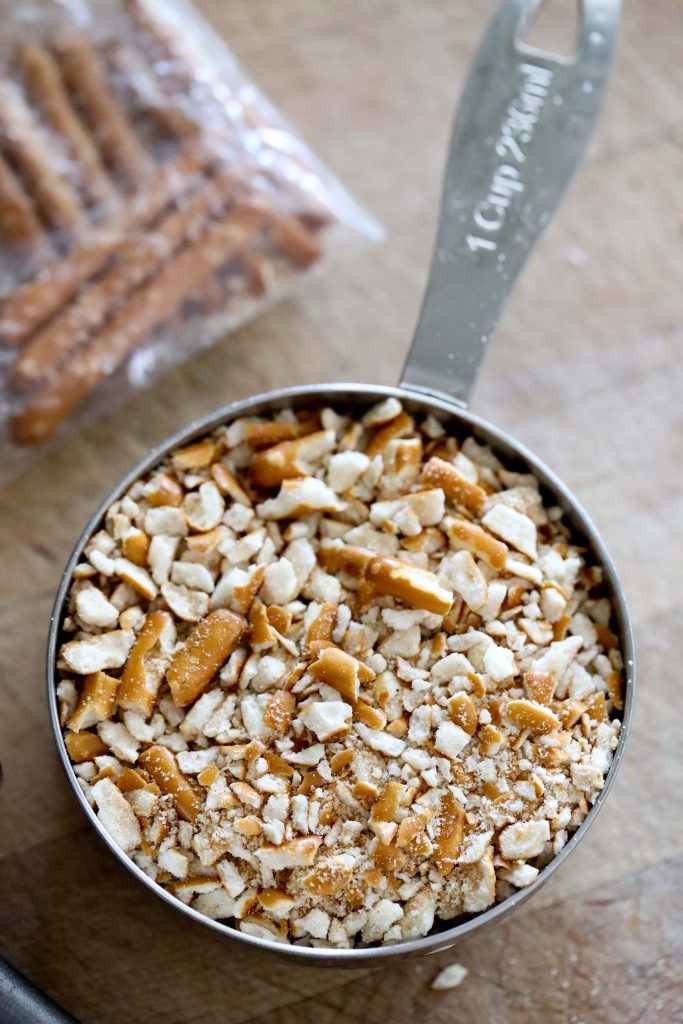 Gluten-Free Pretzels for the win!
If you have followed Michelle for any amount of time at all, you know that we are big on easy to make, family-friendly real foods that have a ton of flavor. This one is no exception. We love to add a little crispiness to our proteins every now and then to keep things interesting, so in thinking of what else we could use, we came up with pretzels. Fortunately these days there are so many gluten-free products on the market that gluten-free pretzels are fairly easy to find. In fact, they even make grain-free pretzels too.
And, of course what goes perfectly with pretzels? Mustard for the win! And soon, these Gluten-Free Pretzel Crusted Chicken Tenders + Honey Mustard sauce were born. I know that's a mouthful to say, but we don't have to talk about it, we'll just eat it. This one is really easy to make with just a couple things to keep in mind.
Gluten-Free Pretzel Crusted Chicken making tips.
First off, we decided to bake this one. I'm all about frying up some meat (see our Grain-Free Pork Schnitzel), but in the interest of time and keeping this easy-to-make and clean up, we thought baking it on a sheet pan was the way to go. If you'd like to pan fry them however, feel free. It's just as tasty pan fried. Sheet pan tip for you, while you're preheating the oven, go ahead and slide the sheet pan in there to get it heated up as well. It helps to sear the bottom of the chicken so it's not soggy. It just gets things… well, it gets things cooking.
For the breading, we went with the usual suspects, almond flour and tapioca flour, plus a healthy amount of gluten-free pretzels to get enough pretzel flavor in there. Also, the pretzels don't have to be crushed to dust. We left them a little bigger to help with the flavor and texture and depended on the other flours to completely coat the chicken.
Honey Mustard Dipping Sauce.
While the chicken is baking, you'll want to make the honey mustard dipping sauce. This sweet and tangy sauce goes perfectly with the crispy, pretzel-y chicken. My tip here is to make your own mayo to serve as the base of the sauce, see Michelle's 30-Second Mayo for how to do that. No, seriously, make your own mayo. Head over there now and give it a go. Once you do it a couple times, you will be able to eyeball the ingredients without having to measure everything and it literally takes about 30 seconds. You will never buy mayo again.
We usually have the kids to do it for us, it's that easy. It tastes so much better than store-bought, it only has four ingredients and you don't have to worry about that pesky Calcium Disodium EDTA. I have no idea what that is or what it does but it's on the back of a popular mayonnaise brand.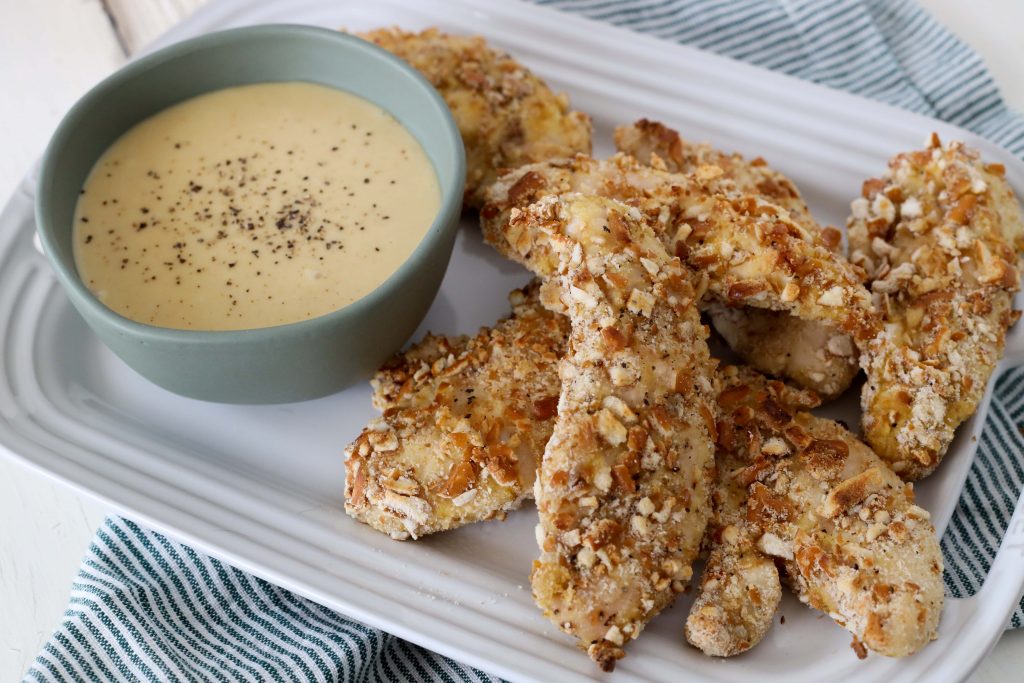 And that's it! This is an easy one that's super quick to throw together and throw in the oven. We all probably have a lot more on our plates these days (pun intended) so a fast, delicious dinner without any complaints is the perfect weeknight addition. And if the kids gobble it down, that's another win.

print recipe
Gluten-Free Pretzel Crusted Chicken Tender sheet pan recipe and Honey Mustard Dipping Sauce
This Gluten-Free Pretzel Crusted Chicken Tender sheet pan recipe and Honey Mustard Dipping Sauce from The Whole Smiths is sure to be a hit with your family. It's great for busy weeknights!
Ingredients
2

pounds

bonelessskinless chicken tenderloins

2 ½

teaspoons

salt

¼

teaspoon

black pepper

1

cup

crushed gluten free pretzels

½

cup

almond flour

¼

tapioca flour

2

eggs

beaten

½

cup

mayonnaise

¼

cup

dijon mustard

2

tablespoons

honey
Instructions
Preheat the oven to 425* F. Lightly spray or coat a metal sheet pan with oil and place it inside the pre-heating oven.

Salt the chicken tenderloins with 2 teaspoons of the salt and the black pepper.

Add the crushed GF pretzels, almond flour, tapioca flour and ½ teaspoon of salt to a large bowl.

Dredge the chicken tenderloins in the beaten egg letting any excess drip off. Place the chicken into the bowl with pretzels and coat the chicken entirely in the breading. Set the coated chicken aside on a plate.

Once all of the chicken has been coated, remove the hot baking sheet from the oven and place each onto the sheet pan.

Bake the chicken for 25 minutes or until the internal temperature is 165*F, flipping halfway through.

While the chicken bakes, add the mayonnaise, dijon mustard, and honey to a bowl and stir to combine to make the honey mustard dipping sauce.

Serve chicken tenders with the honey mustard for dipping.