Well it's that time of year again where chips, dips, wings and beer are on everyone's shopping list. Because that's what you're supposed to eat for Super Bowl, right? Well yes and no. I'm all about Super Bowl snacking, truth be told it's one of my favorite parts of the day. Next to Gronk, I'm all about the snacks.
Since Gronk and the Niners are out for the Super Bowl this year I guess that leaves me with just snacks. Well, actually I'm working IN the half-time show so maybe not. Did I forget to mention that?! Yes, myself and dear friend Beverly are going to be doing the half-time show helping bring out the stage and hanging with Beyonce and Coldplay. Holllla, how cool is that? We even had Jay-Z and Blu Ivy hanging out behind us during one rehearsal. However, we WILL be watching a delayed taping of the game, so I still need my snacks.
My point of all this rambling is that snacks are a part of any decent Super Bowl party, it's just doesn't have to be all crap. So mix it up! And just because it doesn't have to be crap doesn't mean it can't be delicious and satisfying. And maybe you have a little crap (mmm, potato chips and ranch dip anyone?) but get some good stuff in there too.
Like these Chicken Pesto Bites! I can guarantee that if you bring a tray of these out to your friends they'll get gobbled up like nobody's business. Even better is that they are amazingly easy to prepare. While I highly suggest you roast your own chicken and use my recipe for the Whole Smiths' Whole Chicken, you can always go the grocery store rotisserie route as well. Your call.
It's also the perfect way to use that Paleo Pesto recipe I posted not too long ago. There's something about the sweetness of the sweet potato that compliments that briny pesto perfectly. Add in a tomato and your flavor trifecta is complete.
And for my final tip… If you'd like more of a finger food/appetizer type of dish cut your sweet potatoes into discs to serve. However, if you're looking to serve this as a meal slice your sweet potatoes lengthwise to increase the surface area and top with all of your goodness. You may need a fork and knife but I'm sure you know how to use those. 😉
Enjoy this deliciousness friends!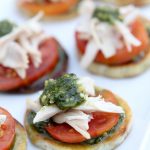 print recipe
chicken pesto discs
These Chicken Pesto Bites are perfect for a main dish or as a party snack.
Ingredients
1

large sweet potato sliced into discs

olive or avocado oil

1/2

C.

paleo pesto

click recipe link in body of post

2 to

matoes sliced

3

C.

shredded chicken

Sat + pepper
Instructions
Preheat oven to 415*

In a large bowl, toss sweet potato discs with oil of choice, salt + pepper

Line 2 baking sheets with parchment paper

Lay sweet potato discs flat in rows onto baking sheets

Bake for 20 minutes and flip

Bake another 10 minutes until sweet potatoes are slightly brown and crispy

While sweet potatoes are baking

Salt to taste

Layer sweet potatoes, pesto, tomato slice, chicken and a bit more pesto