The Whole Smiths' Whole Chicken
There's a few things that I feel I've been able to master in the 35 years I've spent on this planet. Pretending I'm dead asleep while the baby cries in the middle of the night so that my husband would get her (hey! he does the same thing… we all do, don't hate), dropping' it like it's hot, eating cookies and THIS. A whole roasted chicken. And hot damn it is one fine whole roasted bird. I've even learned the trick to making the skin perfectly crispy.
We truly make this about once a week in our house. It's amazingly easy and even more delicious. Not to mention versatile. And even better, after we've stripped the meat off of it I usually make a sipping bone broth from it. I may post the recipe at some point for all of you, but that as well is so fantastically simple it almost seems not worthy of a blog post. But perhaps that's the beauty of it.
And you know what I've noticed? I don't see enough whole roasted chickens shared online nearly enough. But I'm determined to change that. This should be a staple in everyone's household. I'm 100% sure after you give it that you'll feel the same way.
I know I mentioned how easy it is. And it is. But after making it a million times and perfecting it to a "T",  there are some tips and tricks that I've picked up along the way. And don't even think of venturing outside of them. If you do, please don't leave a comment saying it wasn't seasoned enough, it was dry or yadda yadda because… you didn't follow the directions! Follow the directions below and use the exact ingredients and you will love this chicken more than you thought you could love chicken.
So here are some things you'll want to keep in mind… 1. Use maldon salt for the chicken, it's thin and flaky and delicious and will make the chicken skin the same. 2. Place the chicken directly on top of the vegetables, the chicken juices and deliciousness will seep right into them and that's a good thing! 3. You'll need two large baking dishes for this as the veggies take a lot of room before they cook down. You'll eventually combine them into one dish but until them, keep 'em separated. And before you ask, I love tri-colored veggies, so there are purple and white carrots you see in there as well! 🙂 And finally the trick to the crispiest skin you'll ever have… 4. Using your finger, loosen the skin from the rest of the chicken. This ensures a little bit of breathing room from the moisture of the skin.
Also feel free to change the veggies up. As you can see in the picture below I added some beets and it was GREAT addition! Just make sure they're vegetables that hold up to the heat and roasting.
Are you ready for this? Of course you are! And don't forget to hover over the image to Pin the recipe for later! Enjoy!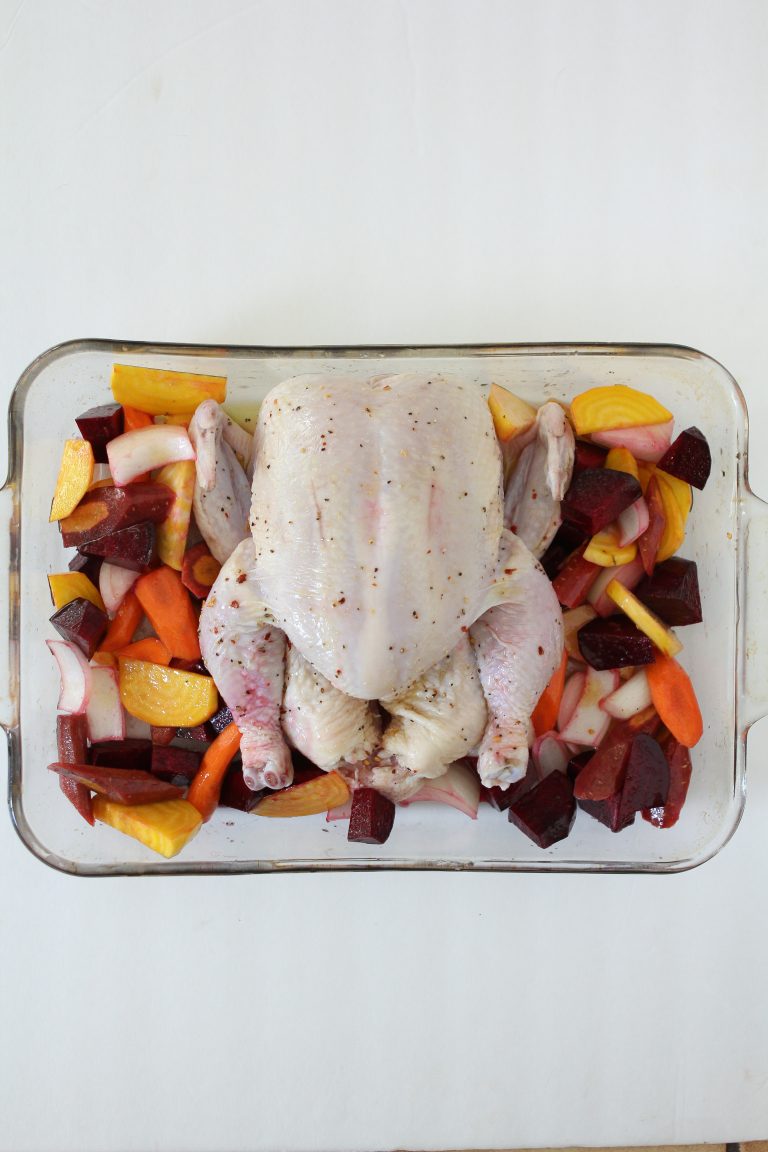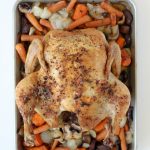 print recipe
the whole smiths whole chicken
A good, clean 'ol roasted chicken
Ingredients
1

whole roaster chicken

2

pounds

of carrots cut into 1-2 inch segments

1

pound

of cremini mushrooms halved and / or quartered

1/2

onion quartered

4

cloves

garlic peeled and smashed

good olive oil

maldon salt

lemon pepper
Instructions
Preheat oven to 425*

In a large bowl combine carrots, mushrooms, onions and garlic

Add olive oil, enough to coat and roughly 1-2 tsp of salt

Toss to coat thoroughly

In two large baking dishes transfer vegetables so that they make one even layer in each baking dish

Place chicken breast side up ON TOP of the vegetable in one of the baking pans

Drizzle olive oil over chicken and rub into skin, thoroughly coating

Generously sprinkle Maldon salt over entire surface of chicken

Generously sprinkle lemon pepper over entire surface of chicken

Gently rub salt and pepper into skin of chicken

Place chicken and additional pan of vegetable into oven and bake for 30 minutes

After 30 minutes, turn oven temp down to 400*

Add vegetables in extra pan into the pan with the chicken and gently combine all vegetable together

Continue to cook until the internal temp of the chicken reached 165*

Once desired temp is reached (about an addition 45 minutes), pull chicken and vegetable out of oven and cover loosely for 10 minutes

Let rest of 10 minutes before serving