the Whole Smiths – Eat Real eBook
You guys! It is FINALLY here. Eat Real is available for purchase! I couldn't be more excited to share this labor of love with you. I sought out to create an eCookbook that felt and looked like you were flipping through a traditional print book. It was also important to me that each of these recipes are simple enough for home cooks everywhere to replicate. I didn't want to use fancy techniques you might pick up in culinary school because those aren't the recipes that people are going to cook as a regular part of their day. Scroll down to get a sneak peek of some of the recipes included or you can click the image below to purchase!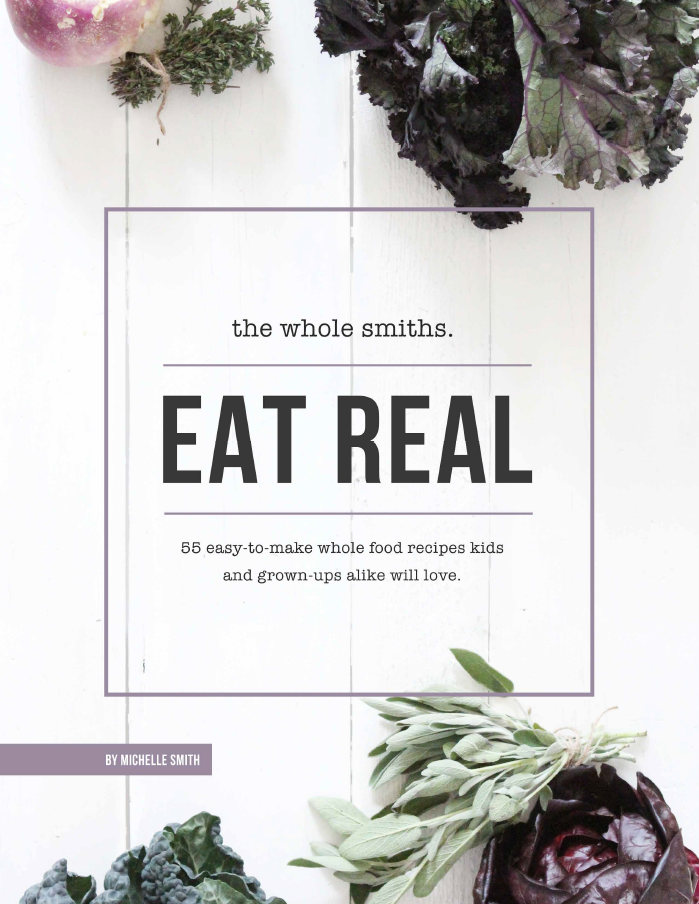 It was equally important to me to create recipes with easily accessible ingredients. Nothing drives me more crazy that having a new cookbook and realizing that I'm going to have to restock my pantry just to be able to cook from it. All of the ingredients I used can be found at local grocery stores, Trader Joe's, Whole Foods and Costco. Don't worry, you won't have to hunt down chestnut flour online to be able to cook from Eat Real.
I'm a firm believer that eating clean and well for your body doesn't need to be pretentious and unattainable. I feel it should be accessible and playful and fit into our lives easily. Crazy recipes with crazy ingredients isn't what's going to make fueling your body properly. Simple, interesting, fun recipes will.
Recipes like the following:
Plantain Chip Chilaquiles
Apple French "Toast"
the PERFECT Grain-Free Chocolate Chip Cookie with Sea Salt
Cuban Sandwich on Fried Plantain "Buns"
Shrimp + Cauli Grits
Lemon Parfait
How does all of the above sound? Now add in Cinnamon Banana Bread, Sweet Garlic Chicken, Asian Braised Short Ribs, FRIED PICKLES and many, many more! There's a total of 55 recipes that include breakfast, lunch, dinner, sides, snacks, desserts and condiments.
All of the recipes are gluten and grain free. Only two have dairy and all are refined sugar free. You can head over HERE now to order your copy of Eat Real. You'll receive an email instantly and you can start cooking right away!
I've put so much love and care into this book I hope you and yours will enjoy it as much as I dreamed you would.