Spaghetti Squash + Meatball Casserole
Ahh, it's that time of year when school has just started, summer weather is lingering and everything starts to turn pumpkin on us. While I cannot WAIT for fall and I'm getting some great pumpkin recipes going on in my head, I'm not there quiiiite yet. But I DO have a squash recipe to hold you over until all things go orange on us. We do in fact eat spaghetti squash year around over here but I love how plentiful they are in the fall. And I'll venture to say that we eat it at least twice a week when fall rolls around.
This week I've been hosting the Whole30 Recipes account over on Instagram. I'm talking all things kids and including lots of easy kid-approved Whole30 recipes for everyone. While I've never had my kids do a round, my kids always eat what we eat. So when I do a Whole30, my kids are eating the same thing that I am for dinner. I'm not into making more than one meal for dinner. Mostly because I think it's important the children learn to eat healthy, try new things and appreciate how much healthy and delicious food they have. But also, because I'm lazy. No way I'm cooking them something different after I poured my heart out making something delicious and healthy in the first place to zap some chicken nugs in the microwave. I ain't nobody's fool!
Anyhoo, I added this recipe to the feed and it was a hit so I wanted to add it to my blog as well for you. It's super easy to make and takes minimal effort. The most time consuming part is just making the meatballs up and even that isn't much. A couple of notes… I like to make mine in individual ramekins but you can also serve it in a traditional baking dish and scoop it out. Just add a few more minutes to your cooking time. As well, depending on your spaghetti squash and tomatoes additional liquid may be released when it cooks. Sometimes it happens and sometimes it doesn't. If it does, I just use a turkey baster to get some of the additional liquid out at the end. It's a minimal amount but I'm totally OCD in the kitchen. And finally if you're down with dairy add some organic mozzarella for an extra treat. Just know the recipe will NOT be Whole30 compliant at that point.
And if you're REALLY down with meatballs, check out my Mango + Jalapeño Chicken Meatballs. It's one of the top 3 most loved recipes on this blog and is sure not to disappoint!
I wish I had more to say about this but it's a pretty straightforward recipe kids and grown-ups will love. When you make it let me know what you thought! Or post it to IG and tag me and don't forget to hover over the image and Pin it for later!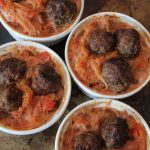 print recipe
Spaghetti Squash + Meatball Casserole
A paleo casserole that combines two favorites, spaghetti and meatballs. Grain free, gluten free and dairy free!
Ingredients
1

spaghetti squash

olive oil

1.5

lbs

ground beef

1

lb

ground pork

2

TBSP.

chopped basil

1

TBSP.

ghee

1/2

onion finely chopped

3

cloves

of garlic finely chopped

1

tsp

favorite seasoning

I like 21 Salute by Trader Joe's for this

1

tsp

salt

I can compliant tomato sauce

I use Trader Joe's for this one

2 to

matoes diced

2

eggs
Instructions
Preheat over to 375*

Cut spaghetti into quarters and scoop out insides

Drizzle olive oil into cavity of squash and season with salt and pepper

Place into baking dish and bake for 40 minutes

Meanwhile, add ghee to a clean sautee pan and heat on medium

Add chopped onions and cook until tender and starting to brown

Once onions have browned add garlic and cook an additional two minutes, remove from heat

In a large bowl thoroughly combine ground beef, pork, onions, garlic, basil, and spices

Form meat mixture into small balls about 1.5 inches in diameter

Add an additional 1/4 ghee to clean pan and heat

Once heated add meatballs into pan and cook

Don't turn meat over until it has started to brown, otherwise you risk it sticking to the pan

Brown meatballs on each side

Cook meatballs through and set aside

Once squash is done, scoop out sides into a large bowl

Add tomato sauce, chopped tomatoes and eggs to bowl

Toss to combine thoroughly

Grease a ramekin with additional ghee and add mixture into them

Place 2-3 meatball into squash mixture

Bake for 35 minutes