This Pumpkin Oat Porridge from The Whole Smiths is the perfect fall breakfast for everyone. It has everything you need for a healthy start to your day; protein, veggies, and heart healthy oatmeal. Not to mention, it's full of fall flavors.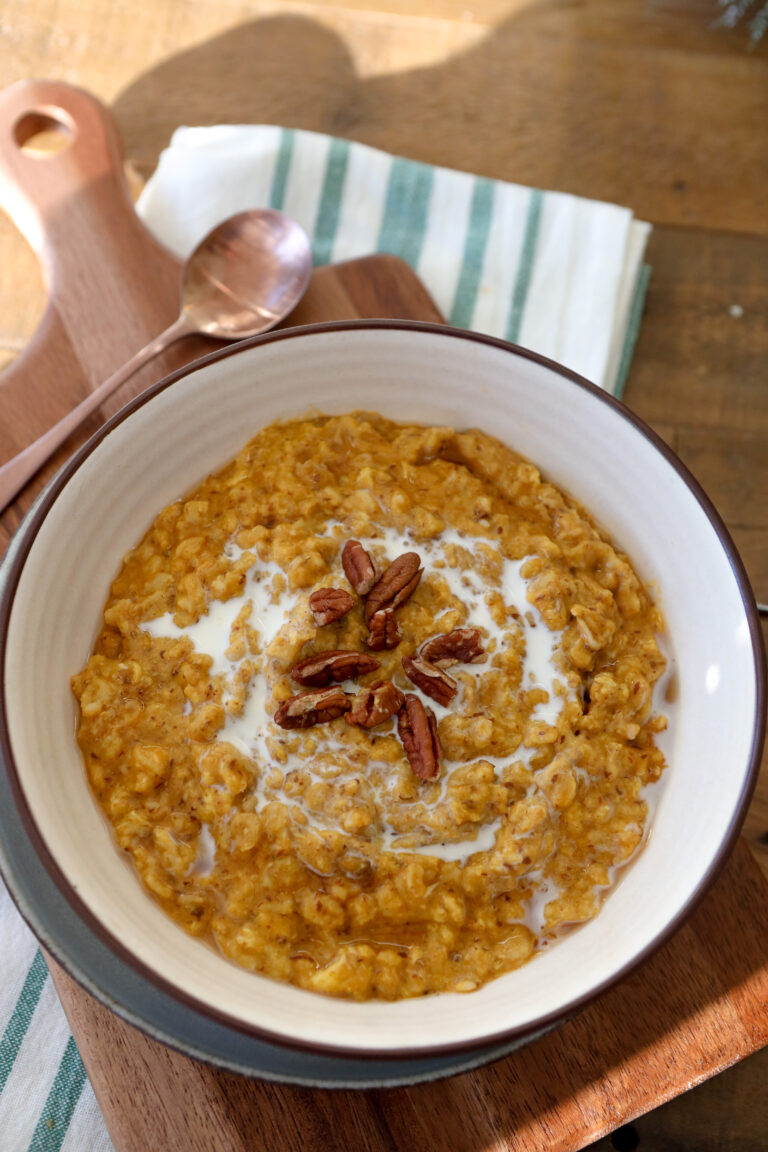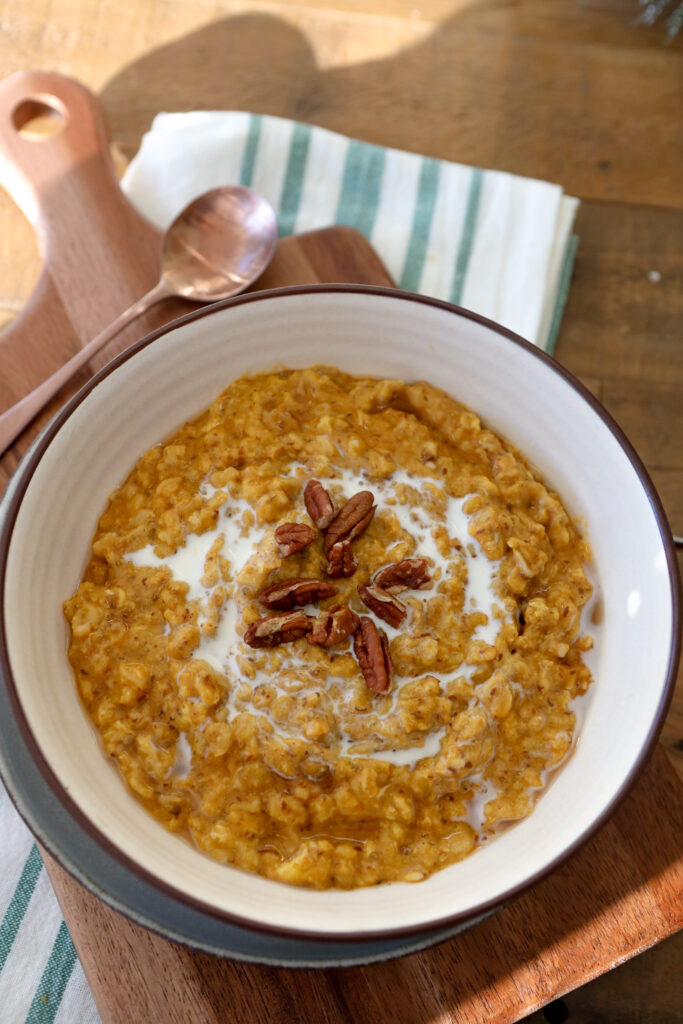 Pumpkin Oat Porridge Saves the Day.
Ohhhh mah goodness. This recipe has got to become a breakfast staple in your house. I created this recipe out of a desire to have a quick, reheatable breakfast that A. my kids would like and B. was loaded with nutrients.
Not to mention, I've come up with two flavor variations, Apple Spice and Banana Bread. You can find information on those swaps below and additional suggestions in the SWAPS, TIPS, & HACKS section below.
Things have been a bit chaotic around here with a toddler, a tween and a teen. I've had to tap out of some the duties that I was previously doing, like making breakfast for the kids. The truth is, they're old enough to manage it themselves now. Except that they can't. I mean, they can, but they can't. Not in a timely, sensible manner at least. In their attempts to create a quick breakfast, I found that they were going to school eating just a yogurt or ONE egg or a piece of toast. Which, in my opinion, is not sufficient. I applaud their attempts, but as a mom I had major mom guilt sending them to school like that, I needed to come up with something more nutritious that they loved and would be just as easy.
To Oatmeal or Not to Oatmeal.
Now here's the thing with oatmeal, I don't usually love it. It tastes great but it's heavy on the carbs and usually very little else. It's convenient, but not balanced in my opinion.
So I got to work. I shared this on Instagram the week after Thanksgiving as I had some leftover pumpkin and my audience demanded (well, politely asked) for the recipe. No one cared that it was no longer seasonal and we had all moved on to Christmas, nor should you. In fact, I'm Team Pumpkin year around. And why not? It's nutrient dense and crazy convenient.
For me to appreciate a good bowl of oatmeal, it needs to have more goodies in it so that it doesn't feel like a waste of a meal. And by goodies, I mean nutrients. Particularly some protein to balance it all out. I added some beaten eggs for protein and as bonus it lends to a great, creamy texture. Obviously the pumpkin covers the veggie category. I also added some things like flax seeds or chia (optional) for more oomph. As you can see, all of your nutritional needs are met in one bowl.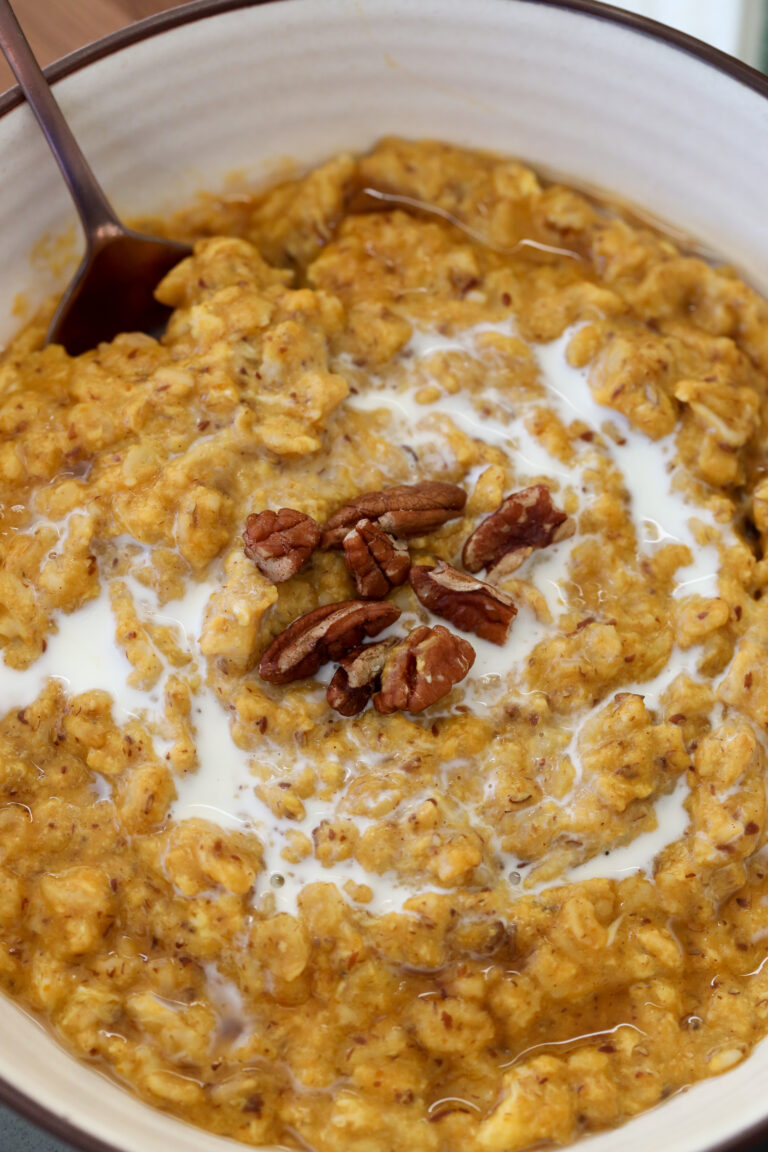 Make Ahead, Keep On Hand.
As I mentioned above, it was important for me to be able to whip up a breakfast that could easily be reheated on a busy weekday morning. Regardless of whether you have kids or not, weekday mornings aren't usually the time for a leisurely breakfast. Save that for the weekends and my Tomato Basil Baked Eggs.
This Pumpkin Oat Porridge will stay fresh in a sealed container in your refrigerator for up to 5 days. In fact, I'd say its even better on day two and beyond. To reheat it, I simply microwave it. I know some people are microwave leary however and in that case you are free to reheat it on the stove top.
This recipe calls for rolled oats but you can also use steel cut oats if you prefer. You will need to adjust the water and cooking time accordingly to break down the steel cut oats enough. See TIPS, TRICKS & HACKS below for more information. I prefer mine with a very slight "bite" and texture to it as I think it lends to a great final product but however you prefer will work. Reheat and store the same way.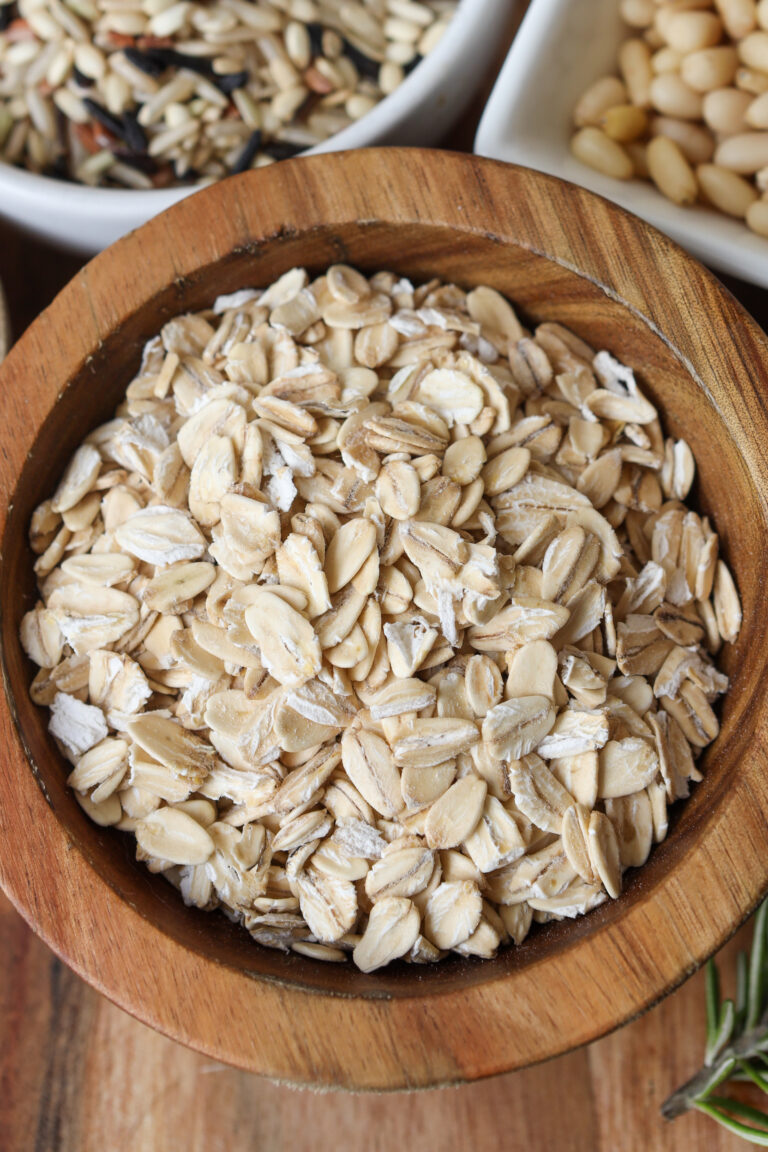 Pumpkin Oat Porridge Variations.
Once I realized how amazing the combination of oatmeal and eggs were, my mind went racing. There are some many variations you can make with those guidelines! I got to work and created a few variations for you to enjoy in case you get pumkin'd out.
Apple Spice so nice! Not into pumpkin? Never fear. You can make an apple spice version of this by simply swapping the pumpkin with two cups of applesauce and the pumpkin pie spice with cinnamon. I also added in a few raisins and it gave it the perfect little pop of sweetness.
Another variation? Banana "Bread". Instead of pumpkin, I mashed four ripe bananas until they were they consistency of baby food, or pumpkin. I added lots of cinnamon, a teaspoon of vanilla extract and a touch less maple syrup. As well, I swapped the pecans out for walnuts. It is very reminiscent of my famous Banana Eggs.
SWAPS, TIPS, & HACKS.
Chia seeds make a great addition to this.

If you have a favorite chai spice blend, that would be fabulous in place of the pumpkin pie spice. There's one in my cookbook, Real Food Every Day if you need one.

I'm obsessed with almond extract, it enhances the flavor of so many dishes. It's fantastic in this but completely optional.
Feel free to stir in additional items like dried cranberries, nuts, a few chocolate chips (ahem, its quite delightful), diced apple etc.
Steel cut oats work fabulously in this recipe as well, they just need a bit longer to cook. Use 6 cups of water and 2 cups of oats instead and cook until tender, about 10-17 minutes. It's a wide range but it depends on your preference, taste as you go to check. I like mine with a bit of bite / texture to it.
Sweeten this recipe to your liking. 1/4 cup is a great place to start but have found myself adding a touch more lately as the kids (obviously) prefer it that way.
You can also feel free to omit any sweetener and pour a touch over top when serving to accommodate other taste preferences in the house.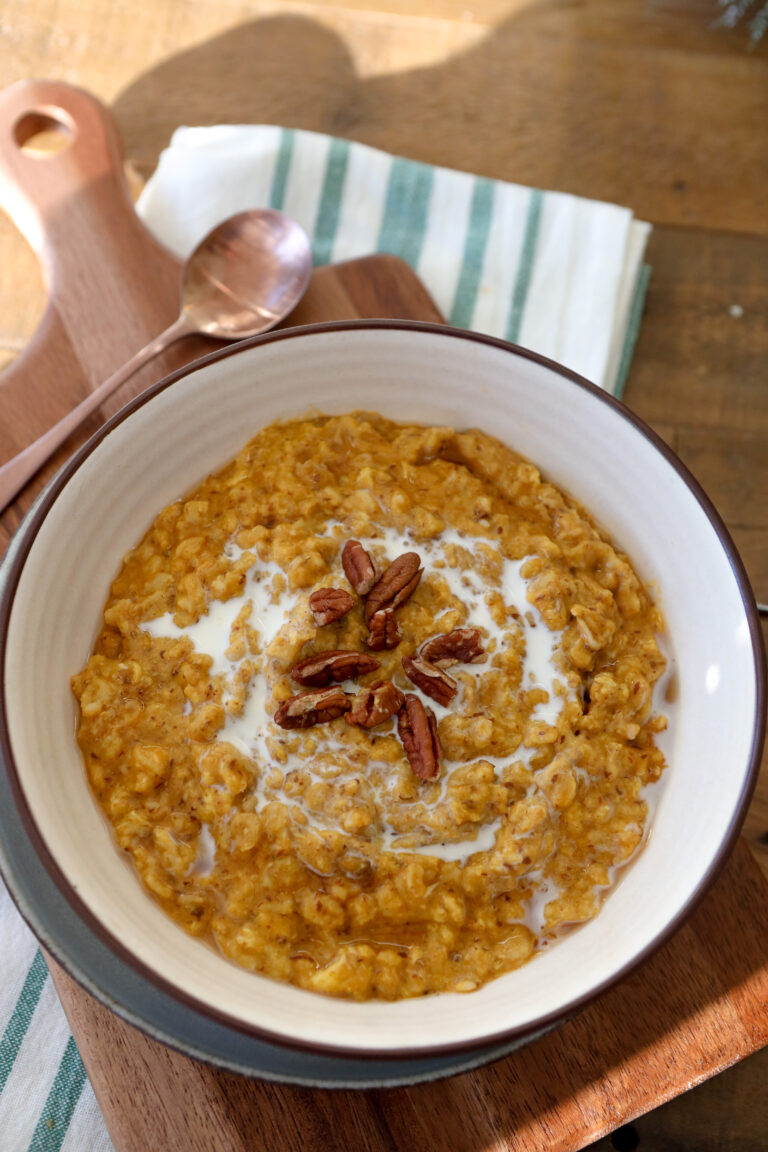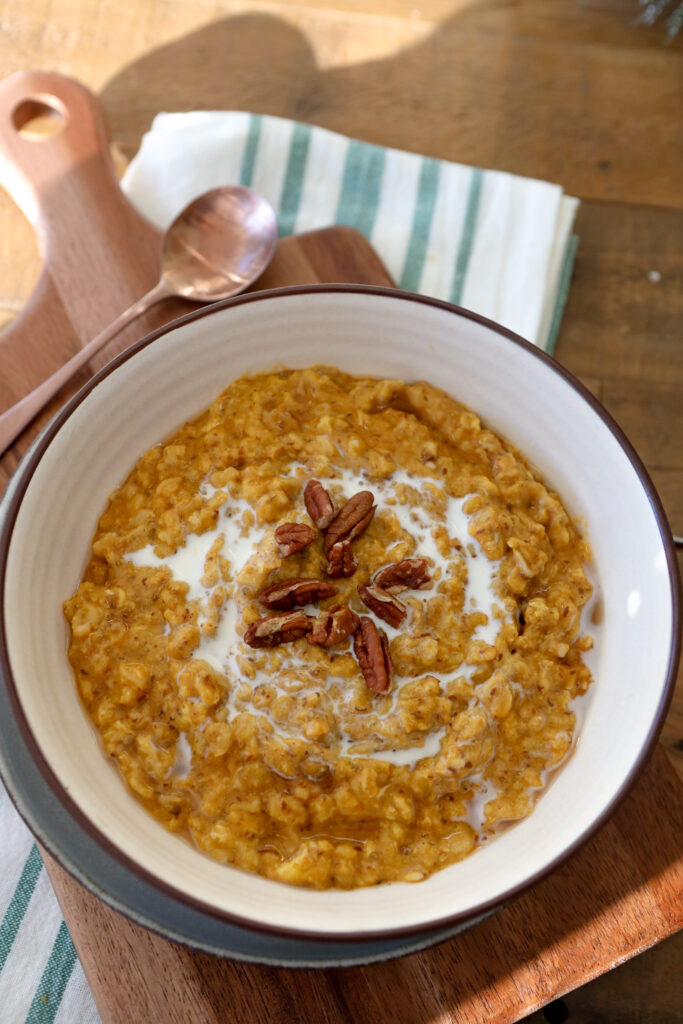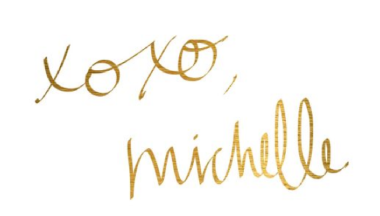 print recipe
Pumpkin Oat Porridge
This Pumpkin Oat Porridge from The Whole Smiths is the perfect fall breakfast for everyone. It has everything you need for a healthy start to your day; protein, veggies, and heart healthy oatmeal. Not to mention, it's full of fall flavors.
Ingredients
2

cups

rolled oats

steel cut works as well, see tip above

15

ounce

can pureed pumpkin

¼

cup

ground flax seed

¼

cup

maple syrup

1

teaspoon

pumpkin pie spice

¼

teaspoon

salt

¼

teaspoon

almond extract

(optional)

6

eggs

beaten

cream or milk to serve

¼

cup

pecans

walnuts or sliced almonds to serve (optional)
Instructions
Bring 4 ½ cups of water to a boil. Once boiling, add the oats and cook them, occasionally stirring, for 6 to 7 minutes until they are tender.

Add the pumpkin, flax seed, maple syrup, pumpkin pie spice, salt and almond extract to the oats and stir to combine.

Bring the stove temperature down to medium-low and slowly pour the egg into the oatmeal while constantly stirring. The heat from the oats will cook the egg into the porridge.

To serve, pour a small amount of cream or milk over top and drizzle a little bit of maple syrup on top if you'd like it to be a bit sweeter.