Rosemary + Pecorino Roasted Potato Stacks
This Rosemary + Pecorino Roasted Potato Stacks recipe from The Whole Smiths is easy to make and makes for a delicious Thanksgiving side.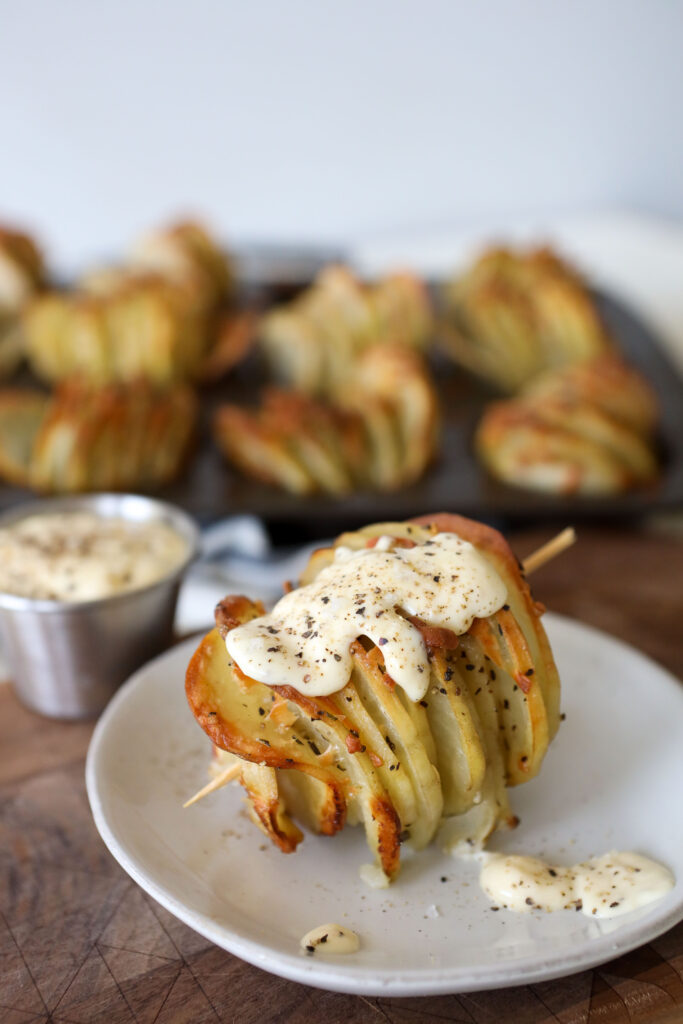 This Rosemary + Horseradish Roasted Potato Stacks recipe is available exclusively to our Patreon community. You can join us there where we share four brand new recipes, host two live cooking classes, bonus podcast content and more every month. All new recipes from The Whole Smiths will be shared there.
Does anyone not love potatoes? In some form or another, you have to love potatoes. Mashed, roasted or fried, I love them all.
This month I wanted to create a recipe that would make a perfect addition to your Thanksgiving tables and went with a potato dish because, well, because everyone loves them. I also wanted to keep it fairly easy because cooking multiple dishes for a multitude of people on any given day can be a real pain in the A. But most importantly, it needed to be delicious and have the ability to knock your guests socks off.
And here we are. Rosemary + Pecorino Roasted Potato Stacks. The real star of the show may actually be the Horseradish + Black Pepper Sauce so don't skip it. I also encourage you to make it ahead of time to keep things easier on the big day. In fact, you can prep this entire dish ahead of time the day before or morning of and pop it in the oven when you're ready to go. The potatoes may take on a slight pinkish hue as it's exposed to air but that's ok. You're going to roast them up and they're going to get golden and crispy and you won't even know.